How to organize a treasure hunt for kindergarten children?
You can organize a treasure hunt with children as young as 4 years old, i.e. from kindergarten on.
All children can experience a great scavenger hunt adventure from a very young age. Children love the idea of finding a real treasure by living, while playing, an extraordinary adventure full of surprises and challenges!
Of course, to set up a treasure hunt activity for kindergarten children, it is necessary to respect certain rules.
We will see here how to set up and adapt a treasure hunt game for 4 and 5 year olds, therefore young kindergarten children.

Development of the 4-5 year old child
The 4 or 5 year old child is at this stage in his 2nd or 3rd year of school. Little by little, their aptitudes evolve. The school and their family environment allow them to discover the world around them. At school, they therefore begin to follow longer stories and understand the logical sequences of simple events… the child still remains very observant but begins to think to anticipate certain situations… He gradually develops his analytical mind!  His vocabulary has grown enormously and he is beginning to better understand the space and time in which he evolves.
The abilities of the 4 and 5 year old child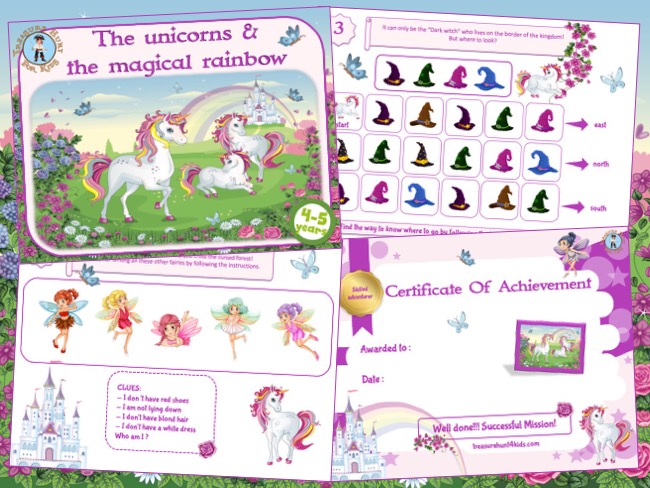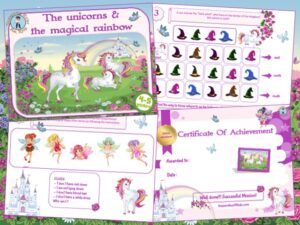 This part is very important because knowing what young children of 4 and 5 years old are capable of then allows you to adapt the riddles and challenges that you are going to offer them in your treasure hunt activity.
Indeed, the child sorts and classifies the objects according to their size or color.
He begins to understand the logical sequences of numbers, shapes, drawings…
The 4-5 year old child now knows how to name and differentiate the different colors that will be an important support for the construction of your treasure hunt game.
He knows how to put a simple story in chronological order. You know, at school, after reading a story, the teacher gives the children 4 or 6 scenes from the story in the form of pictures. They will then have to put them back in order…
The child is now able to count and therefore knows the order of the first numbers. The child begins to count the numbers, especially between 0 and 10…
Of course, each child develops at his or her own pace. The child is eager to discover and learn and is proud to show the adult what he is capable of doing. The child needs to be encouraged and accompanied and to feel the support of the adult who accompanies him throughout his discoveries!
Being aware of the aptitudes and abilities of children aged 4 and 5, therefore in kindergarten, you will be able to adapt your treasure hunt activity in the smallest details to satisfy their thirst for discovery, their curiosity while staying within their limits of competence.
The different types of treasure hunts for kindergarten children
The simplest way is to make a map with a cross on the treasure location. Prepare your map on A4 paper, make a cross on the area where the treasure is hidden. Cut your map into 10 pieces (10 large squares…) At each step of the game, the children will win a piece… Once all the pieces are recovered, the children will have to put the puzzle back together and thus re-form the map. The last piece will of course be the one where the cross is written. They can then go in search of the treasure that you have prepared beforehand.
You can do the same, but by adapting this principle with a sentence… The children win a word for each puzzle… At the end, they will be able to re-form a complete sentence, the last word representing the location of your treasure.
Discover our "turnkey" treasure hunt kits for kindergarten children!

Adapt the theme of your treasure hunt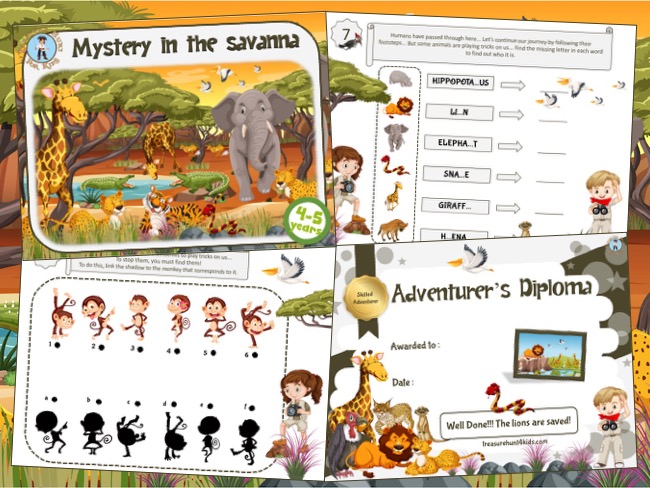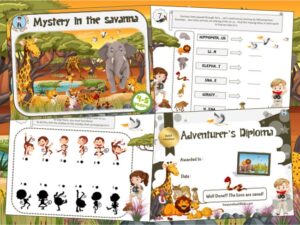 All themes can be used to create a treasure hunt… Of course, game themes for kindergarten children will not be the same as those used for 8 year olds… except for a few traditional themes that can be found in several age groups as long as the story and games are adapted…
Thus, the classic themes of pirates, princesses, fairies, Indians, circus… are very appealing to younger children. These are great classics and timeless themes with which you are sure to please children!
You will also be able to find games around animals, especially at the zoo, in the jungle, or in the savannah…
For schools and early childhood professionals, adapt the theme to what the children study during the year… In kindergarten, a teacher had set the discovery of the 5 continents as the theme for the year… So they did activities on the 5 continents, reading books on this same theme throughout the year. At the end of the year, a big treasure hunt game related to the 5 continents was set up, a good way to gather all the data learned during the year around a big game.
Adapt the duration of your treasure hunt
The concentration of children aged 4-5 years develops… A treasure hunt type activity should take about 1 hour, or 1 hour and a half maximum… Why this time? Quite simply because children only focus on an activity for an average of 20 minutes… Then, they lose their concentration, hence the need to offer a multitude of different games and activities for children in this age group. But the advantage of the treasure hunt is that it allows not one, but several activities that alternate and come together within the same game. This allows the children not to get bored…
Alternating brain activities and motor games
Indeed, the children will have to leave each time in search of the hidden clue and this part is much more motive. This allows children to let off steam, run, search… Once the clue is found, they will have to complete the riddle or challenge written on their sheet… This part is calmer and often more cerebral… The alternation of motor activity and reflection allows the child to stay much longer on the same activity… Indeed, it will take them a few minutes to solve a riddle and then run away again to look for a new clue! Because when we talk about 20 minutes, we are talking about 20 minutes where the child is sitting and concentrating on the same task… Now, the child will alternate the different motor and cognitive activities within a single game…
Adapting the language
We will have to create a starting story, think about the outcome of the game. Between these two times, you need a story line that is to say the different stages that will mark out your game and lead the child from point A (the beginning) to point B (the end)…
Adapt your language to that of the children by using simple words, short texts, sentences that are not too long… Similarly, for the different stages of the game that follow one another, you must announce the progress of your adventure with one or two sentences. The puzzle to be solved must also be explicit and the statement must be clear and concise…
Adapt the puzzles of your treasure hunt to kindergarten children
We have seen in the knowledge and development of the child many points that will allow you here to create puzzles suitable for kindergarten children for your treasure hunt.
It will therefore be necessary to adapt the different games and activities to be proposed to the children according to what they are able to do :
    Follow a path by respecting a drawing scheme or a logical sequence.
    Find your way through a table to find the box where a clue is hidden by moving around following the numbers from 1 to 10 .
    Create color-coded messages based on colors: each letter is represented by a color… The child will be able to put the letter in the right place following a predefined color code that will allow him to reform a simple word…
    Classify objects from the smallest to the largest… Then look at who or what the last object corresponds to to find a clue.
    Use the child's sense of observation by using the game of differences with for example 5 differences to be found between 2 drawings.
    Create simple puzzles that the child will have to reconstruct…
    To find an object or a character use 5 pictures and with the help of clues the children will have to find out who or what it is…
    You can also use maze games… You can easily create mazes on the following link.
    Think about the points to connect. They will allow you to use the numbers that children know… The principle is simple; just connect the points to form a drawing… The drawing will     correspond to the clue you are looking for.
    Riddles and charades can also be useful to make children guess a word.
You can alternate brain games and challenges. Challenges correspond to motor games. The children will have to walk a path, find the word thanks to a mime, or by drawing…
This list is a start… Use the numbers from 1 to 10, letters of the alphabet, colors and shapes to create fun puzzles adapted to children's abilities.
Examples of treasure hunts for kindergarten children
Here are a few examples of treasure hunts adapted to kindergarten children…
Superhero Treasure Hunt for Kindergarten children
In this superhero treasure hunt, the children will have to help our superhero find the terrible "DOKNOIR" who terrorizes the city with his army of robots.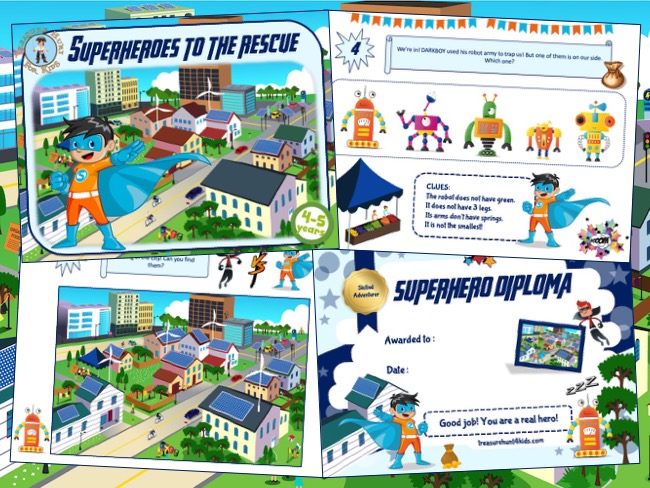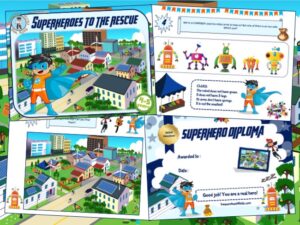 Princess Treasure Hunt for Kindergarten Children
In this game, help the princess to find her crown mysteriously disappeared during the night! Puzzles and challenges await you in this great adventure.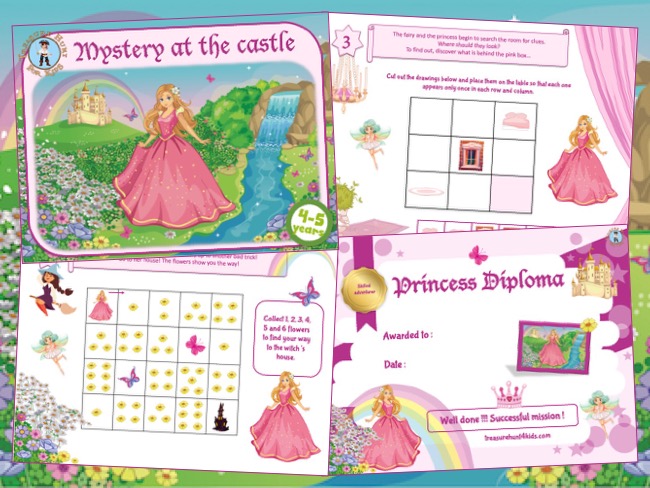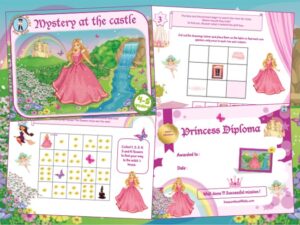 Pirate Treasure Hunt for Kindergarten Children
Go on an adventure in search of a fabulous treasure lost by pirates 500 years ago. Puzzles, challenges and clues await you in this complete pirate game kit! Printable play kit for children 4-5 years old, in kindergarten.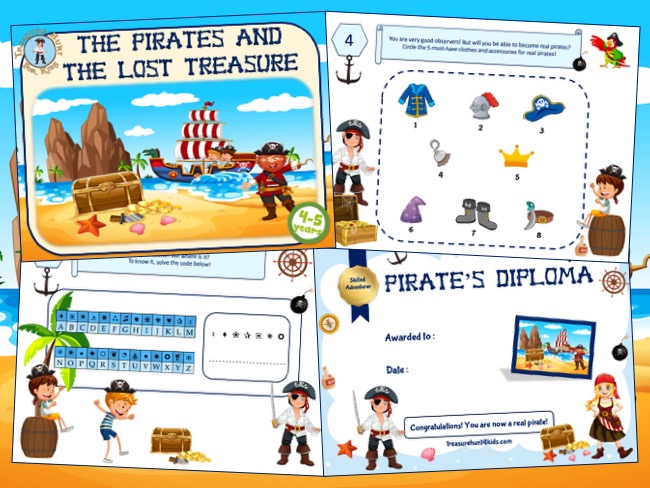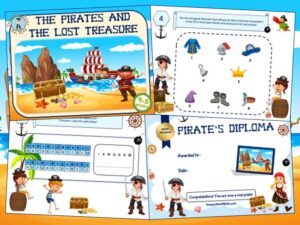 Indian Treasure Hunt for Kindergarten Children
In this treasure hunt, the children will have to help the Indian tribes find peace by going in search of the peace pipe that has disappeared!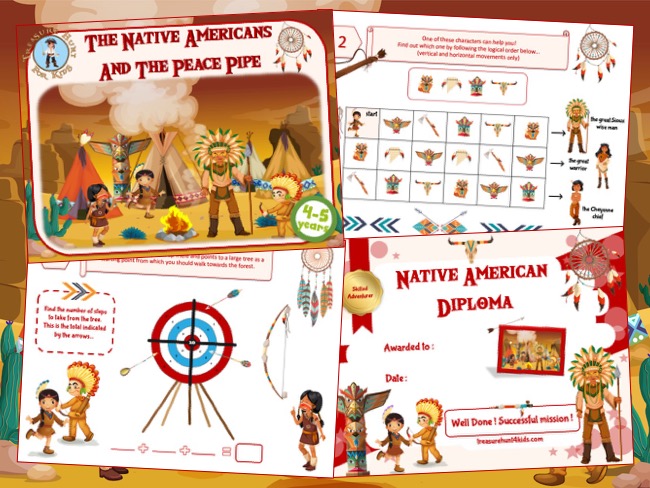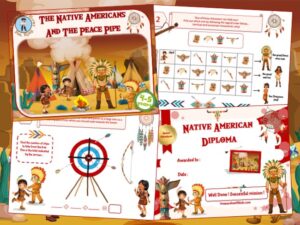 Jungle Treasure Hunt for Kindergarten Children
Following the discovery of a precious manuscript, courageous explorers set out in search of a true treasure through the Amazon jungle.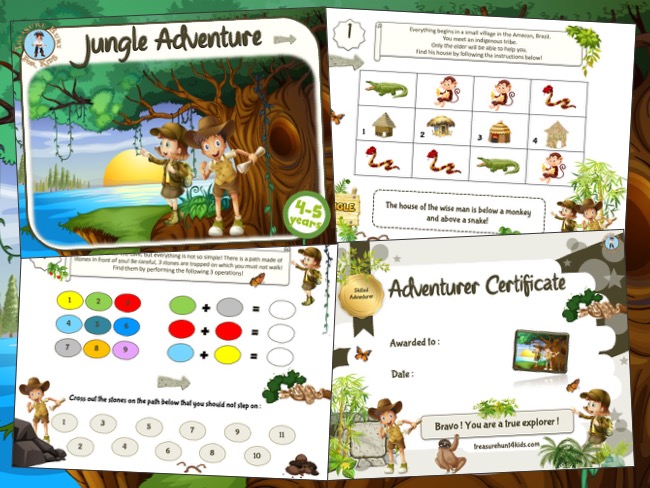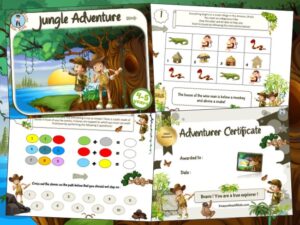 Mermaid Treasure Hunt for Kindergarten Children
The wonderful world of mermaids is waiting for you at the bottom of the ocean. The Wicked Sea Witch has taken the magical necklace of the Queen of Mermaids. Without it, she can no longer protect her kingdom…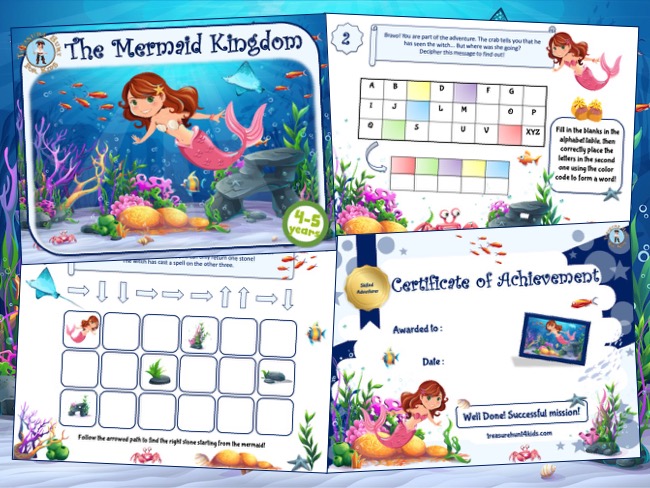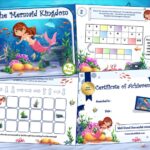 Free games
We invite you to discover our free games section…
These printable games can be used independently but they can also be used as a basis and idea for your treasure hunt game construction. Dots to connect, difference game, color by number and many other games are available on our site for children to learn while having fun…
Free treasure hunts are available to observe, search and find items related to a specific theme such as the beach, Christmas or nature…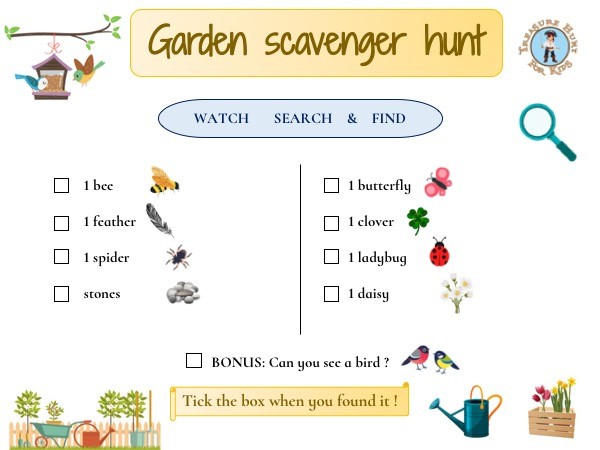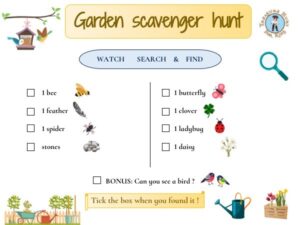 Challenge ideas for your treasure hunt
It is important to alternate more cerebral games with more motor skills. The latter are also called "challenges". Any small motor or sports game can be adapted to become a real treasure hunt challenge.  We have put together a practical guide of birthday game ideas in which you will find a multitude of activities classified by style: observation games, racing games, language games, imagination games, running games, cooperative games and many more. Don't hesitate to take a look: you'll find the game you need! This is a real repertoire of ideas for games, activities and animations to keep young children busy!

Why organize a treasure hunt with kindergarten children?
Children grow and develop through play. A scavenger hunt activity is an excellent way for young children to practice what they learn every day at school or at home… Children discover and learn while having fun… The scavenger hunt has the advantage of being a fun and educational activity! The child learns through play, the child builds himself through play… He uses his creativity and imagination to solve simple problems and find solutions…
So, yes! Organizing a treasure hunt with kindergarten children is possible and even more! Children will have a real pleasure to participate in such an activity. More broadly, they will develop their skills, gain self-confidence, develop their group spirit through a collective game… Enjoy all the benefits of a treasure hunt! Just remember to follow the tips above in order to best adapt it to kindergarten children.
Discover all our printable and "turnkey" children's play kits for organizing a treasure hunt, a police investigation or a Home escape room…