A site for treasure hunts and police investigations
« Treasurehunt4kids » is born to create Birthday games, treasure hunts or police investigations, ready to print, to celebrate an anniversary or any special occasion! This website has several goals and missions… Generally speaking, the idea is to offer parents a wide choice of treasure hunts and child-friendly surveys.
Our games are intended for every occasion, whether it is a birthday, a family celebration, a gathering with friends or to celebrate any special annual events (Halloween, Christmas, carnival…). You will find on this website a game for your child "ready to play", playful, original, friendly and educational oriented.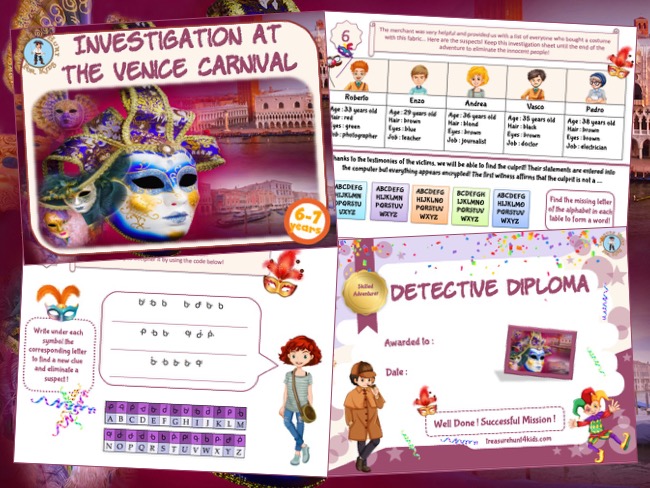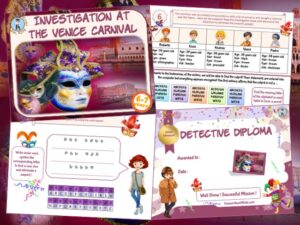 Fast and easy to use :
As you already understood, these games are very easy to use! A real creative work has been done at different stage of the story. Games and layouts have been designed to save your time and ease the organization of your event. You will receive a file ready-to-print with the course of the game, all advice and assistance with settings in an attached specification. Choose your treasure hunt, receive your PDF file by email, print it and play !
Wide selection of themes adapted to each age:
Note that what is called "treasure hunt" is a simple story which the goal is to find a treasure; while the investigations lead to the resolution of a mystery or a police puzzle …
Playful, original, educational :
These games demonstrate originality through the different stories they proposed but their simple design also… Moreover they are very convivial. They allow children to play together for a common purpose: finding the treasure or solving an investigation. It helps develop team spirit, mutual support within the group … in a spirit of play and festivity. Children dive into a new universe and the final goal is for them to involve into the story and to be part of the game!
Adapted to the age of the children:
These tests are adapted to the age of the children, according to what they learn at school.
4-5 years:
the games are more focused on the most common letters of the alphabet, the colors, the numbers from 1 to 10, the knowledge of everyday life adapted to their age …
6-7 years old:
at this age, both the games and the level required an acute knowledge but it remains adapted to the age of the children. You will find rebus, figures up to 100 and first operations to decrypt coded messages, more complex labyrinths, a very good mastering of the alphabet…
8 years and more:
the games become more complex. Labyrinths and paths are more difficult. The knowledge should be  wider in connexion with the school programme. The games require reflexion but it always remains reachable. So the children do not get bored on a test that " They would not be able to solve.
Therefore, all these games are designed for children and their level is adapted both to the age of kids, but also to their centers of interests through the story and the riddles.
These games allow kids to be successful all together. They will always find the treasure or the solution of the survey at the end. They will all be rewarded for their collaboration and they will all get their diploma.
Not expensive : You save money and time!
This website allows parents to organise – at a low price – a wonderful birthday which your child and his/her friends will remember for a long time…
It allows you to easily set up a group activity, playful and enjoyable, and it avoids fastidious research to do, collecting different games. It means saving a precious time for you! Everything is ready! You just have to Print it and Play … Your treasure hunt is available as soon as you buy it!
Games that fit everywhere!
Indeed, these games are "ready to play" … An adult is required to hide the riddles in specific places (help is provided in the file you bought).
So, it allows each game to fit to your space: indoors or outdoors, in a house, in a flat, in a garden, without worrying about the weather! You are the only one who defines the space you want to dedicate to your game.
Guaranteed Success! :
Treasure hunts or police investigations have always proved to be the traditional games. Still today, they remain a huge success towards children, but for parents as well. This is not impossible of course! But with "treasurehunt4kids", you have the guarantee to offer the right game suitable for your child, both on the theme and the tests. In addition, you will save a considerable amount of time for a small fee and you will be assured that the children will have an unforgettable moment!