How to plan a Viking birthday party ?
We are going to develop here all the ideas of games and activities to set up at home to organize a Viking birthday party! Do you want to organize your child's birthday? The Viking theme is a great idea! It's an original theme that will surprise children, an exciting theme to discover a civilization that we do not yet know as well as we think. Current research allows us to discover more every day about this impressive people who strongly marked our civilization!

Viking as a birthday party animation theme
The Vikings are a fascinating civilization that we do not know so well… We are influenced by our beliefs and the image we have of them is often influenced by the stories of books or movies. However, the latest archaeological discoveries allow us to discover more about this civilization. This theme is very rich and original to discover it around a game and perfect for the organization of a birthday at the same time playful and rich in discoveries. There is a whole universe to discover that will interest young and old alike.
Our Viking birthday party treasure hunt
We've created a turnkey game kit to easily host a Viking-themed birthday party. Thus, discover our treasure hunt which will allow you in just 20 minutes to set up 1h30 of adventure to keep the children busy.
Our printable game kit exists in 2 different versions. The story remains the same but the puzzles are adapted to best match the age range of the children. Thus, "the treasure of the Vikings" in 6-7 years is more simple while that for children from 8 years has riddles little bit more difficult to solve.
So if you want a birthday full of emotions, choose this game that will allow children to experience a great treasure hunt adventure while discovering a new civilization. Indeed, children will go in search of a Viking treasure, forgotten for over 1000 years. Then, they will have to use our time machine. See you in 850. This is where it all begins.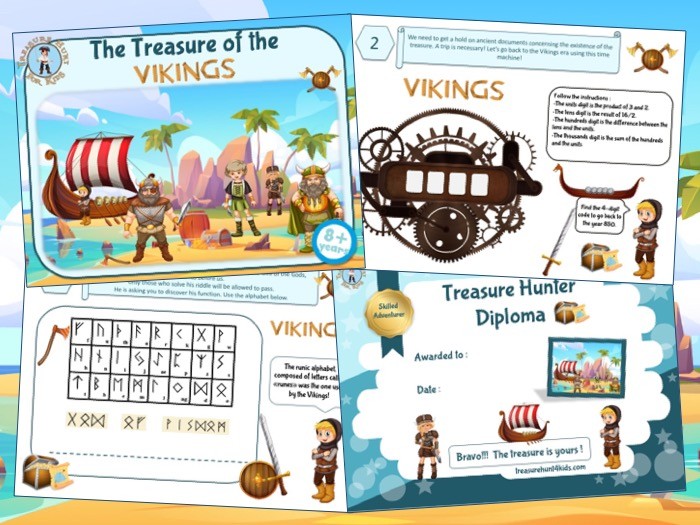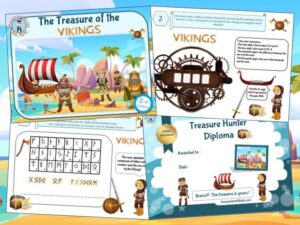 The Viking decoration for your birthday party
Discover our decoration kit to print on the theme of the Vikings. Indeed, opt for a unique and original decoration, at a lower cost, which will be 100% matched to your game theme. Find all the characters from our treasure hunt and all the decor of the game: invitations, gift boxes, labels, cake toppers, popcorn boxes, place tags, pennants bookmark and even photo booths… A nice decoration combining design and practicality to organize everything in a few clicks without leaving your home.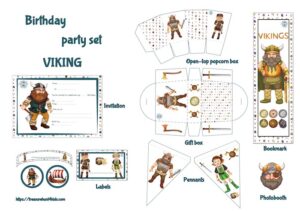 Fake News on the vikings
What if we got to know the Vikings a little better? We often assimilate them to a bloodthirsty and barbarous people, but they are also real explorers and very good merchants who have made a huge contribution to our civilization! Out of ignorance, many fake news or contradictions circulate about them… What if we restored some truths?
The Vikings were a people with various origins, originating from all the Scandinavian region. This one had great difficulty in containing its people within its borders. The Viking era extends from 700 to 1100. They were a diverse people in which there were certainly looters and fighters but also families wishing to live a peaceful and routine life. It was made up of looters, but also of merchants, peaceful settlers, skilled workers, farmers and sailors.
Do you know what the word "Viking" means?
In their language, this means "going on a trip"; this clearly shows their desire to conquer new territories.
Was this people really called the Vikings?
Well no, this name was not given until much later because they presented themselves with the name of their village.
The Vikings were bloodthirsty warriors?
Well we cannot say that they did not know how to handle weapons; but nevertheless that was not their primary goal… They were above all men like you and me, who lived on their own lands and who had a family which was their priority.
What does the word drakkar mean?
This was the Viking ship developed in the Middle Ages to go to war but also to transport people and goods. This word comes from the Scandinavian countries and means "dragon". Until the 19th century, we did not know much about these ships. But in 1880, a drakkar was found perfectly preserved in a tomb almost 50 meters in diameter, near Oslo. Indeed, Vikings used to bury their leader with their warship! This word is nonetheless a late appellation with a Scandinavian sound reminiscent of the figurehead in the shape of an animal of this ship, very often the dragon.
What language did the Vikings speak?
The Vikings spoke "Old Norse", a North Germanic language which was then spoken throughout the Scandinavian region. We were talking about the "runic" writing originally composed of 24 signs corresponding to sounds. Each letter of the alphabet was thus called a rune. This writing is also known as "Futhark", a term formed from the name of its first 6 letters.
Discover all our games in french.

Our free games to print to complete your Viking birthday party
We offer a section of free games to print to complete your Viking animation during your birthday party. Indeed, we offer games on various themes but find in particular our mixed words of the Vikings to occupy the children and continue your adventure more calmly on this theme after a dynamic treasure hunt.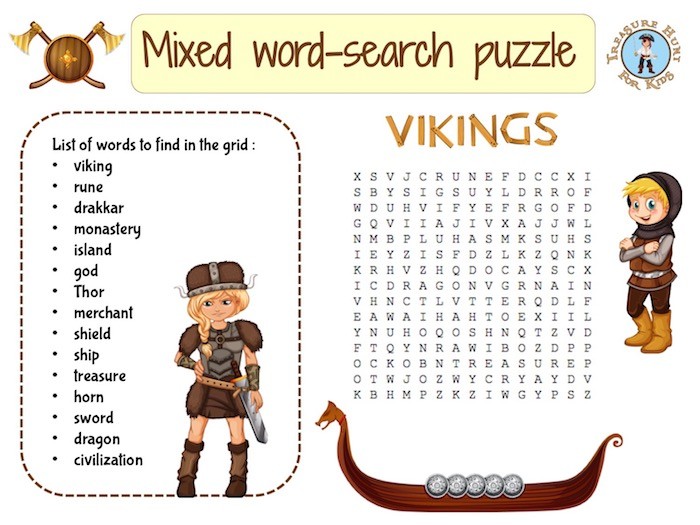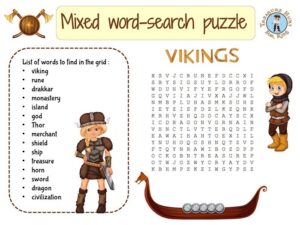 Also find our Viking coloring pages. Children love this activity which allows them to work on fine motor skills while having fun. You can set up this activity during the party or distribute this coloring page to children who can do it quietly at home as a souvenir of this day.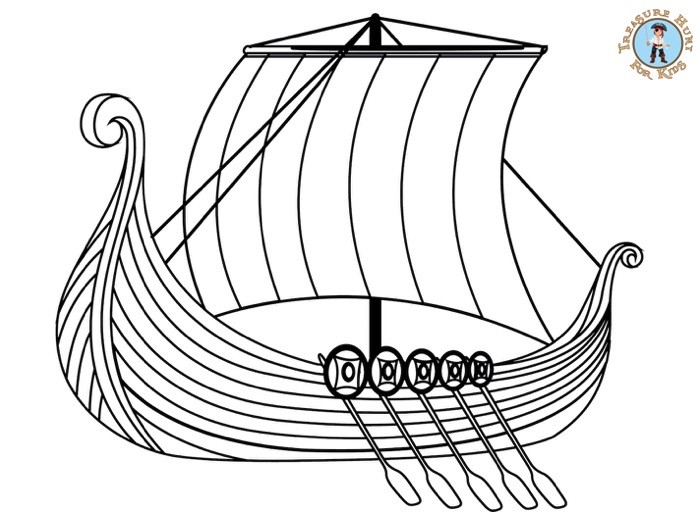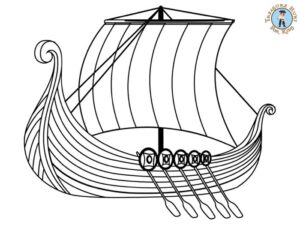 Other activities to set up for a Viking birthday party
Salt dough
Vikings wore jewelry! So don't worry, organize a salt dough activity where everyone can create Viking jewelry from models. You can easily find them on the internet.
The tablut
We have inherited many Nordic games but that of the tablut is surely the one with the most precise rules. It is a board game that includes 9 x 9 boxes. A game with white pawns representing the defender with the king in the center to protect and black pawns representing the attacker which will aim to capture the king…
There are therefore 25 pawns in total:
The king (white)
8 soldier pawns which protects the king in white color
16 black pawns representing the attackers
The goal of the game
The attackers must capture the king by surrounding him with 4 of his attackers and the king must reach him at one of the 4 ends of the board without being captured. The pawns move like the chess tower, that is to say horizontally and vertically provided that the boxes are free. No pawn can go to the center which is the throne and only reserved for the king. You can capture the opposing pawns: to do this, you must surround the pawn with 2 opposing pawns horizontally or vertically. Only the king is captured with 4 pawns and not 2. You will easily find the complete rules of this game on the internet.
With all this advice and information, you have all the keys in hand to organize the most beautiful Viking-themed birthday parties. An exciting theme that will appeal to children as well as to girls and to boys and which will allow them to discover a new universe while having fun around playful and educational activities.
Discover all our printable games to easily organize a birthday too.