How to plan easily the best circus birthday party for your kids?
If your children are circus fans then why not organize a birthday party on this theme! We invite you today to discover a multitude of ideas for games and activities to set up the best party on the theme of the circus! Use our detective mystery and print a circus birthday party game to give your kids a memorable birthday experience.
Let's go! Follow the guide! Discover our game kit to print on this theme to make your organization as simple as possible. This theme will appeal to all children and allow you to offer a variety of activities…

A turnkey circus birthday party game kit:
Discover among all our treasure hunt and police investigation games, our "turnkey" and printable kit on the theme of the circus. The major advantage of opting for a "ready to play" game is that it is downloadable and available immediately. It will only take you about twenty minutes to set it up, the time to choose your hiding places and write them down… Everything is included in the file: no additional material is required. Finally, setting up the game is really simple in order to make your organization as easy as possible.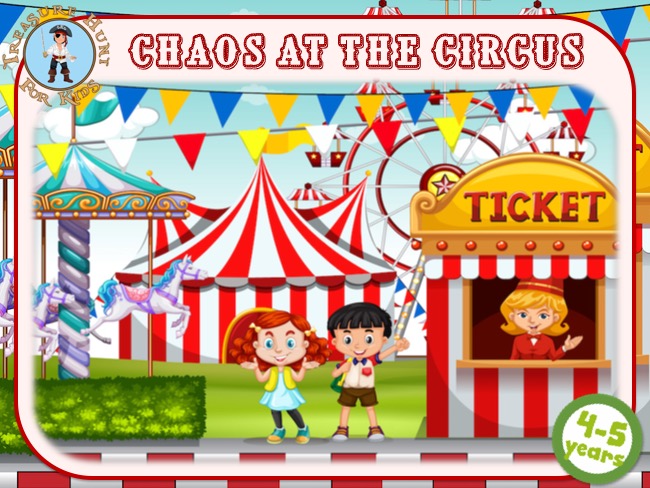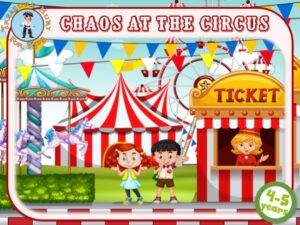 Content of our circus birthday party game kit:
In this circus-themed detective mystery game kit, you will find the beginning of the story and the outcome of the adventure. After some advice and explanations for setting up the game, you will find an organizer table which will allow you to enter the hiding places you have chosen to place your different puzzles… This follow-up sheet will allow you to follow the evolution of the game and to refer the children throughout the game. There are a dozen clues to hide in your game space and each of them includes a puzzle that the children will have to solve and which will allow them to progress and advance in the game.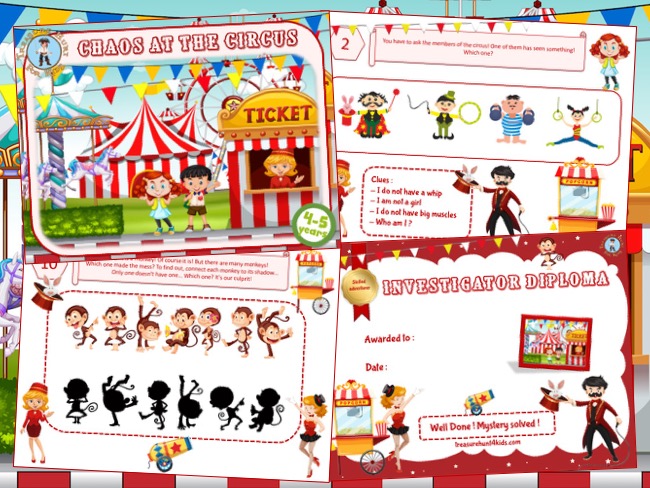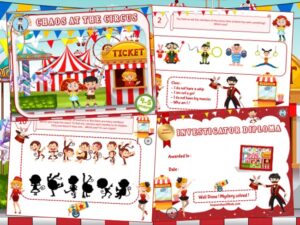 Overview of the story :
This evening is the premiere for the circus "The crazy Tours". Everyone is ready, but that's not counting on the bad jokes of little rascals who have turned everything upside down in the marquee… We must put everything in order before tonight and especially find the culprits! This is a fun investigation taking place at the circus and where animals, clowns, acrobats, and many other characters await you.
A printable decoration adapted to your theme:
Discover our range of decoration to print coordinated with your game theme… Thus, our birthday party set to print on the theme of the circus is available… Unique decoration, where you will find the characters of your game. Thus, the invitations, the gift boxes, various labels, place-tags, cake toppers, bookmarks, popcorn boxes and even photobooth are included in this kit for an original decoration, unique and matching your party theme.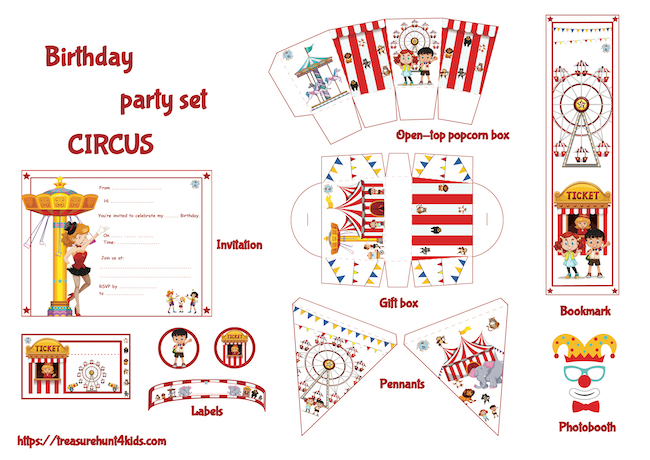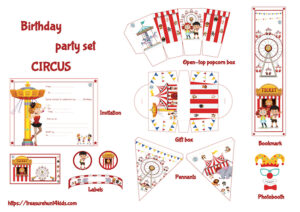 Free games to complete this great day:
We offer a whole range of free games to print for children in order to complete your day with small games and activities on the theme of the circus. Choose the coloring page of our clown or our game of differences… These games and many more are to be found on our website in order to always offer more choices and activities related to your theme…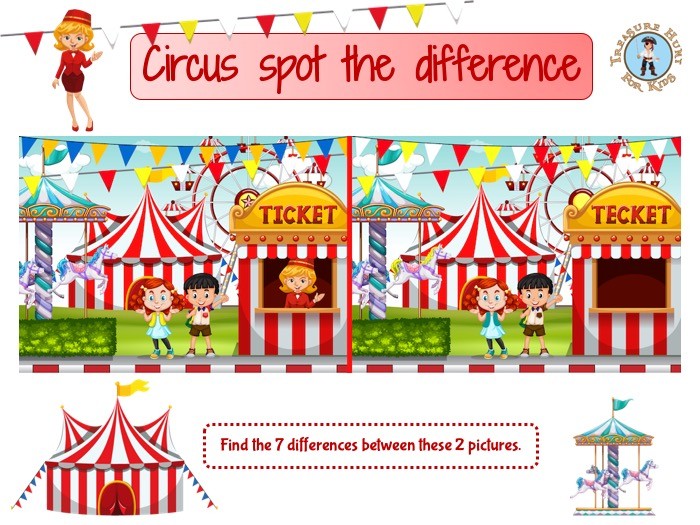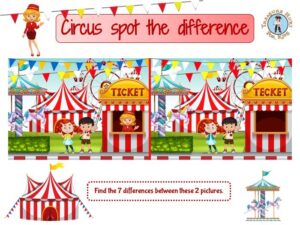 Take a tour of our educational games too which will allow you to select many games and download them for later use.
Ideas for games, activities and entertainment to set up on the circus theme:
Guess the number …
Here's a fun game to set up on your birthday. Prepare a nice jar filled with candies of your choice: make a mixture of all kinds of candies, colored, sweet or tangy… Place this jar on your table and ask each child to write their first name on a sheet of paper with the number of candies he considers in the jar… Children put their paper in a small box… Before the end of the party, take the time to read aloud the amount of candy proposed by each child. Then indicate the actual quantity… The child closest to the good result can leave with the jar of candies!
Make-up:
Who says circus, says make-up… Suggest to children who wish to make up. The make-up will of course be on the circus theme: a clown, a tamer with a mustache or an animal that can be found in a circus: tigers often have great success!
The tamer's mustache…
Don't ask me why a tamer is often depicted with a mustache! I know absolutely nothing about it, but it is true that this is often the case in the pictures or in the books on the subject of circus! So here is a simple and fun game to do easily with children… Cut in advance about 7 cm woolen threads… Distribute one to each child. These ones will have to wedge it between their nose and their upper lip which will make everyone make a funny face… But the goal is to keep his seriousness because he will have to maintain his mustache as long as possible. The winner will have a small gift… But be careful because if we laugh, we risk losing his mustache and therefore the game!
Mimes:
Organize a mime game… It always appeals to children… In this game we will keep the theme of the circus. The goal will therefore be to mimic an animal in the circus: lion, elephant, monkey, horse… All the animals that can be found in a circus can be mimed. Save time by preparing a short list in advance.
Acrobatic games:
All the games with acrobatics will make children laugh while adapting wonderfully to the circus theme. Thus, you can play the tightrope walker by setting up a course where it will be necessary to be balanced for example on a bench or a wooden beam… You can make the game more complicated according to the age group by putting in their hands a glass of water to the brim (if you are outdoors)… The child who has the glass with the most water on arrival has won…
Balancing competition:
Give the children simple instructions to follow such as getting one leg stand, then hopping, then put one hand and one foot on the ground and the other hand and foot aloft…
As soon as a child loses he is eliminated… The last child is declared the winner!
Tips for organizing a circus birthday party game:
With all these previous ideas, you will be able to organize an incredible and memorable birthday party on the theme of circus!
Remember to bring a few red noses, decoration for snack, small gifts for all the children, all complemented by a police investigation and animations and games on the theme of the circus. The children will keep an unforgettable memory of this day. Use the photobooths provided in the birthday party set to organize a fun souvenir photo session! Make-up, disguise, indoor games or in the garden if the weather is nice … You have enough to keep the kids busy all afternoon! Find more ideas on Pinterest.
Discover our treasure hunt games to easily set up birthday party games.