How to throw a Star Wars party?
Do you have a birthday party to organize and your child is a Star Wars fan? So, our article will help you to throw a Star Wars party in just a few clicks…
Many children enjoy this theme and follow the adventures of Darth Vader, Luke Skywalker, Han Solo, Yoda, R2-D2, C-3PO, and more recent characters like Rey, Kylo Ren, Finn and the adorable BB -8. And so on…
It's a universe that appeals to children and Disney understood this when it bought the production company Lucas Film. So, organizing a Star Wars birthday will make your child happy, especially if he is a big fan of these great adventures across the galaxy!
Invitations you will send…
A birthday party always begins with the distribution of famous invitations. So yes, an invitation on the theme of your birthday is essential to mark immediately the content and the theme of your party.
You can take the opportunity to ask the children to come disguise if they wish… Many children have star wars disguises at home and if it is not the case a simple black cape or super-hero disguise can do the trick!
We offer you free invitations to print on the theme of our Star Wars escape game. A pretty traditional paper invitation is always more fun to offer and receive than an email or text message. Your child will be proud to be able to personally deliver the invitations to their friends and the guests will be happy to receive a real paper invitation. Fill in the invitation with your personal data, the place and time of your party.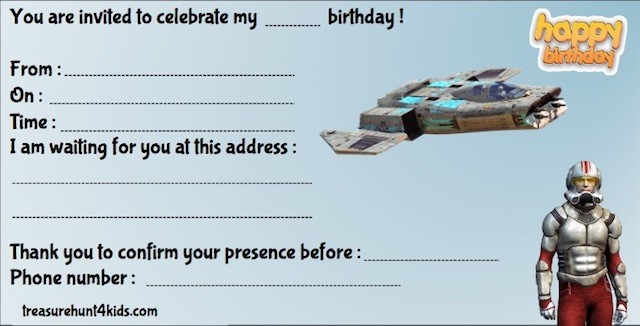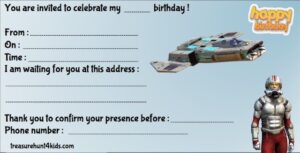 A decoration you will plan…
Prepare the decoration of your room, your house or your garden in advance. The decoration on the Star Wars theme is easily found in supermarkets or specialized party stores. We also offer you our birthday set to print: so print place-tags, gift boxes, popcorn boxes, glass labels, invitations and even a souvenir bookmark for a decorative touch trendy and unique for your party. A decoration 100% adapted with our Star Wars game kit.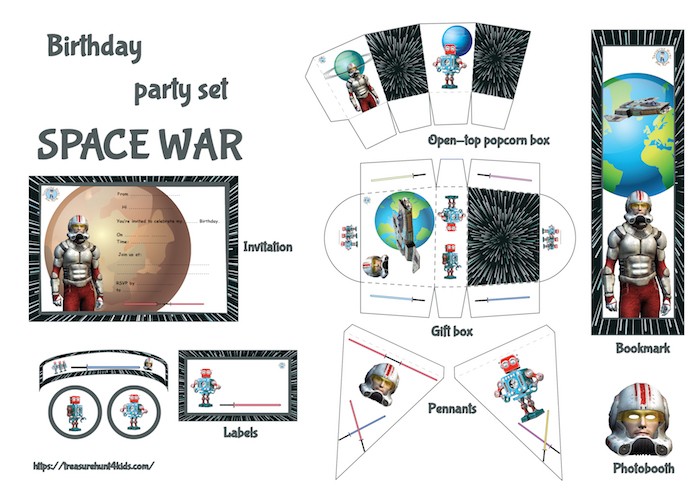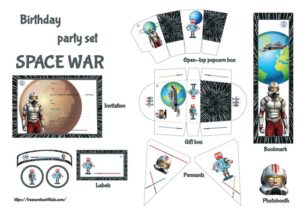 A Star Wars game you will organize…
The invitations have been sent. You have thought of decoration… Now, think of the main activity of your party! So, we explain to you how to organize a successful birthday party in just a few clicks.
Indeed, set up an escape room at home. Discover our ready-to-print, original and fun game kit that you can find in 3 different versions in order to adapt to different age groups. Thus, our game exists to 6-7-year and 8-9 year-old children. The story remains the same but the puzzles, challenges and codes to be solved are adapted to the abilities of children of these different age groups.
Make your home a real playground and experience an immersive Star Wars themed adventure.

Story of our escape room to throw a Star Wars party:
If you're not afraid of wielding a lightsaber or piloting a spaceship, then our game is for you. Your team will be on a mission to save the galaxy. Oh yes, nothing more ! The Black Empire is expanding its hold over all other planets. Only one way to get out of it and find your freedom: infiltrate the enemy base, find the machine control room and activate the base's self-destruct codes. This mission is very risky and perilous. But only you can do it. Start the timer! You have 1.5 hours to complete your mission. The peace of the galaxy depends on you. May the force be with you!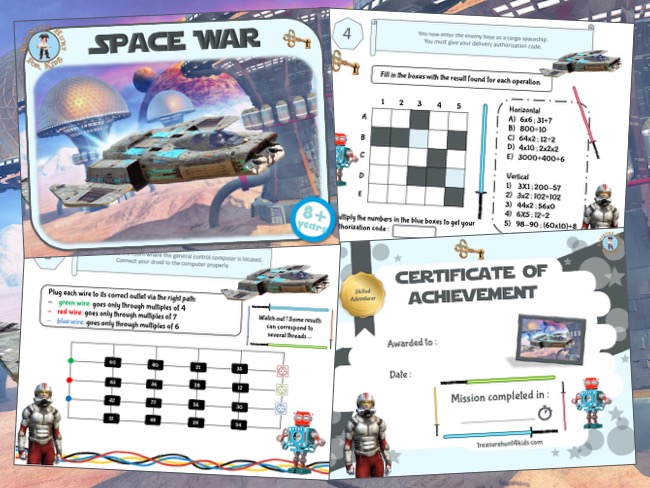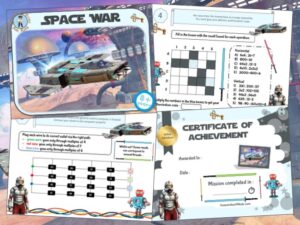 Kit contents to throw a Star Wars party:
Our game kit is all inclusive. You will not need anything else except a few items that everyone already has at home… You will have a kit ready to play that you can set up at home in about twenty minutes. So, in this kit is included the beginning and end of the story, the story-line with 10 clues to hide and puzzles to solve. For your organization, all the explanations are included and very simple to set up. A pre-filled sheet of follow-up will allow you to follow the progress of your game and orient the children. You will become a real game animator and I am sure you will enjoy it.
Finally, a diploma to print is also included. It will be personalized with the child's first name and the time taken to complete the mission… But if not, they will succeed!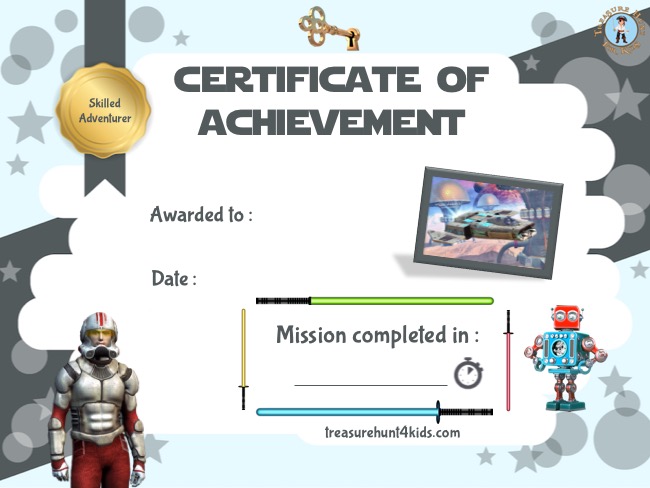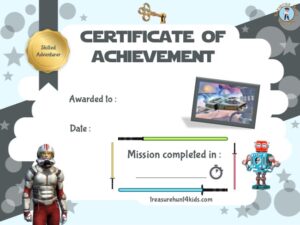 A Star Wars cake you will make…
After this escape room activity, it is often cake time, a long-awaited and appreciated moment for children who will no doubt be hungry after having lived such a great adventure. So to impress your little guests, you will have to stay in the theme and prepare a Star Wars cake … The advantage is that with Star Wars, the colors of the theme are in black, just like chocolate… So no need to be a big pastry chef, make a simple chocolate cake, then melt chocolate with icing sugar and cover your cake with this sweet texture … Place a pretty figurine on top of the cake and voila. Afterwards, if you are a true pastry chef, you can opt for a sugar paste cake on several floors. You can find many Star Wars themed cake ideas on Pinterest.
The pinata game you will organize…
You can set up an additional activity according to the time you have left for your afternoon of celebration. So here's a very nice idea to do with children: the pinata game. Children should blindfold hit the pinata to break it. Be careful, it's not that easy. Children will take 20 to 30 minutes to get through. Once broken, the pinata will bring out the little treasures it contains: small toys or small treats that parents will have previously placed inside. The children will share the loot they have collected. This game is very fun because the children will have to aim for the pinata blindly and will therefore be guided only by the voice of their comrades who will be happy to yell directions in all directions… When the child has typed 2 times the pinata (by touching it) so go to the next player so that everyone can participate …
With other games you will end up…
Your party is surely coming to the end. All depends on the time you have planned for this afternoon.
So you can also give the children free time while waiting for the parents to return. Children will also be happy to have a moment to meet and play together in a other place than school.
But if you still have some time, you can organize games or activities to keep them occupied. Here are some birthday game ideas so you never run out of ideas to keep the group of kids occupied. You can then set up entertainment to keep the children occupied until the return of parents.
You can think of adapting the games to your theme… Indeed, it is quite simple for most games to decline them on a specific theme and therefore to stay in the Star Wars theme which is here the theme of the party of birthday of your child.
Musical chairs:
Everyone knows this famous game. Place the chairs in a circle with the seat towards the outside of the circle. Put a chair less than the number of children. When the music starts, the children turn around the chairs and when you stop the music then the children must quickly sit on a free chair. Since there is one less chair, one child will be eliminated… Remove a new chair and try again until there is only one child left who will be the winner of the game. To stay in your theme, make this game using the music from the Star Wars movie.
Draw it is won:
A game easy to set up with sheets and a pencil … The child must guess a word to his comrades by drawing it… The funniest thing is to make at least 2 teams… To stay in your theme, prepare in advance a list of words on the theme of Star Wars: a lightsaber, a jedi, a spaceship, the black planet, BB-8…
Your Star Wars birthday can only be a real success if you follow these tips.
You will see that everything is very easy to set up and many free tools will allow you to find ideas to enhance your party.
All you need to throw a Star Wars party for kids
Invitations, a little decoration, a print and play escape room set to organize at home, a nice cake, a pinata and some complementary games to continue your party… Children will have fun and keep a great memory of this day.
Now you have all the keys to organize the most beautiful Star Wars birthday party.
Discover all our print & play game kits of treasure hunts for kids too.