How to organize a princess birthday treasure hunt?
You want to organize a princess treasure hunt for your child's birthday! That's a great idea! The theme of princesses: an essential theme… The theme that makes little girls dream!
Yes but how to organize a princess birthday without too much preparation? I suggest you discover how to set up a princess birthday in just a few clicks for the most beautiful birthday party that your little girl will remember for a long time.

Invitations to organize a princess treasure hunt for a birthday
A birthday party must to be prepared and, above all, it must to be announced in advance! Distribute the invitations on average a fortnight in advance so that the guests have time to reply and get organized! So from the start, we thought of everything! You can print princess-themed birthday invitations for free. All you have to do is fill in the spaces with your personal data and voila! Your child will be delighted to distribute a real paper invitation to his friends… This type of invitation is always more fun to give and kids have pleasure to receive them compared an email or sms!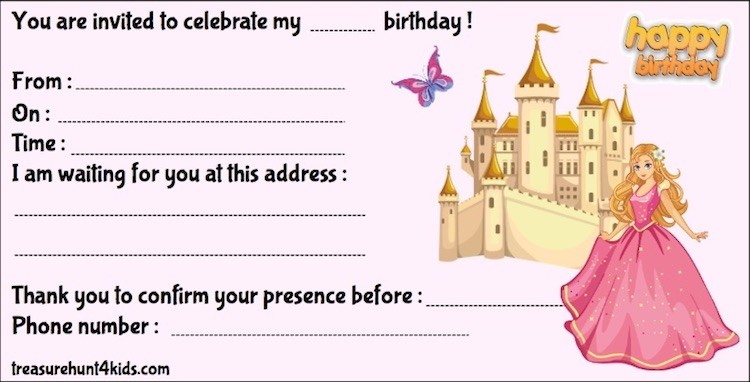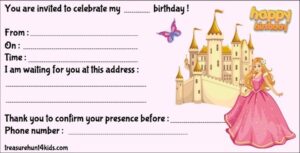 The child will prepare his list in advance with the names of the friends he wishes to invite… He may (depending on his age) participate in the making of invitations and envelopes by writing the first name of each child and decorating his envelope with a little princess sticker!The invitations are ready! the theme is launched! We can start the next preparation phase!
Princess treasure hunt as children's birthday activity.
Princess birthday treasure hunt is the children's activity for you! Children love to search for clues, take on challenges, solve puzzles and above all find the treasure! So setting up such an activity for a birthday is really a great idea that will allow you to organize a birthday on a human scale, individualized and especially at home with the organization you want!
We have developed a very complete and entertaining range of games that allows you to set up a treasure hunting activity at home, especially for birthday entertainment.Created by an early childhood professional, State-certified educator of young children, we pay particular attention to the quality of our treasure hunts, both in history and in the various puzzles… You will find our kit "ready to use" in different age groups to best match the abilities of children and the requirements of parents.
Thus the princess treasure hunt in version 4-5 years is intended for kindergarten children who can not yet read.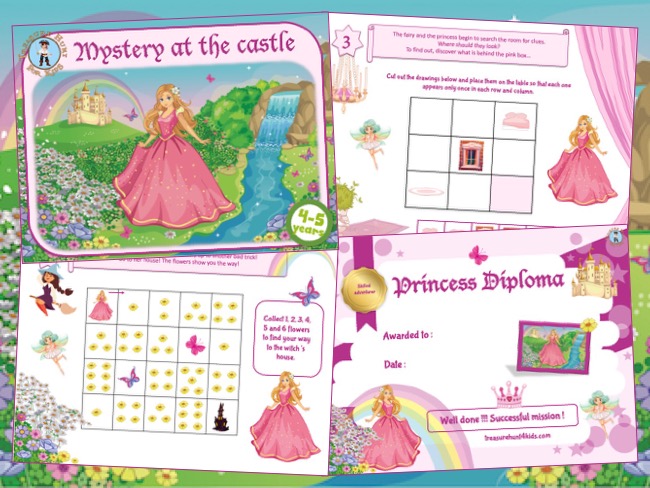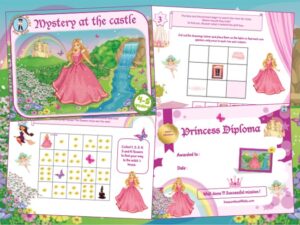 Our print and play kit for kids aged 6-7 years is intended for children in learning to read and write.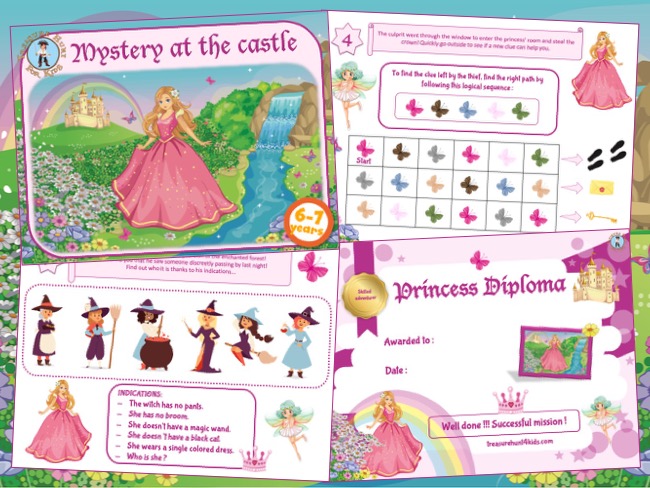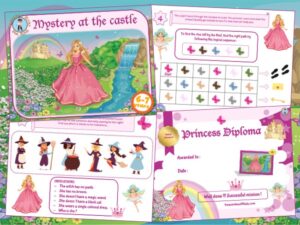 Finally, our treasure hunt from 8 years old is designed for older children who already have many acquired notions in reading and counting.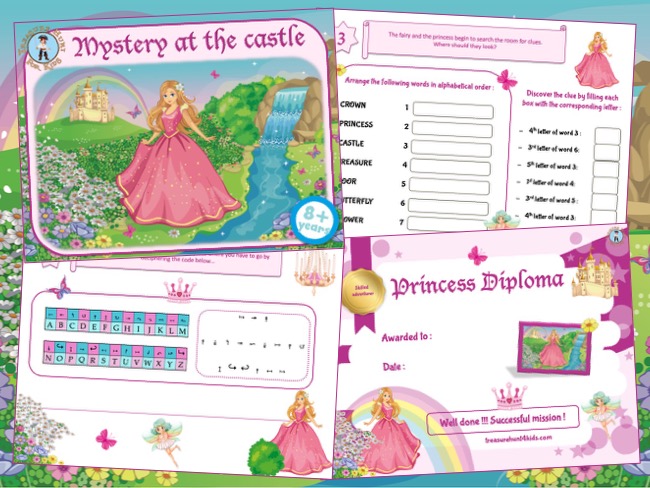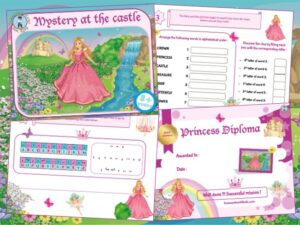 Our print and play princess treasure hunt game
Our princess treasure hunt to organize a birthday is presented in the form of a complete game kit to download and print! You will therefore have in your possession a game file which will allow you to set up a great activity for children in only twenty minutes of preparation! So why spend hours on organization when you can do it all in a few minutes!
Our kit is complete: You will of course have the beginning of the story, the outcome of the adventure and of course the clues to hide in your space game… With each clue found, the children will have to solve the puzzle written on it and leave then looking for the next clue! A diploma is included to certificate children at the end of the adventure and congratulate them on their success!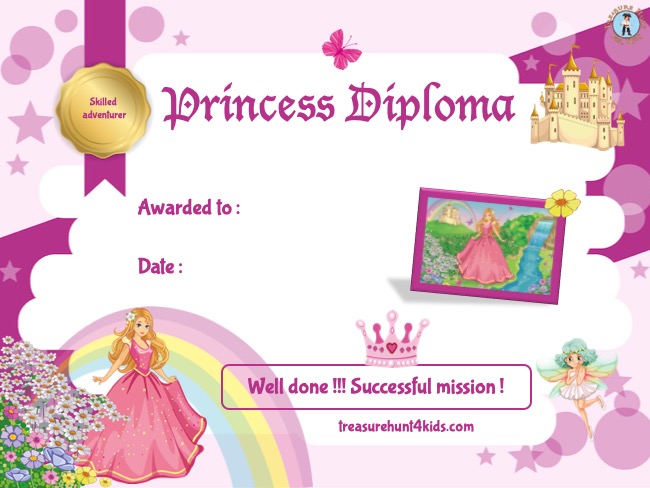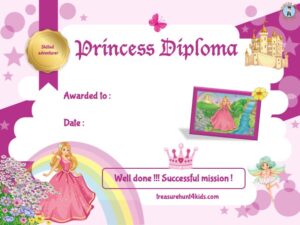 As parents and organizer of the activity, all the explanations for setting it up are provided to you and everything is very simple to carry out… A sheet of follow-up will allow you to follow the progress of the game in real time and guide children at each step towards the next clue!
So quickly discover our great treasure hunting adventure on the theme of princesses! The children will have to help our princess "Aurore" to find her crown which mysteriously disappeared during her sleep… Fairy and witch will also be on your way! A successful princess birthday thanks to a fun and educational animation for the most beautiful days of celebration!
Princess birthday party decoration:
A princess birthday is by definition a very "girly" birthday, often in pink colors… So you also have to think about decoration… It makes it easier for children to get into the game and to immerse themselves in games and parties. The birthday is an opportunity to get away from everyday life! So make children dream until the end… You will very easily find decoration in party stores or even in supermarkets on this theme.But to be 100% in harmony with the theme of your treasure hunt, we have developed a birthday decoration kit to print with the image of our heroes and game themes.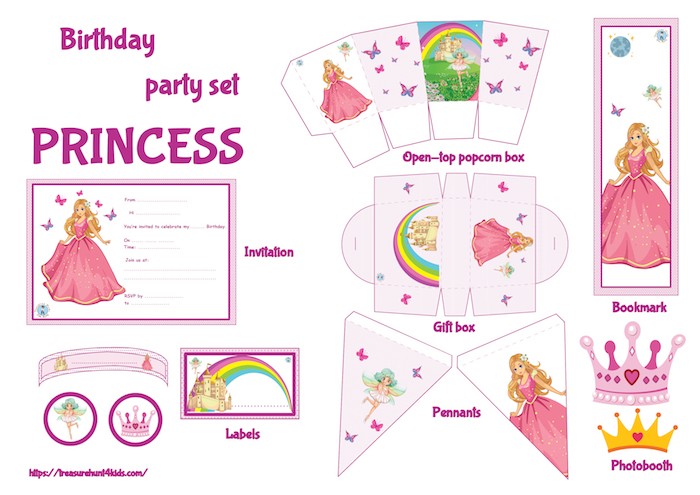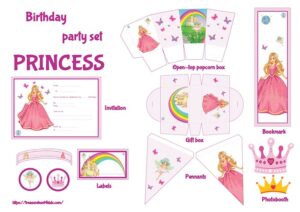 So, you can print a kit including invitations, place-tag, labels, cake toppers, open-top popcorn boxes, gift boxes, a souvenir bookmark and even photobooth to organize a fun photo session! Find Aurore, our little fairy and the witch in a kit 100% handmade by us, with the heroine of the game in a very girly spirit!It's the trendy and decorative touch, personalized to the theme, that you can find nowhere else! Your child will be happy to prepare the decoration of his birthday party with you!

Other princess free games:
To give you even more choices and ideas to keep the kids busy on your princess birthday, you can go to our free games section… You will first find the coloring of our princess "Aurora" to offer for example to children. they can color it quietly back home…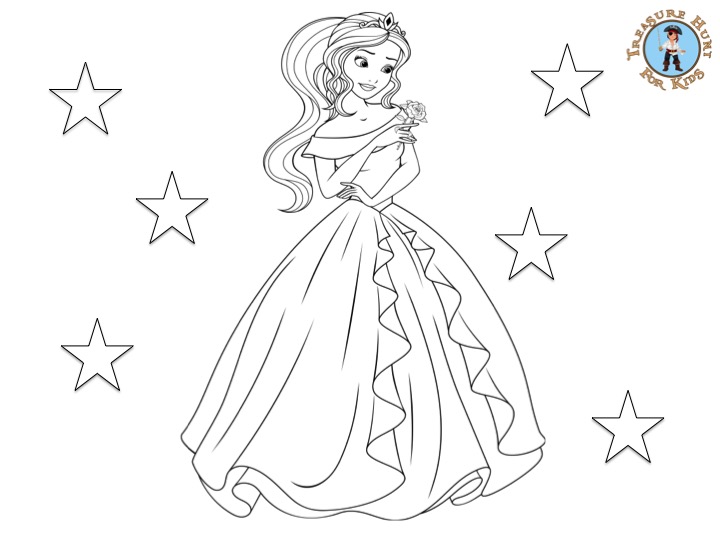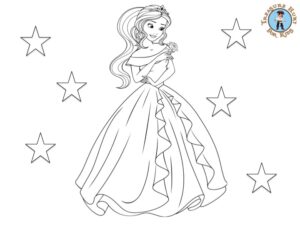 Also discover our free games to print and let yourself be tempted by our magic coloring, our points to connect, crosswords, pixel arts, difference games and many other printable games! Our site is therefore dedicated to the organization of children's birthday parties, but it is also a family site full of good ideas for activities and games of all kinds to easily keep your children busy throughout the year.
Discover our website in french!