How to throw an amazing Easter Egg treasure hunt for kids ?

Going in search of Easter eggs is the long-awaited moment for children! Organizing an Easter egg treasure hunt is a great way to go hunting for eggs while playing detective! Here's how to make this Easter egg hunt even more fun! Organize a real adventure so that the children go in search of eggs in a more original way and above all while having fun! Here's how to organize a successful Easter egg hunt!

Easter celebration 
I think it's important to delve into a bit of history, because even if the purpose of this article is to give you ideas for organizing Easter-themed treasure hunts, activities and games, there nevertheless seems important to me to know a minimum about this celebration and to inculcate it in our children, would only be by general culture!
Easter a Christian feast celebrating the resurrection of Jesus! So it's a religious celebration. Easter Sunday follows Holy Week, during which Jesus had his last meal with the apostles (Holy Thursday). He was then crucified the next day (Good Friday). Then, he resurrected on the 3rd day, the day of Easter Sunday! Easter is a plural word because they include these 3 moments by evoking the Passion, the crucifixion and the resurrection of Jesus. But Easter is also a pagan festival which represents the arrival of spring, the rebirth and the return to light after the long winter months… The egg being the symbol of rebirth, of life! It is a meaningful element and already long before Easter, it was customary to offer eggs at the arrival of spring! It is considered an auspicious gift! It was therefore natural to assemble the egg which represents the life and resurrection of Christ afterwards! In addition, the tradition of Easter eggs also comes from the ban on eating it during the Lent period! It is a tradition to get together as a family, organize a good meal and the traditional egg hunt for children for Easter! Nowadays, chocolate eggs are offered to children and even adults, but it can also take many other forms, the most common of which are the Easter bunny or the bells! The hare or Easter bunnies are of German or Alsatian origin: they are the ones who put the chocolate in the gardens! The bells represent the bells of the Church which rang on Easter Day after being silenced since Maundy Thursday.
Advice to organize an Easter treasure hunt
To do in advance
Buy chocolate eggs and other surprises for children that you will hide in the garden or at home! Better to do it in advance in order to benefit from a maximum of choice because the latecomers may not find fully filled shelves anymore! Hide them well in the house while waiting for D-Day so that children do not come across them! For a successful egg hunt, consider buying a chocolate in large format, but especially full of small chocolates so that the search is longer and more fun!Also remember to prepare for Easter by offering a manual activity to your child on this theme. For example, you can make baskets with them that will be used for harvesting eggs
The Easter day
On Easter day, put the eggs in the garden away from prying eyes! Of course, in case of bad weather, place the eggs inside! Give children small baskets (or the baskets you made) so they can go find chocolate eggs. This corresponds to a traditional egg hunt! Children will just have to look for and collect the chocolates that you have previously hidden!
Presentation of our game kit to organize an Easter Egg treasure hunt
But to get out of the traditional Easter egg hunt, you can organize a big game where children will have to go in search of eggs by playing with a treasure hunt! It's time to have a little fun… Here is our "turnkey" play kit, which will allow you to set up, in about twenty minutes, an original and fun activity that will allow children to have fun and discover the Easter feast in a more original way!
Story overview
The rabbits played a trick on you this year! They decided to hide the chocolate eggs in one place! So maybe you think it will be easier! You will have to collect clues, solve puzzles and take on challenges to reach the end of the adventure and find the chest containing all the chocolates!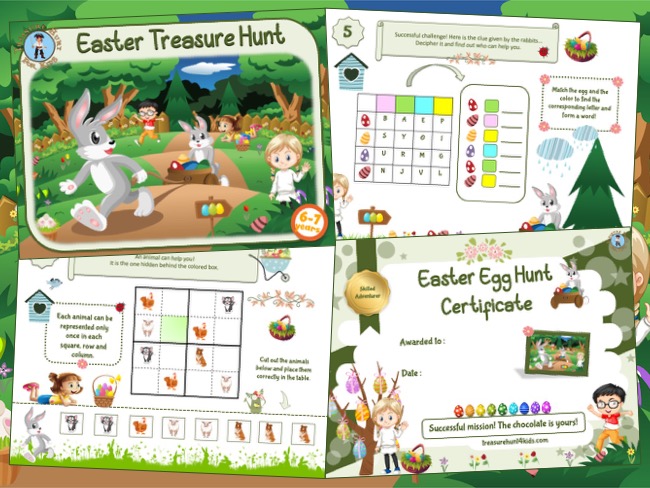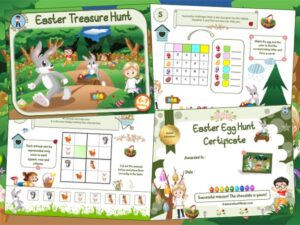 Content of our game kit to easily organize an Easter Egg Treasure Hunt
Our game kit includes the beginning of the story, 10 clues to find with puzzles to solve. Of course, the outcome of the adventure is also included as well as a bonus, a diploma to print for children! A pre-filled sheet of follow-up is integrated so that you, parents, can follow the game in real time! Note your hiding places and orient the children easily. Everything is thought to simplify your task! Animating a big treasure hunt becomes very easy! You will be a real game leader and I am even sure that you will enjoy it!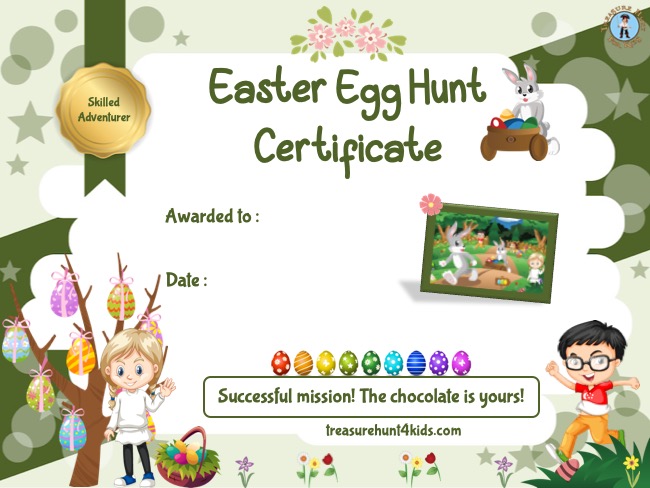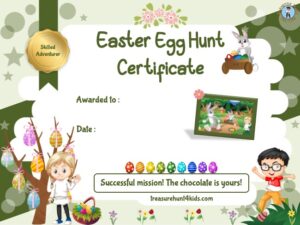 Our Easter treasure hunt is available to 4-5-year, 6-7-year and 8-year and older children! At each age, its game! The story is the same, but the puzzles are adapted according to the age of children. Thanks to our complete printable game kit, you will be able to organize an Easter treasure hunt in no time!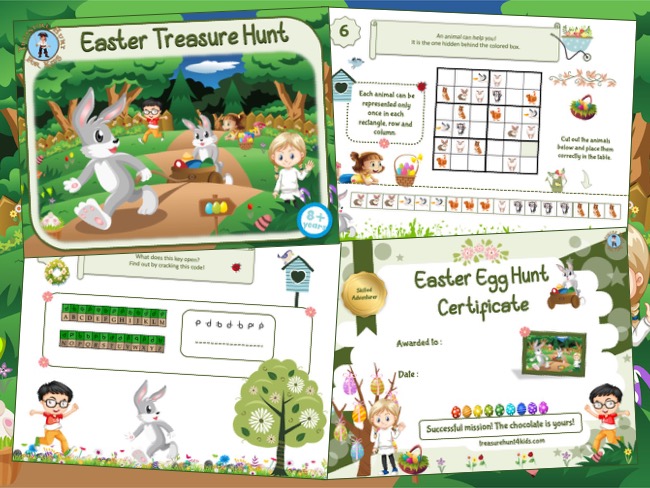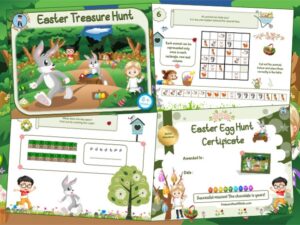 Benefit to organize an Easter treasure hunt    
Children love to play detective, search for clues, and solve puzzles. Organizing an Easter treasure hunt will allow children to experience an incredible adventure that will change from the traditional egg hunt they do every year! This will add a little more fun to the search for eggs! In addition, the playing time will be lengthened, since depending on the age group. It will take approximately 1 hour to 1:30 to find the treasure! Children will have a great time! This egg hunt will leave them with incredible memories!
Other ideas for an Easter Egg hunt
Here are other ideas to make a funnier and more original Easter egg hunt! The traditional egg hunt still appeals to children. They love to search and discover their little treasures! But here are other ideas to change habits and impress them! 
The colored egg hunt
This is a fun egg hunt to do with several children!Just buy eggs or other chocolates of different colors! Choose a number of colors equal to the number of children! On D-Day, draw the children a random color by preparing small papers for the draw! Once each child has their color, they can go in search of the eggs and will only have to recover the eggs of the color they have drawn… This allows each child to find the eggs intended for him and to avoid that the older ones get more because often faster than the small ones!For smaller children, you can put a small colored ribbon around their basket so that they remember the color of the eggs they need to find.
The puzzle egg hunt
Hide small chocolate eggs in the garden or at home. But keep the bigger surprises aside and hide them in another place where you are sure that children will not find them! For example, if you are hunting for eggs in the garden, hide the biggest chocolates in the oven or a cupboard in the house! Take a photo of your hiding place, print it and cut it into 8 pieces (number to be adapted according to the age of the children). Children will not only go in search of the little chocolate eggs hidden in the garden, but they will also have to find the 8 pieces of paper that you will have wrapped in a small colored ribbon so that the children can identify them. Once the harvest is complete, children will have to assemble the pieces of paper in order to put the puzzle together. They will then have a photo of the place where they can go and get the biggest surprises! This game allows you to combine traditional egg hunt and treasure hunt!
Hunting for eggs with a treasure map
Draw a map of your garden or the plan of your house, including landmarks for children! Then place on this map, crosses in specific places with a written or drawn element that will serve as a guide for children… The children will then have to orient themselves with the map to find the location of the eggs!
Detective-style egg hunting
Prepare different papers including clues that can be translated into riddles, puzzles, charades or coded messages! Number them… Give the children the first clue. They will then have to solve the riddle entered to find a place, then go to the place to find the chocolate hidden there! With each chocolate, then hide a paper that will allow children to find a second place, then so on… So hide 1 puzzle with each chocolate so that children can always go to the next place. Only the first riddle will be given directly to children.
Activities for Easter
Easter is also an opportunity to play with the family.
Easter games to print
Take a look in our free games section where you can find little Easter-themed activities to print, such as our maze to print.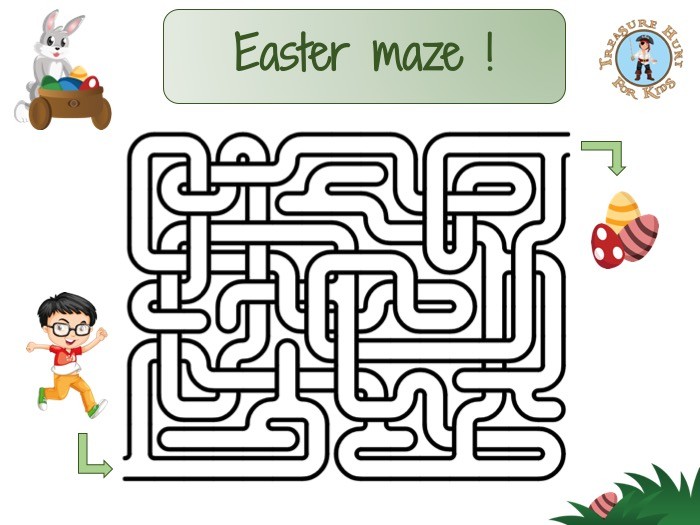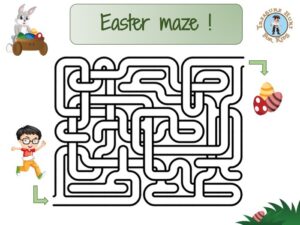 Enjoy our Easter themed coloring pages. Kids love coloring and this will keep them occupied. Load up on free printable games to keep your kids entertained in an Easter-themed educational way! Find other ideas on Pinterest.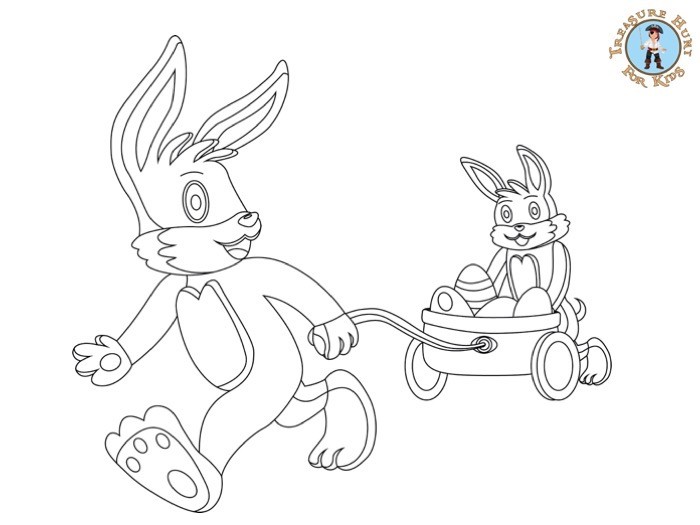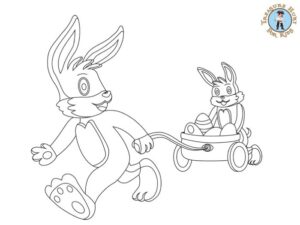 Easter is a feast that children particularly appreciate… These ones punctuate our calendar such as Halloween, Christmas, Carnival or Easter. These are festive moments to share with the family … It is important to explain children why we celebrate all these moments. It is of course essential to enjoy it, have fun and share family moments. Organizing activities around each theme allows them to assimilate different notions while they are playing. This therefore represents a great source of learning which simply allows them to better grasp the world around them and GROW!