Mermaid treasure hunt game kit!
Discover a « turnkey » game kit, to print, for kids to easily organize a group-game thanks to our mermaid treasure hunt game kit!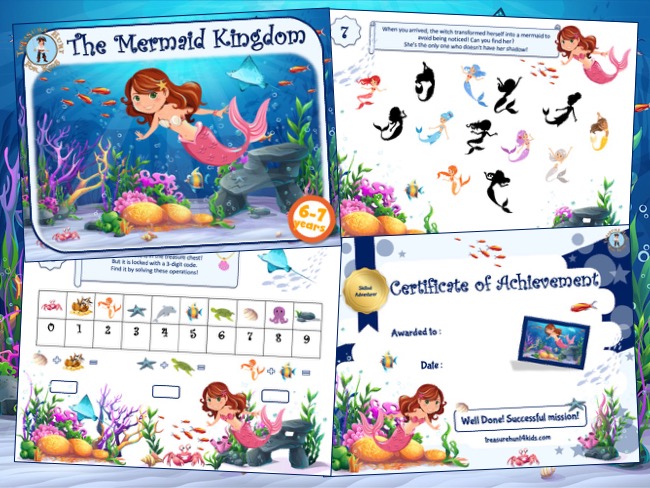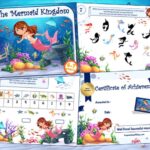 The mermaid theme :
We offer you a new game theme for birthday parties or family activities with our mermaid treasure hunt game kit.
The mermaid theme will appeal to little girls who will be delighted to have a great adventure in the heart of the ocean.
This game is available for 4-5-year and 6-7-year-old children.
Overview of our mermaid treasure hunt game kit:
The kingdom of mermaids is in danger! Indeed, the sea witch managed to seize the magic necklace of the queen of the mermaids. Without her powers, she can no longer protect her kingdom and her people! Her daughter then decides to go in search of the witch in order to find the necklace. Only the necklace will once again protect the kingdom … She will need you in this perilous mission!
Content of our mermaid treasure hunt game kit:
You will find 1 complete game kit to print in PDF format which will allow you to easily set up a treasure hunt activity on the theme of mermaids.This game file includes the explanatory setup pages, the beginning of the story and the outcome, a list of hiding place ideas, a sheet of follow-up. You will have in your possession the story line with its 10 puzzles and challenges to achieve to advance in the adventure. A printable diploma is included in this file in order to distribute it to participants at the end of the adventure!

The advantages of our mermaid treasure hunt game:
Here is a theme that will make little girls dream. The theme of the mermaids is a theme around the marvelous. The sirens remind us of the ocean with a very "girly" side here! Mermaids make children dream, it is a subject that fascinates them and that allows them to create a real activity combining adventure and magic …
a- to develop imagination:
Choosing a theme that appeals to your child is important because it allows him to escape, to dream and therefore to make his imagination work. The child can finally give free rein to his imagination for the time of a game! The game is by definition a moment without constraint. A moment when the child can get caught up in the game and put himself in the skin of a real little mermaid!
b- to let off steam :
First of all, finding the different puzzles allows children to let off steam by searching different places. This moment helps sharpen their sense of observation. Indeed, each game kit includes a dozen clues that you will have to hide in your house or in the garden! Children will have to go in search of these different clues with the help of a small "key phrase" which will help them locate the search area! From experience, children run away trying to find the clue as quickly as possible. Once there, it is now necessary to observe carefully, to search for the clue which is represented by a piece of paper that you will have hidden well!
c- a smart game :
Then, solving the different games will make their sense of analysis work in a fun and educational spirit! It will also require teamwork; this allows you to learn to work in community, group cohesion and mutual aid! Indeed, here is a fun but above all intelligent game that will make the neurons of our little blond heads work! With each clue found, the children will have to solve the riddle that is written on their paper! So puzzles, codes, secret messages, logical and mathematical puzzles and many other games will allow children to think in groups! Because in addition, this activity allows children to work in teams thus developing their socialization. They will have to learn to listen to each other and everyone must find their place within the group. The most timid must learn to impose themselves and the most daring to listen to others and leave them room! Working in a group is fun but it is also and above all a very important job to allow the child to grow WITH others! So when you can learn all this by playing … What more could you ask for?
d- to learn the reading and the pelling:

In addition, older children can work on reading by reading the thread of the adventure … Finally, the different games are adapted to the capacities of children. The games differ according to the age group in order to best adapt to the general level of the child. Of course, for the little ones, it is the parents or the game leaders who will have to read the introductory sentence of each puzzle to them. But the older ones will be able to read and understand the different statements alone … This allows children to practice reading, but also to understand a story and the different events related to it! This activity helps show children the value of reading and includes the notion of fun!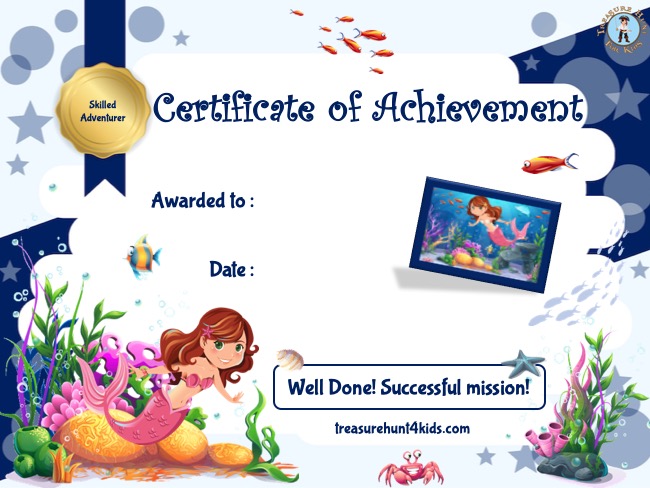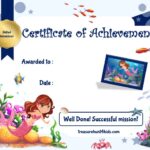 e- to learn while having fun :
It is well known that we learn better while having fun! It is with this in mind that our treasure hunt game kits are designed and worked. We are concerned about the quality of our games and pay extreme attention to playfulness, layout and the difficulty of our puzzles. Our goal is the pleasure of children while making them live a great adventure at home!So, quickly discover our mermaid treasure hunt kit to make your child live a unique and magical moment for his birthday! A friendly, group activity, both original and educational, for a simple and successful animation! 
Our free games on mermaid theme:
Take advantage of our completely free games section to print additional activities on specific themes!Find for example, our difference game on the theme of mermaids or our points to connect on the theme of the sea.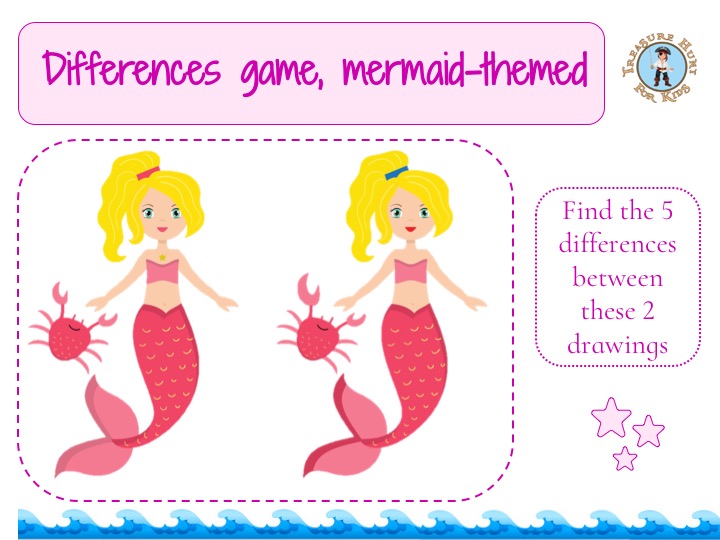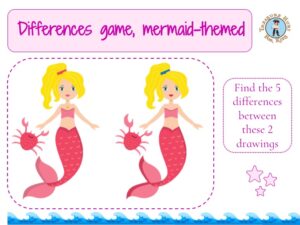 We also offer yuo coloring pages on the heroes of our game themes! So, find our pretty mermaid so that children can color it and display it in their bedroom! All these games to print are available on our website so that you can offer and complete with fun and educational activities your great treasure hunt game!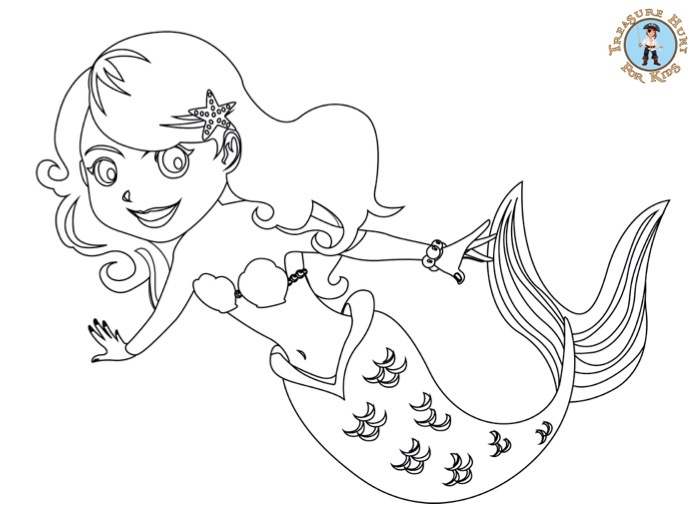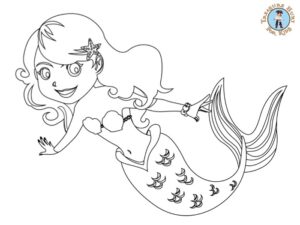 A mermaid birthday party set to print
We have developed a range of birthday party sets to print so that you can decorate your birthday party with the exact theme you have chosen. Find all the birthday party supplies available with the image of our heroes and game themes! This kit is entirely designed and produced by us with our personalized images! Thus, you will get a trendy "decor touch" to impress your guests on the theme of your game! Each kit includes invitations, place-tag, different labels, cake toppers, bookmark, gift box and popcorn box and "photobooth" to organize a fun photo session!