How do you make a scavenger hunt for kids? Scavenger hunt ideas for kids…
Sometimes, you need an entertaining activity to keep your children busy during the holydays or simply to have fun in family… So, we just have what you need! A quick activity to print. Kids love to go in search of different elements to complete a mission! Let's your kids moving, learning and having fun with a printable scavenger hunt! Here are several scavenger hunts ideas for kids! To help you out, we have prepared a list of some of our favorite scavenger hunt ideas for kids!
Discover how to organize a treasure hunt game for kids too with our practical guide!

What is a scavenger hunt ?
A scavenger hunt is a game where the organizers prepare a list with several elements that kids have to find about a defined theme. Kids must search and find all the object or specific items to complete their list. This game can be played as group, in a small team. Organize the game in advance. Create a list of objects to find and prepare clue to help the players locate the items. The winner is the person or the team returning first with all the items! Think to give children a clipboard, a flat surface to write on.
A) Benefits of scavenger hunts for kids:
Organize a scavenger hunt for your kids is a very good idea because this activity has numerous benefits for kids.
Develop children's skills in problem solving:
this game allows your children to increase their memory… Scavenger hunts help children to appropriate themselves all they had learn with teachers and parents in a physical way. They remember et learn better when they play because they can see what it is in a concrete way.
Easy to adapt of children's interests:
Scavenger hunts offer you numerous possibilities. You can choose a theme that corresponds to that your kid loves! He is fan of superheroes, of nature, of animals… You can easily customize your game to please your kids! Scavenger hunt ideas are endless.
Work in a team:
To growing up, kids have to learn to interact with each other. And it is not so easy! The child is centered on himself. He must learn to take his place in a group while leaving place for others. Kids have to search clues together et find the different items to progress in the game. Learning to work in a team is essential in the child's life and why not to learn that with fun!
Learn to be patient:
Children will sometimes take a little time to find an object! This allows them to learn patience and persistence to reach their goal!
Physical exercise:
To find the different items of the list, children will have to move. The searching of the clues will keep your kids moving! They will be running from place to place! Children understand that they can go out and explore on their own the environment!
Treasure hunts have the advantage of being able to be played everywhere! They require little preparation. They are quickly put in place! They easily adapt to the different age groups of children! Kids love to go looking for hidden objects. It's a way to learn and discover while having fun! You can host a scavenger hunt anytime you want!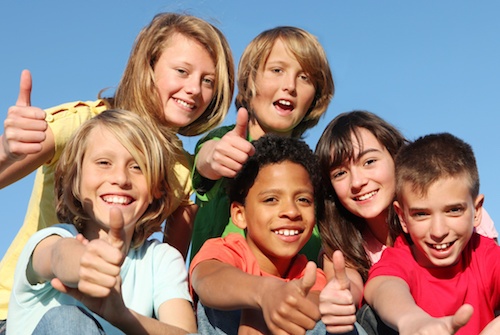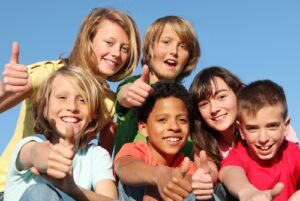 B) What are good scavenger hunt ideas for kids?
Plan an Easter scavenger hunt with riddles, a birthday party scavenger hunt game with your kids and their friends, host an outdoor or indoor scavenger hunt for kids. All the occasions are good to have fun! Children will collect different items along the way and win a prize at the end of the hunt.
1- Indoor scavenger hunt ideas for kids:
Color scavenger hunt :
Great activity to learn colors while having fun! Prepare a color list and your kids will find the different items in the house corresponding to each color! This can can be played indoor or outdoor. It is also fun for kids of all ages and can be played alone or as group.
Letter or alphabet scavenger hunt:
Prepare a list of letters. You can add a place for each of them. Children will have to find and write the name of the object they have found in the place indicated! A great way to learn the alphabet and discover words and their spelling while having fun!
2- Outdoor scavenger hunt ideas for kids:
It is very pleasant to take advantage of the arrival of the sunny days to organize an outdoor scavenger hunt. Children will be delighted to be able to have fun outside while playing a fun and educational game!
Here are some ideas for outdoor scavenger hunts:
Nature scavenger hunt:
It is a good activity to play with family to teach your children and discover nature with pleasure for kids of all ages! Make sure to adapt the game to the age of your kids!
Scavenger hunt in the town:
Walking in the town becomes very interesting with our free printable scavenger around the town. Observe and look for the different items on your list! Check the box when you have found it! A great way to discover the city and its environment!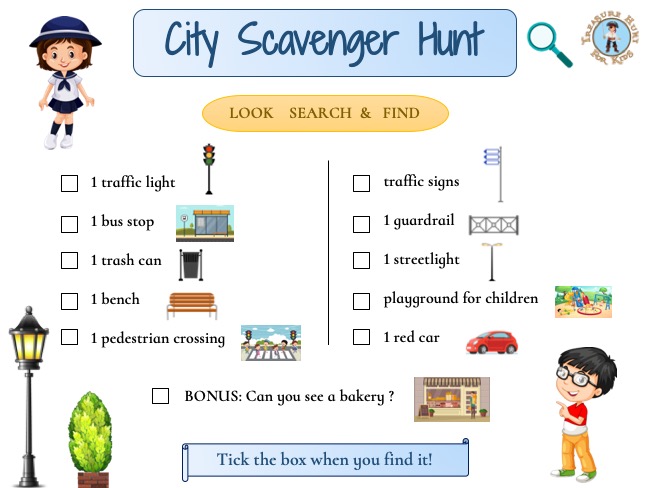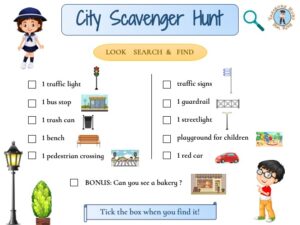 Playground scavenger hunt:
Use a playground scavenger hunt as an original activity in the play area! It is a right way to encourage kids to climb, slide and play! This game helps your child to develop large motor skills! It is a perfect recipe to an afternoon outdoors!
3- Scavenger ideas for kids for traveling:
Ready for a road trip? When you are riding in the car with kids, the time can be so long! Kids get bored and the way can become a real hell! With our fun printable scavenger hunt in the road, kids have to watch the land to find the items on their list!
On the road scavenger hunt :
The car journeys can seem very long! By preparing a scavenger hunt for your child, make your car trip a moment of discovery! Your child will have to observe the landscape that scrolls in search of the different elements that you have put on the list! You can create your own scavenger hunt or use the one available on our website!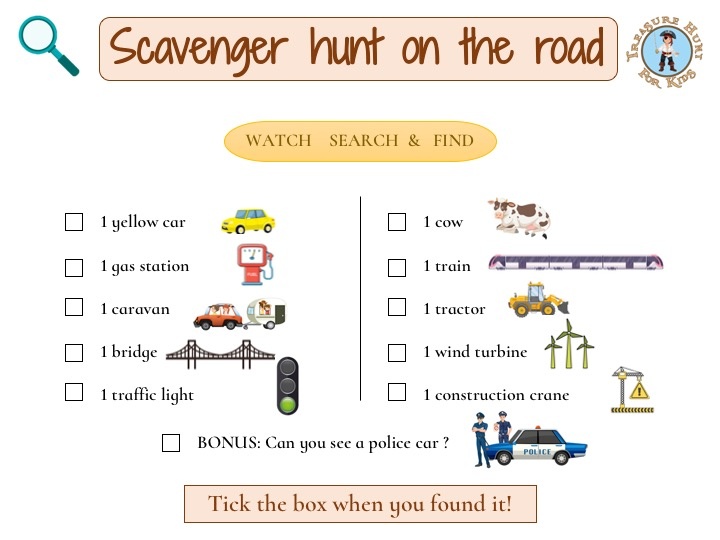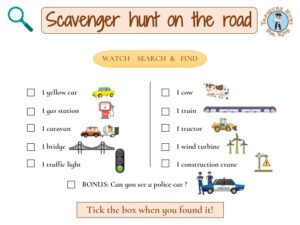 Airplane scavenger hunt:
If you plan to travel by plane, then prepare a scavenger hunt to entertain your children! This game can be done at the airport where the child will find different elements of the airport … You can also plan this type of game on the plane with other search words that can only be found aboard an airplane!
4- Scavenger hunt ideas for kids for holydays:
Scavenger hunt at the beach:
Here is our free printable beach scavenger hunt for kids! If you live near the beach or if you plan to go in vacation to the beach this summer, print our game. It is an educational way to discover the sea and all the elements who composed it! Observe, search and find all the items of your list! Have fun checking off all the items you spot while you're there!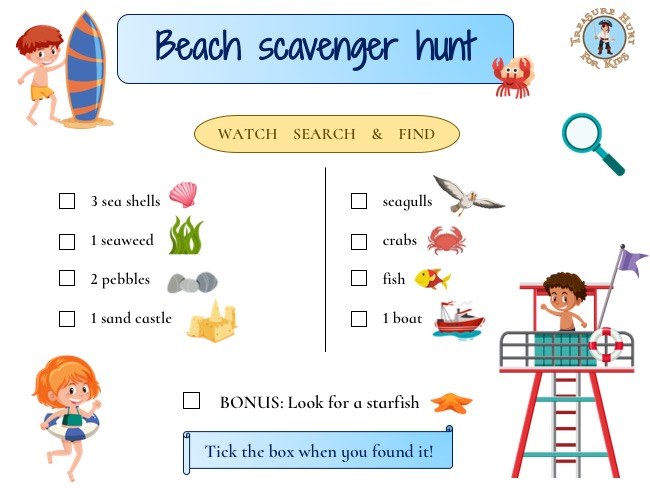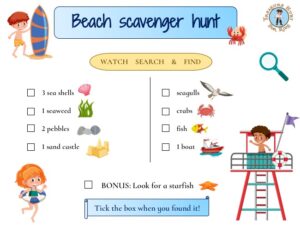 Camping scavenger hunt:
Summertime is a perfect time to go camping with kids! Discover your vacation spot while walking through the campsite! Prepare a treasure hunt with objects to find in relation to the camping to make this moment a game and a fun discovery for your child!
5- Scavenger hunt ideas for kids about seasons:
Use a scavenger hunt game to introduce your child to the different seasons! Prepare a list of objects that children will have to look for, specific to each season! These games are simple to prepare and allow children to learn and discover the rhythm of the seasons and what happens during each of them!
spring scavenger hunt
autumn scavenger hunt
winter scavenger hunt
summer scavenger hunt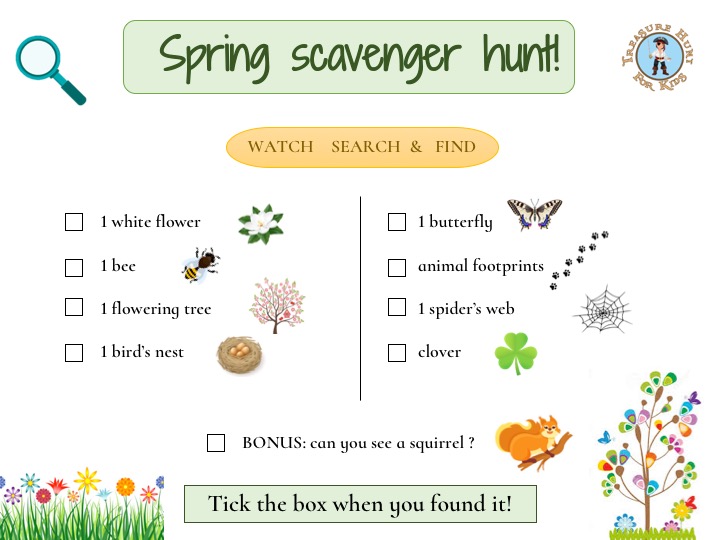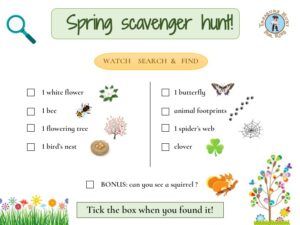 6- Scavenger hunt ideas for kids about annual themes:
Easter, Halloween, Christmas, carnival … Take advantage of special events throughout the year to organize a scavenger hunt game … A way to discover the words around each theme and a support for language and explain the meaning of each day!
Christmas scavenger hunt :
Organize a scavenger hunt to help children to wait patiently Christmas! An educational way to learn words about Christmas!
Halloween scavenger hunt:
Halloween is a very popular holiday for children who like to be afraid! disguise yourself! Head out into the city to find the various Halloween themed items on your list!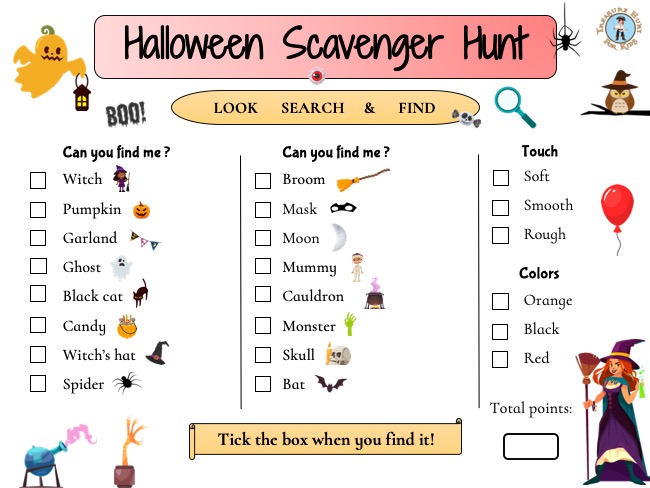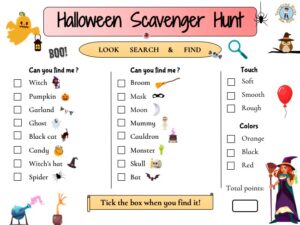 Easter scavenger hunt:
Organize an original game to celebrate Easter this year! Organize a big scavenger hunt to amuse your children!
7- Scavenger hunt party game ideas for kids:
It is not difficult as you may think to organize a real scavenger hunt for a birthday party! Kids will be enjoyed to find each clue! Choose the theme of the party et prepare a scavenger hunt with items to find on the theme you have chosen!
superheores
circus
princess
mermaid
knight
unicorn
pirate…
Kids have to find all the items. They can play alone but it is better as a team… The winner is the first team who has collected all the items… But, of course, think to prepare prizes for all the children!
Here is already a great list of scavenger hunt ideas for different times and occasions! Children love to participate in such activities. They are a lot of fun. They allow them to think… They force children to move, to search … It is a great way to have fun and which also allows children to learn and discover! Make every moment, every outing, every trip, a moment conducive to discovery and learning!
Discover our print & play detective mystery game kits to throw the best party ever for your kids and our french website!