How to throw a home escape room for kids?
Organize easily a home escape room for kids ! The escape game is now available to everyone!
An escape room is an innovative game concept to live a great adventure in immersion! But what is an escape game? How it works? How to set it up at home?
We will take the time to explain everything in our article. You will also understand how it is possible to organize an escape game at home!
Discover our printable escape game kits for kids to enjoy the escape game atmosphere wherever you want!
Designer of treasure hunts and specialist for kids games, we have created for 6 years games specially designed for the animation of themed activities for birthdays, holidays or family activities! With our experience, we are always developing more game kits. It is therefore logical that we have developed a range of escape game games to play at home.

What is an escape room ?
Commonly called "escape game" or "escape room", escape games are becoming more and more popular! The principle of the game is simple: escape from a place or solve a mission in allowed time! You have on average 1 hour to resolve your mission! These games are mainly played indoors but they are so successful and so popular with children (and adults) that we decided to create these games in ready-to-print kits, so that you can play them whenever and wherever you want. Escape games can be played directly into your home which will become a real playground for your children.
An easy concept of game :
1 mission, 1 team and 1 allowed time! These are the 3 points that characterize an escape game. Combining a clever mix of puzzles and codes to solve, children will be caught up in the game and will have an unforgettable experience of which they will have great memories!
Our ready-to-print home escape room sets for kids :
Our games kits, created by a professional, are suitable for children… They are ready-to-print and ready-to-play and can be played at home or whereever you want. Children will have to work as a team and work on their spirit of logic and deduction in order to progress in the game until the outcome… Riddles, codes and excavations will be the main challenges during the game, all in an immersive atmosphere, combining reflection and concentration. Organizing an escape game at home becomes very easy with our turnkey game kits.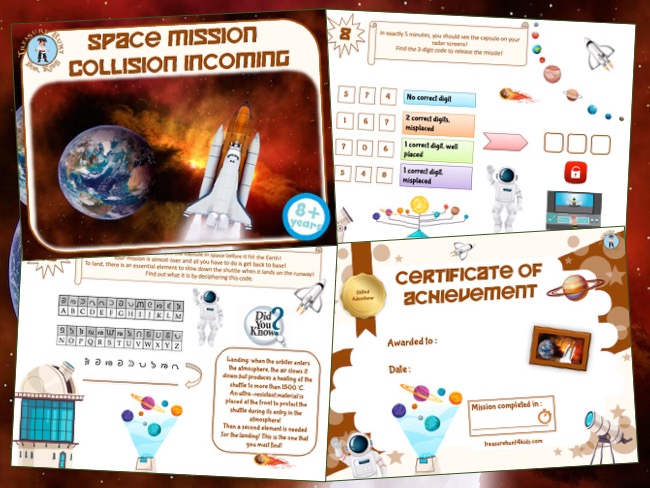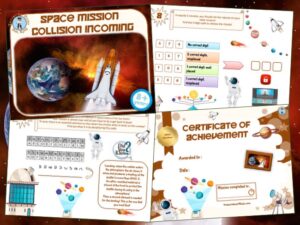 Children love games where they become "actors" of the adventure! Each escape game includes 10 riddles to hide in your game space … Don't forget to start the timer! You will have 1h30 to solve your mission and escape from the place. Our games are most often used at birthday parties, the time of an hour seemed a little short! In our kits, children will have 1:30 to lead their adventure. Recreate an escape room directly at home thanks to our "turnkey" kits specially developed to recreate the whole atmosphere of the escape game at home!
How it works ?
Print your game, hide the clues and Play! If you like the atmosphere of escape rooms then you will love our printable escape game kits! An original activity to set up with family or friends, for all occasions! Organizing an escape game at home is so simple and quick! After choosing your game, print it! Then hide the riddles in your game space. In about twenty minutes, the game is ready! All you have to do is let the adventure unfold! You will not need any additional equipment! Everything is included in our kit! So why take hours trying to create an escape game when our "turnkey" and ready-to-use kits exist precisely to simplify your task!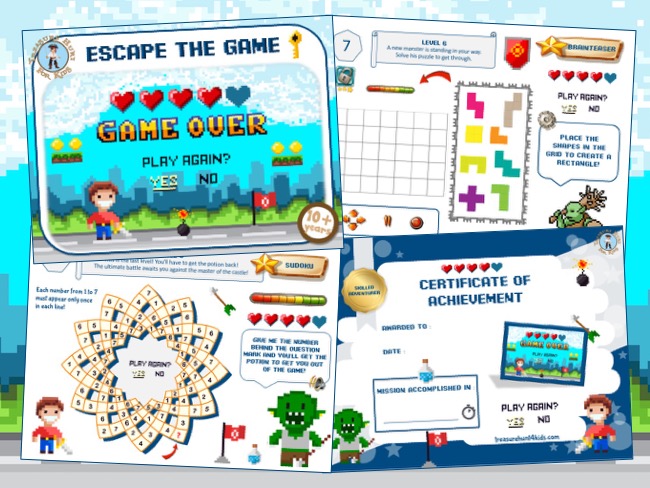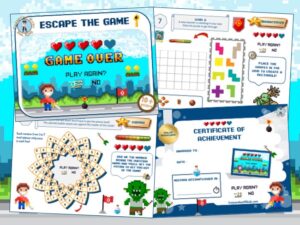 The installation of our escape game kits is very simple and quick! No loss of time in preparation. Enjoy only the best moment: the game! Let's go for an incredible immersive adventure! If the players exceed the scheduled time, then all is lost! Nevertheless our games are tested and designed so that children reach the end of their mission in the given time! The goal is to have fun and play taking advantage of the present moment.
Adapt the game according to the number of children:
Up to 6 children, make only one team …
Beyond that, separate the group into 2 teams: the ideal for is that every team mades up of 4 to 6 children so that everyone can participate fully.
The 2 teams will play simultaneously… You will just have to think about duplicating the riddles so that each team has its own puzzles to solve…
Read the beginning of the story… Then children will go with their team in search of the first clue. Once found, they will have to solve it and come back to the adult to validate the answer… This one will guide them to the following clue… Each team can win since the goal of the game is to succeed in less than 1:30 hours… The best team will be the one with the best time!
Content of our home escape room sets:
After your purchase, you will receive a complete game file in PDF format to download and print! All the explanations are provided! You will be surprised by the simplicity and the speed of installation of this activity. The script is already written, the 10 riddles are waiting for you and are ready to be hidden. A sheet of follow-up allows you to follow the progress of the game in real time. It will be very easy to guide children throughout the adventure! This guide will allow you to become a real game leader without even realizing it… Everything is ready! Just follow the guide and let play the game!
A diploma has been specially designed to congratulate children on the success of their adventure! You will be able to personalize it and write in the box provided for this purpose, the time that the children took to complete their mission.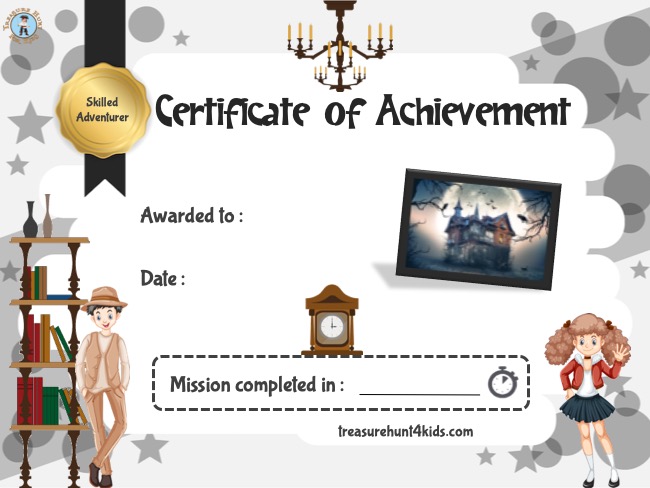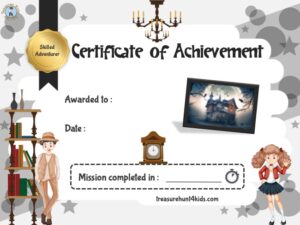 Find the escape game spirit at home! An ideal game to set up for all types of events: birthday party, wedding, family events, leisure centers or simply to play with family at home during the holydays.
Organize an escape room at home with our game kits:
Discover our ready-to-print home escape rooms available in our website.
Space mission: collision incoming!
Here is an exciting game that will appeal to children for sure! A space capsule is lost in space! The concern is that it is loaded with plutonium! You know, this is the material we use in the making of explosives! And yes !!! And according to our radar screens, it is currently heading straight for planet Earth!A team of astronauts is mandated for a mission of the utmost importance! You have 1:30 hours to avoid the impact! After, it will be too late ! This game is available for children aged 8-9 years and 10 years and older. 

The underground lab:
This time a whole other adventure awaits you! The terrible professor Krüger has developed a new virus from a deadly strain in an underground laboratory! As secret agents, you are mandated to find this laboratory and recover a sample of the virus in order to give it to the competent researchers and find the antidote! You have 1 hour 30 minutes to carry out your mission before the professor returns to his laboratory! Be quick! Time is running out! This game is available to children aged 6-7 years, 8-9 years and 10 years and older.


The secret of the old manor:
This time, you find in the attic strange documents which explain to you not far from there the presence of an old manor which would have belonged to a rich cousin distant from your family. We will have to find secret documents that would prove that you are one of his heirs! Upon entering, the door closes suddenly behind you! You are trapped! You have 1 hour and 30 minutes to find the documents and escape from this place before your parents notice your absence. This game is available for kids aged 6-7 years, 8-9 years and 10 years and older.

The Santa's list:
Here's a fun escape game that will keep kids occupied and patient while waiting for the long-awaited Christmas moment. The elf-in-chief hit his head while hanging the last garlands! He has lost his memory and no longer knows where he put the famous Santa Claus list! So how Santa can go on tour without his list! Distributing gifts at random is not possible! You have 1 hour and 30 minutes to help our elf to find the list and give it to Santa Claus before the beginning of his tour! This Christmas escape game is available for children aged 6-7 years and 8 years and older.

Puzzle ideas to organize a home escape room for kids:
If you decide to create your own home escape room, here is a list of puzzle and game ideas that you can easily use! Choose a puzzle for each stage of the game!
use padlocks: children will have to find the code to open it. It can be digit, letter or key. The key will be found by the children and will be hidden in a room!
a challenge with a countdown: you can propose to find an element hidden in a room in an allowed time!
false documents: you will find on the internet sites that will allow you to make false documents!
invisible ink to read with a UV lamp: Here is a youtube video to create your invisible ink.
coded messages: there are many, including Morse code or Braille
puzzles: reconstruct a complex puzzle to access the next clue!
labyrinths: easily create your labyrinths with this tool!
hiding places: the escape game includes a lot of research and excavation! Children will have to find a hidden object that will help them progress in the game.
The role of the adult in a home escape room for kids:
The adult will become the master of the game! As an organizer, you will have to ensure the smooth running of your home escape room for kids. You will also be the master of time! Indeed, start the timer before the beginning of the game. Remind the children of the time that elapses and therefore the time they have left to complete their mission! Help the children if you see that they are having trouble solving a puzzle of the game. In this case, do not tell them the answer but give them an additional clue that will unlock the situation! The adult is therefore responsible for the smooth running of the activity!
Escape room sets are original and fun games to play for any occasion with family or friends! Organizing an escape game at home for a birthday party is a great way to keep the kids occupied and you can be sure your birthday party will be a real success!
So you too, succumb to the temptation to live an incredible experience at home with an innovative concept of game to print!
Also discover our print and play kits of treasure hunts and detective mysteries. These are other types of adventure games to discover also on our site.