How to organize an amazing Harry Potter birthday party?
Find out in this article how to organize a birthday party based on the world of the famous wizard Harry Potter. Your child asks you for a party on this theme. Don't panic! We will describe several games and animations to set up in connection with the children's favorite wizard. Discover also a turnkey game kit, ready to print, for parents in a hurry and who will have in a few clicks a complete activity to facilitate your organization.

The Harry Potter theme to organize a birthday party
The Harry Potter theme is an excellent choice to organize a party. It appeals to girls as well as boys. It was, is and will always be in the news. It is known by everyone. It is a wise choice which will allow you to set up a party theme with a sure value. Moreover, this theme, as you will see, will allow you to set up a multitude of games. Magic and witchcraft allow you to invent or divert already existing games to make them fit into your theme. A birthday is a unique moment. Choosing a theme like this one will allow children to escape for an afternoon and give free rein to their imagination. Also, remember to ask the children to come in costume. This will allow them to enter directly into the game, into the theme of the party. All children have a wizard costume at home and if they don't, a hat, wand and cape will do the trick.
Ideas of games to organize a Harry Potter birthday party
Creation of magic potions: yes, magic potions are the essential element for an activity on the theme of witchcraft. So, you have to cast spells and protect yourself from bad spells. To do this, set up an activity to make magic potions. Provide bottles for each child to be used as containers for their potions. Prepare a list of ingredients in advance, changing their names to make them more "magical".  Prepare bottles that match the names you have chosen. Apple juice becomes toad slime, orange juice becomes pumpkin juice and grenadine becomes crocodile blood, and so on. Children will have to follow the ingredients on the list to make their potions. You can add herbs and spices…
The quidditch game: a quidditch game is a must. Place 2 goals face to face in a field that you will have marked out. Prepare brooms for the children to ride on. Use broom handles and decorate the end with cardboard to imitate the bristles of the broom. Form 2 teams. The goal will be to put the most points in the opponent's goal by using his broomstick with large foam balls.
Make magic wands: A Harry Potter birthday requires that each child has their own magic wand. Don't let that be a problem! Make it an activity. Prepare tree branches in advance that are fairly smooth (slightly twisted, it doesn't bother) and prepare some decorations. The children will each have a branch to decorate with materials you have placed on the table such as wool, cotton, beads, crepe paper. The children will be able to wrap a yarn tightly around their stick and insert beads. Success guaranteed.
Jelly beans: the famous Harry Potter candies. Organize a game around these candies. Children sit in a circle. They will have to choose at random a candy that you will have placed in a bowl. The children take turns eating their candy and guessing what it tastes like. Some tastes are quite difficult to swallow. Indeed, some have classic tastes such as banana, cotton candy or lemon… Others are less appetizing but surely more hilarious such as rotten egg, earthworm, vomit or booger!  But we are in the "Harry Potter" theme and the name of the candies will provoke big bursts of laughter among children. Write the name of each flavor on a piece of paper so that the child can find the right flavor from the list of suggested flavors.
Investigation at the school of wizards based on the Harry Potter universe
Discover our detective mystery "In the School of Wizards", a printable birthday game available to 6-7 and 8-year and older. Here is a "turnkey" game inspired by the world of witchcraft that will allow you to quickly set up a great collective game where children will have to carry out the investigation: clues, riddles and challenges await you for an extraordinary adventure to share with family or friends on the occasion of a birthday party.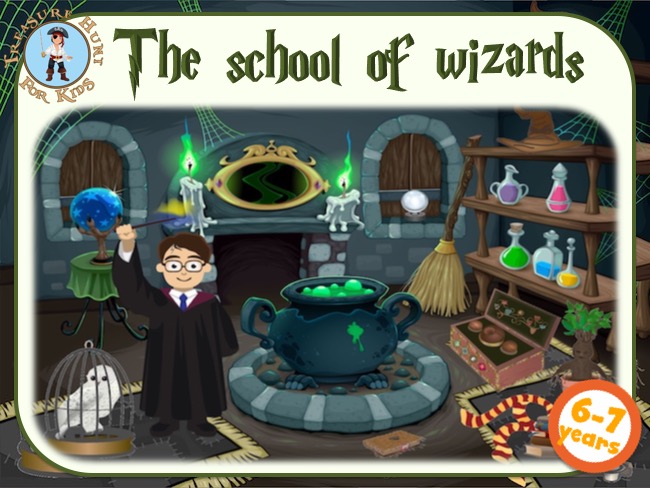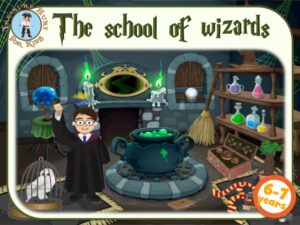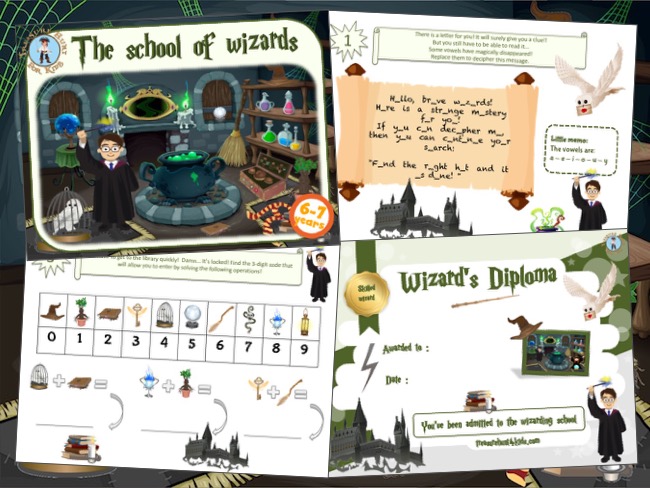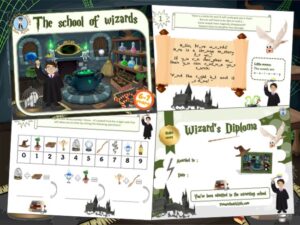 Story
Indeed, discover an exciting story:
"The prestigious witchcraft academy is renowned for training the elite of witchcraft. Every year, at the beginning of the school year, a big ceremony is organized to find out if the students can join this "out of the ordinary" school. Indeed, only the magic wand of the academy, which used to belong to the greatest wizard, will be able to confirm if you are deserving enough to study in this school. Unfortunately, the wand has disappeared and entry to the wizards' school is threatened."
Children will be thrilled to participate in an incredible adventure full of magic, where potions, cauldrons, spells and magic formulas will invite each other in riddles that are always more fun than the last!
This game is ideal to organize a birthday party. It will allow you to easily occupy a whole group of children, who will be delighted to live a great adventure inspired by the greatest wizard, "Harry Potter". What could be better for a successful birthday party and for the greatest pleasure of your child and his friends than to organize a great police investigation, especially when it is about witchcraft. Children will be delighted to put themselves in the shoes of real wizards.
Discover a game kit with an innovative concept that is simple and quick to set up for parents and that will allow children to live a great adventure.
Contents of the game kit
You will find in this ready-to-print game kit for the organization of a Harry Potter birthday party:
The necessary explanations to set up your investigation.
A sheet of follow-up where you will indicate your chosen hiding places, allowing you to follow the game.
10 puzzles, tests and challenges that the children will have to complete as a team to complete their mission.
A wizard's diploma to be given to all the children who participated in this adventure, as a souvenir of the day.
The beginning and end of the story as well as the story line of the game.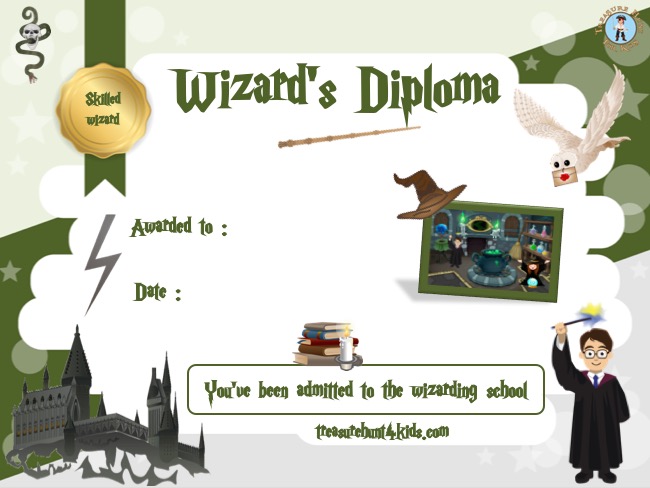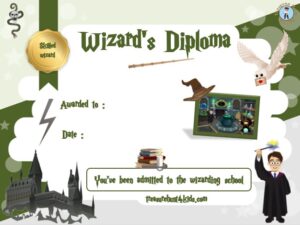 Don't forget to also print the free invitations, available on this theme, which you will find in the store.
The decoration to organize a Harry Potter birthday party
We have developed a range of birthday decorations to print to match our game themes. So, discover our anniversary decoration kit on the theme of wizards. You will find the invitation, bookmarks, labels, cake toppers, popcorn box, gift box, pennants, a souvenir bookmark and photobooth for a fun photo shoot. Come and discover our printable birthday party sets featuring the characters and scenery from our wizard game.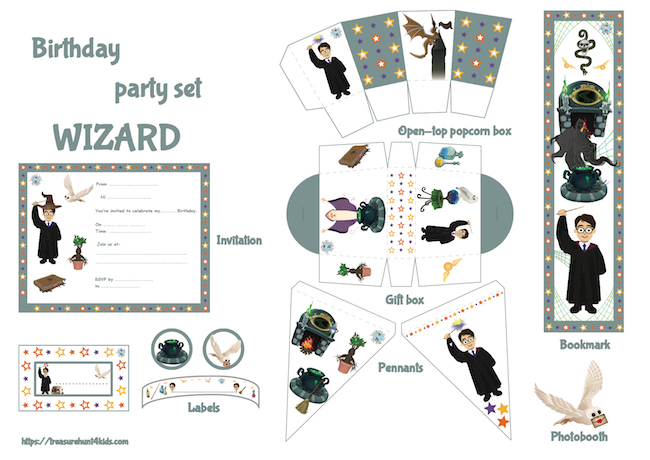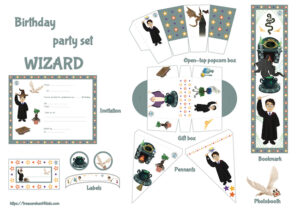 Discover our other treasure hunt, police investigation and escape game kits to organize an original, fun and educational birthday party. Make your child's birthday a unique moment to remember for a long time…
Have a look at our site dedicated to games and birthday activities to keep children occupied all year round.