Best activities for Kids Halloween party
Get ready for the best Halloween party with all these activities for kids. Halloween is a very popular and much-awaited holiday for children! They love to play with their fears. Being able to experiment them in the form of games with friends while collecting sweets is a real pleasure. Children look forward to it every year! Here are some ideas for games and activities that you and your children can use to celebrate Halloween as it should be!

Origin of the Halloween party
Halloween goes back more than 2,500 years. It is a Celtic and Gallic festival which allowed to celebrate the New Year but also the spirits of the deceased. Of Celtic origin, it was then known as "Samain" which is nowadays translated as "November". We were celebrating the end of summer and a new year to come. The Celtic calendar was lunar and not solar like our current calendar. The feast of "Samain" was therefore celebrated on the nearest full moon night and the date therefore changed every year. It was then set for October 31 for convenience. This holiday is therefore the ancestor of our Halloween party which also allowed us to create a bridge between 2 worlds, that of the living and the dead.
Today is a pagan holiday that takes place on October 31st. This festival was first very popular in Scotland, Ireland and Wales, and only long afterwards was it introduced to Canada and the United States with the arrival of Irish and Scottish emigrants.
Modern tradition involves children dressing up as monsters, ghosts, witches and other scary characters and walking the streets, ringing doorbells in search of treats, mentioning the famous phrase: "Trick or treat!" "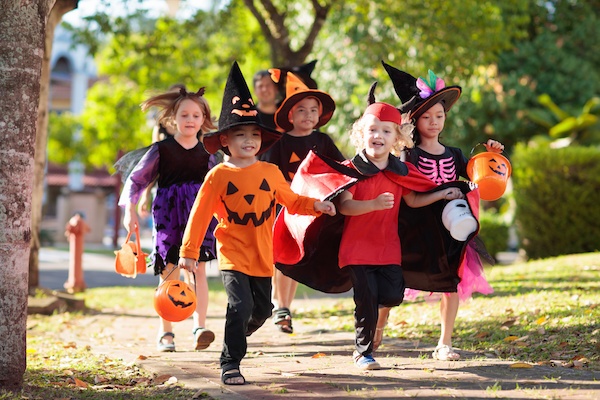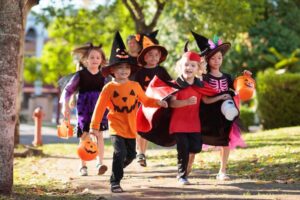 How to celebrate Halloween with children?
Halloween decoration
Halloween oranges: simple, quick, inexpensive … Buy a few oranges and have fun making scary faces, using black felt pen … Great little decorating idea for the occasion to imitate pumpkins.
create a Halloween pumpkin: for a successful Halloween party, you cannot ignore the pumpkin, this autumn vegetable that has become the emblem of this holiday. Children will take great pleasure in carving their pumpkin. It will be even more formidable once illuminated and will make a superb, monstrously nice decoration for D-Day. You can place a traditional candle inside, but I prefer to use artificial battery-powered "tealight" candles … the steps to making your own Halloween pumpkin, it's here!
Halloween ghosts: a little idea for a fun activity to do with your children to decorate the house … make little ghosts to out or hang in the house. Take polystyrene balls that will form the head of the ghost. Then prepare squares of orange, black or white tissue paper. Then place your ball in the center of your sheet and wrap your ball by closing with thread. Glue eyes … Then put a small iron hook that you will plant on the top of your ghost's head to hang it wherever you want.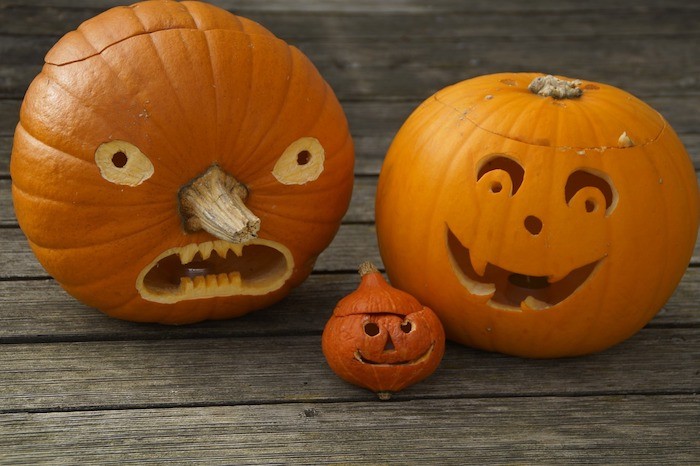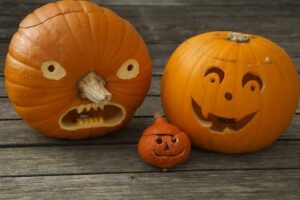 Activities to celebrate Halloween with kids
Here is a very complete list of activities to put in place to easily animate a Halloween party for kids.
Mummy Wrap : the most fun of Halloween activities for kids
This game is great fun and will make everyone laugh. Form at least 2 teams made up of 3 children: a mummy and 2 children who will have to wrap the mummy. Give each team a roll of toilet paper. Throw the starting signal. The two children will then have to wrap the mummy as quickly as possible. The team that finishes their mummy first wins.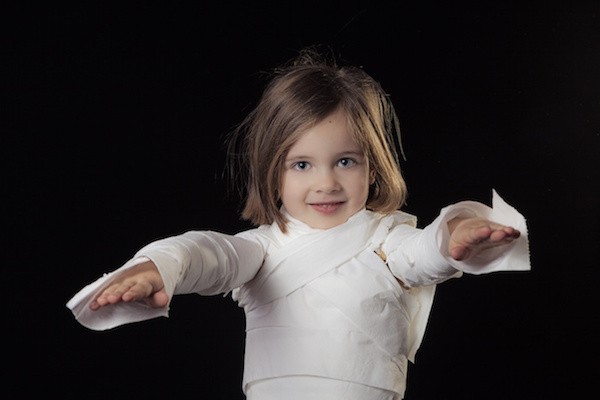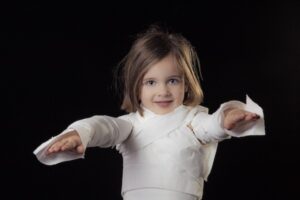 Halloween Can Knock Down : the most traditional of Halloween activities
Keep your large tins. Once you have enough of them (at least ten) decorate them. But be careful not anyway. Witches, vampires, monsters of all kinds must come and decorate all your cans. Children will enjoy spending time decorating the boxes as much as playing the game of the "chamboule-toutout" afterwards. The best thing to do is to use metal paint for a nice decoration.
Also you can stack up ghost cups and have kids try to knock them down by shooting Nerf guns from 10 feet away or with a ping pong ball.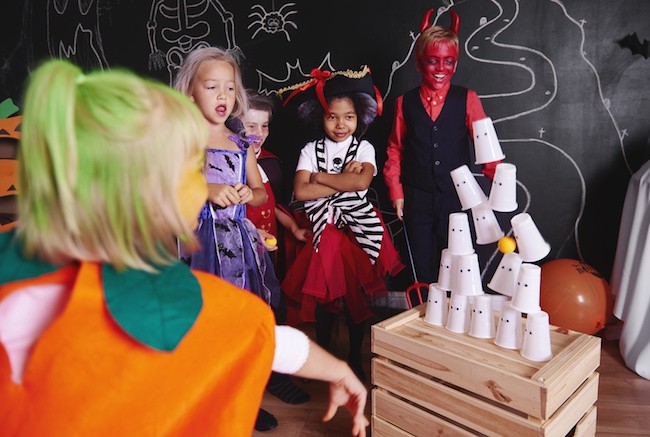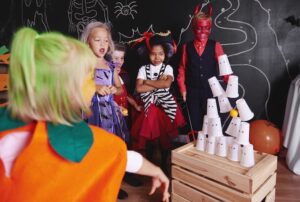 Surprise balloons : the most surprising of Halloween activities
This is a very fun and once again inexpensive game. Buy black and orange balloons, of course. Place a piece of paper with something written on it into each balloon. It can be something the kid will win like a candy, but it can also be a little candy like singing a song or something else. Write down fun things that the child will have to do or a small prize to win. Inflate each balloon once the paper is placed inside. Then put the balloons on the ground. Throw the starting signal … Each child will have to pop a balloon and do or win what is written on the paper.
Pin the tail of the black cat
Everyone knows the famous "Pin the tail on the donkey" party game. Just decline this game with a black cat, symbol of the Halloween party.
The aim of the game is to draw a big black cat on a large sheet of paper and stick it to the wall. This cat will not have a tail. Then cut out a tail for each child from black paper. Children will take turns, blindfolded to try and hang the cat's tail on its buttocks. They will be guided by the voice of their classmates. Whoever puts the nearest tail wins the game.
Donut Eating Race
This is a terribly fun game that will provoke great bursts of laughter. Place a long string high up and dangle donuts that will reach children's mouths. Each child stands in front of his or her donuts. At the start signal, the child will have to eat its donut as quickly as possible, but be careful to keep their hands behind their back. Whoever finishes their donuts first wins the game!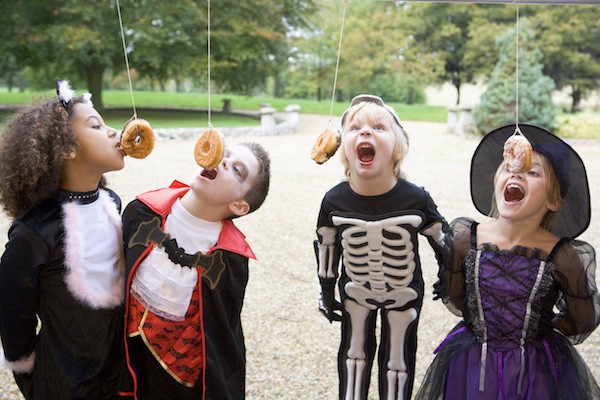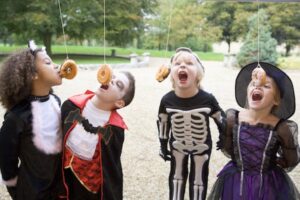 Feed the monster Halloween Game
This fun ball toss game will keep all the kids entertained! This is an easy game to set up because you only need a cardboard box. A large cardboard box that you will close to obtain a rectangular shape. Then decorate it to turn it into a monster. This is quite simple, just paint it green or wrap it with green paper. Then make an opening in the corner on the top to symbolize the monster's mouth… With white triangles, you can imitate the teeth. Have fun gluing or drawing the eyes and nose. Then use balls… The children will have to feed the monster. To do this, they will have to take turns trying to throw their 3 balls into the big green monster's mouth. The child who puts all his balls in the monster's mouth first wins.
Halloween face painting : the most indispensable of Halloween activities for kids
Halloween wouldn't be Halloween without disguise and make-up. So a face painting station is a must. You will find many examples of Halloween make-up on the internet. But there are also make-up kits with stencils included to help you to realise the most monstrous make-ups.
Halloween Tic Tac Toe
Easily create a tic-tac-toe game for Halloween. You can use a wooden board and paint it black. Then use tape to form the squares of the game. If you don't have this material on hand, then simply use a black cardboard sheet and an orange pen. Next, use small pumpkins that you will differentiate by putting black dots with indelible markers on half of them. Finally, the rules of the traditional tic-tac-toe game will be put in place. The goal is to line up 3 identical pumpkins on the same row, column or diagonal.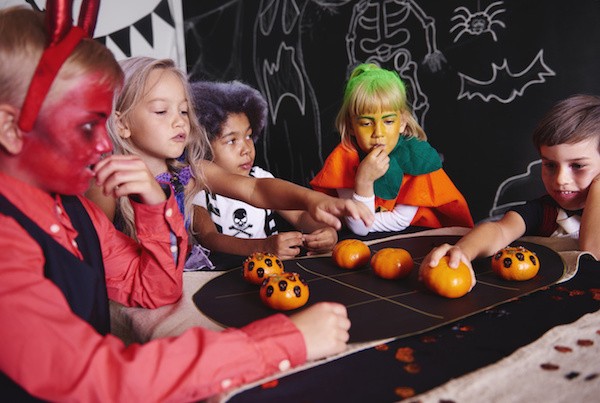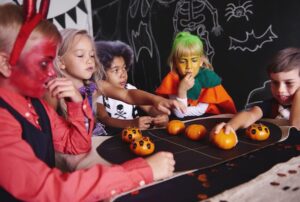 Halloween Charades
Prepare small pieces of paper with words and actions related to Halloween. Fold them and place them in a hat.  Make two teams. The first team starts with one of its players.
When the stopwatch is started, the child must pick a word and try to make his or her friends guess it.  No talking, no singing, no words – just action.
Keep playing until each team has played a set number of times. The team that guesses the most words wins.
Spider Race Game
Here is another original and fun game that will appeal to children. Prepare a tray with edges and a fairly slippery bottom, fairly light plastic spiders of different colors and fairly large straws. The children will play 2 by 2 and place themselves face to face. The goal is to make the race: the spider must reach the opposite side first. But be careful the child will have to move the spider by blowing on it only with his straw. The breath of the other player can make his spider go backwards, especially when they cross. Laughter guaranteed.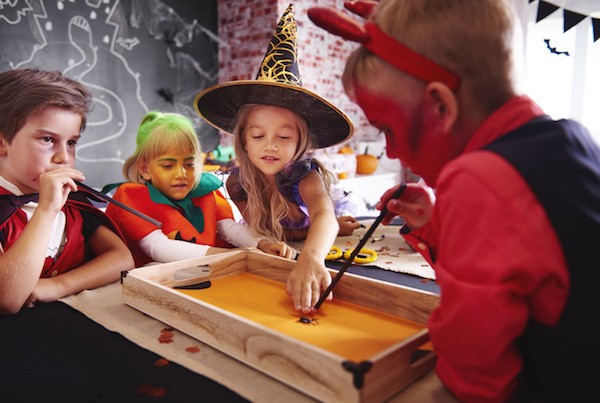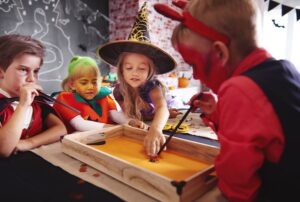 Halloween pinata
You all know the pinata game. This is a game in which the children have to hit a suspended pinata with a stick, blindfolded, in which sweets and candies are hidden. So choose the pinata in the shape of a pumpkin, coffin, mummy or ghost. There are many variations.
Children love this game and will be delighted to break it up to retrieve the sweets hidden inside. The children will share the booty at the end of the game.
Pumpkin Toss Halloween Game
Here is a game that is easy to make and inexpensive. Use 3 cardboard boxes of different sizes that you will decorate as you wish. Here, the front of the boxes is decorated with pumpkins. But you can imagine a decoration made of monsters, ghosts or witches' hats. Assemble and fix the boxes together, in the direction of the height, the biggest at the bottom and the smallest at the top. Assign points to each box. The larger one is easier to aim at, so give it 1 point for example. The smaller one, being more difficult, can be worth 3 points… Then, use foam balls of different colors. Each child will take a color and will try to score as many points as possible by aiming in the boxes. At the end, the children count their points. Whoever has the most points wins. Adapt the distance and the number of throws according to the age of the children.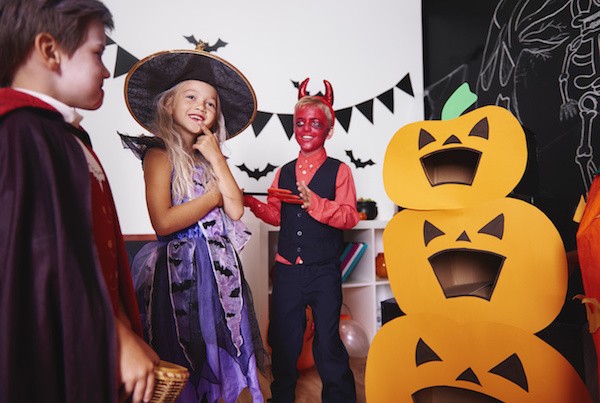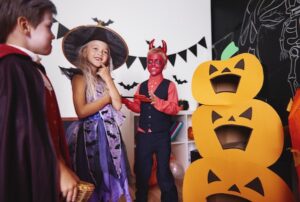 Guess How Many Halloween Game
This game is an activity to set up to animate a children's Halloween party.
All you have to do is place a jar full of candy on a table at the entrance to the party… Put an empty box, paper and pencils at the children's disposal. While looking at the jar, the children will have to find the number of candies inside it. They will have to make an estimate, write their name and the number they think is correct on a piece of paper and place it in the box.
The children have the whole afternoon to participate. At the end of the day, the adult reads the number written on each piece of paper and then announces the correct result. The child closest to the correct result wins the candy.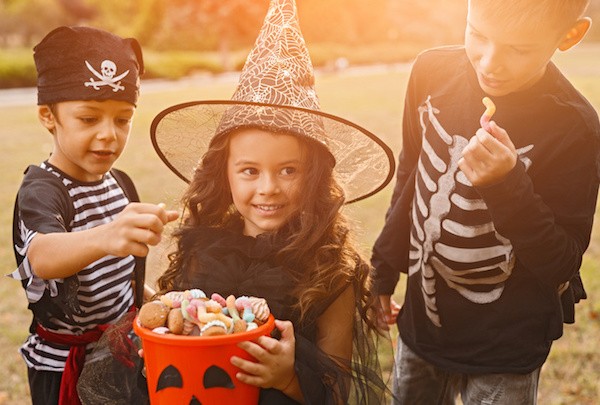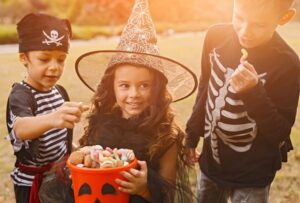 Treasure hunt to celebrate Halloween!
To liven up a Halloween-themed party, nothing beats a treasure hunt!  Children love this type of game, where you have to find clues, solve puzzles and take on challenges to find a real treasure. And when it's a Halloween-themed game where witches, ghosts and monsters of all kinds come to mingle, it becomes even more incredibly mysterious and frightening. In our game kit, children will have to solve a strange case and search for the candies that have mysteriously disappeared.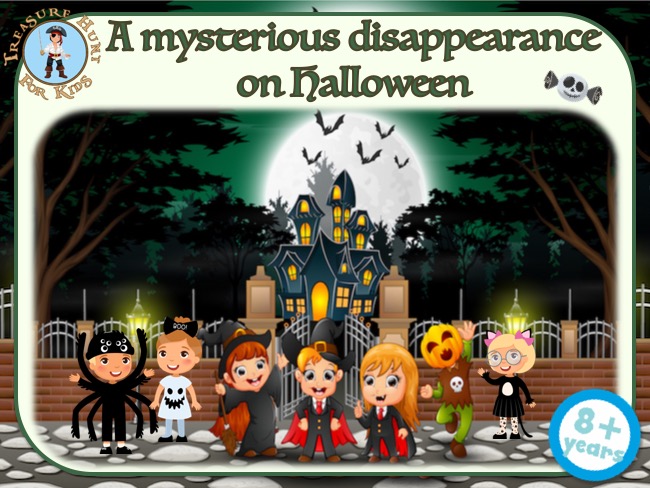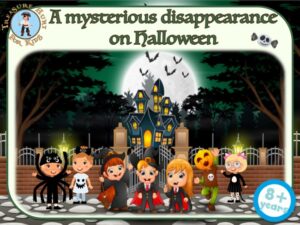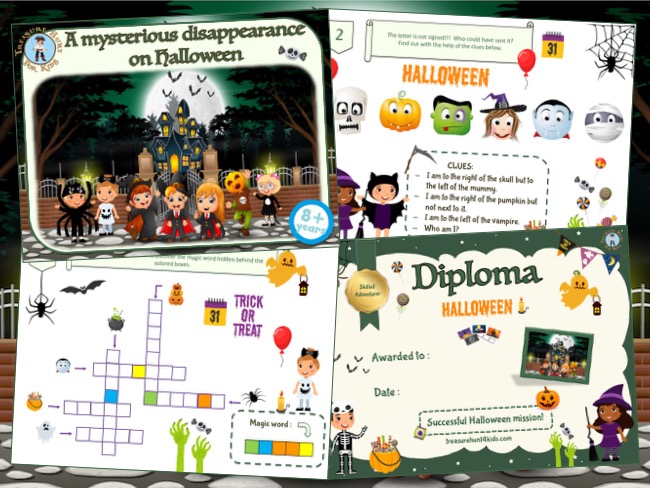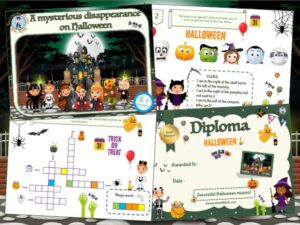 This "turnkey" treasure hunt includes everything you need to set up a great game in a short time. It's an original and fun way to experience Halloween differently and to share a friendly and fun time with family or friends and make the Halloween party a unique moment.
Opt for originality and quickly become the hero of this great treasure hunt reserved for true adventurers. This game exists in several versions: 4-5 years old, 6-7 years old and 8 years old and up. The right game for every child.
So let's go for a great adventure. Children won't forget the Halloween party anytime soon!

Halloween printable games, activities and coloring pages for kids
Discover all our free printable games to prepare and celebrate Halloween with children. We offer you a multitude of activities to keep your children busy in line with the theme of the moment. For example, we offer Halloween coloring, but also a free treasure hunt. Finally, discover our playful games to print such as our "Halloween-themed Search & Find", our witch pixel art or our dots to connect.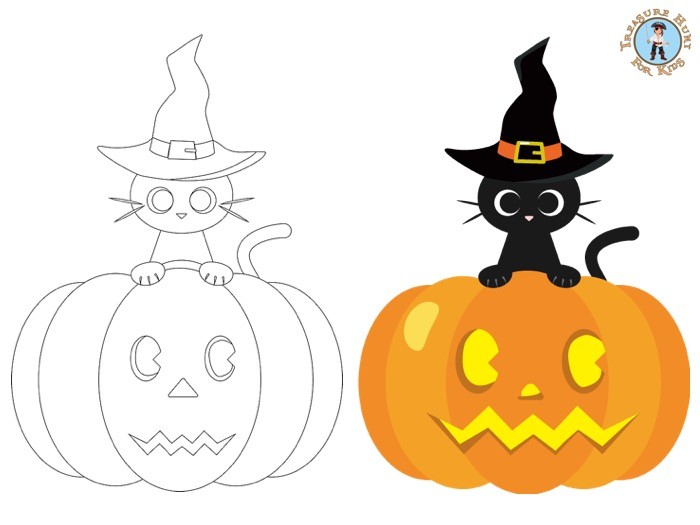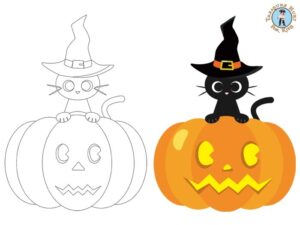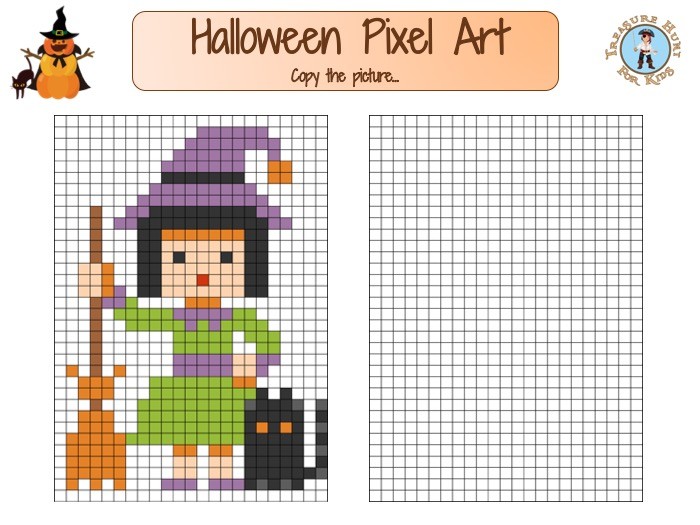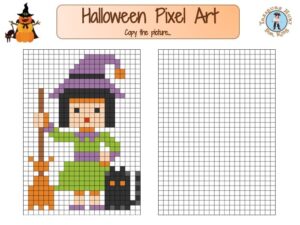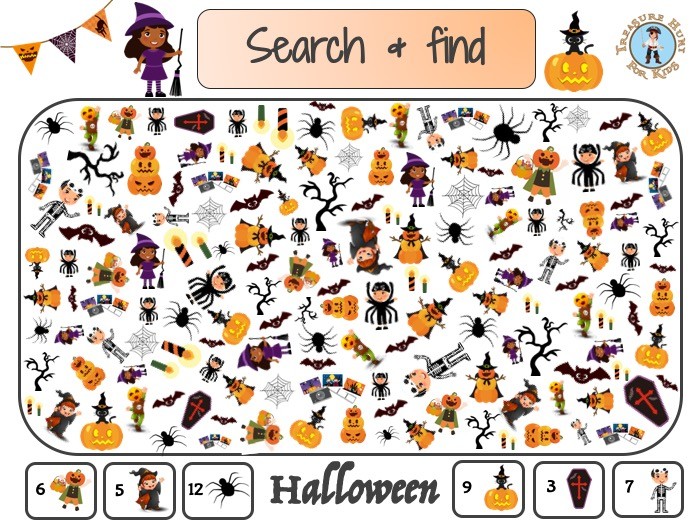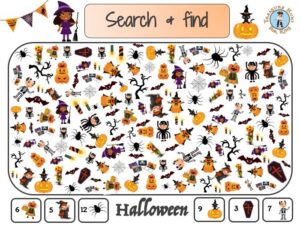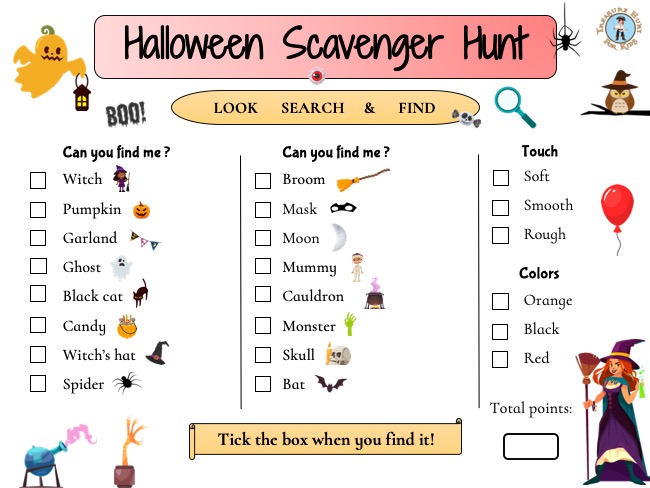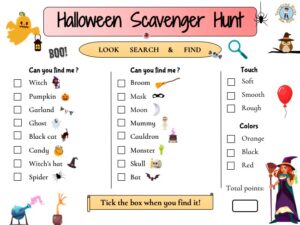 All these activities and little games are available on our site for unlimited and completely free downloading. So take advantage of them and print games that are both fun and educational for your children and their friends.
So if you were looking for ideas for activities, games and animations to celebrate Halloween, there's no doubt that now you won't run out of ideas.
Find all our ideas of games to liven up your birthday party on our website Party games 4 kids.