NATURE activities for kids
Here are ideas for activities to raise kids' awareness of nature.
It is important to raise children's awareness of nature, the environment, ecology and biodiversity from a very early age through activities and games… Indeed, they are the future adults of tomorrow who will have to take full responsibility for protecting the planet. These gestures can be learned very early on so that they become part of daily habits. Ecology is a serious matter! But you will see that we can tackle this serious theme in a very amusing and playful way by setting off to discover the world around us.

Nature explained to children
Ecology
Ecology refers to environmental science that studies not only the interactions of species with their environment but also between species themselves. More broadly, it has become a way of life that aims to achieve a balance between man and his environment with respect and protection.
Sustainable development
To develop, a country creates jobs and wealth. But this is not without consequences for our planet because it leads to the massive use of our natural resources. At this rate, we risk depleting the planet's resources very quickly. By sustainable development, we mean any means that would allow us to continue to develop but which would be bearable for our planet and in which everyone would participate and benefit from it in an equitable manner.
Biodiversity
It refers to all the varieties of living animal and plant species present on Earth. It is based on a balance that we must try to maintain in order to conserve all the species that represent the richness of the living world!
Knowing nature allows the child to enrich himself. He is naturally attracted by what surrounds him, his environment. His curiosity takes over. It is therefore very easy to explain and teach children simple rules to acquire good habits for the future and become aware of the fragility of the world around us.  Nature offers endless possibilities in terms of fun and educational activities. So let's take advantage of them!
Ideas for kids activities to learn about nature and ecology
Discover many NATURE activities to do with your kids!

Making a rainwater collector
Water is an increasingly scarce resource and is essential to our survival. Many countries do not have access to safe drinking water. It is important to teach children at an early age that this resource is precious and must be preserved. So building a rainwater collector with your child is an excellent way to approach the subject, to save water that can be used again to water the garden, for example. Moreover, note that this tool is not only ecological but also economical. You can make children aware that as soon as you turn on a tap, it pays off. So take advantage of collecting rainwater to water your garden without spending one cent.
Clean up nature with your child
This activity is becoming more and more common in cities. It can be done as a family but also in a community. Many groups are getting together to pick up waste in a neighbourhood or on a street.
In fact, the "World CleanUp Day" is the world day for cleaning the planet and this event is getting bigger and bigger gathering more and more people. The objective is to unite all energies around a common project: cleaning up the planet. There is now a global awareness of the need for everyone to act. So with the necessary equipment, this activity raises the children's awareness and they also have a real pleasure in a friendly atmosphere…
A NATURE scavenger hunt : activities that kids love!
There are several types of outdoor scavenger hunts. So take advantage of a walk in the forest, the arrival of spring or the beach to organize a great treasure hunt. The child will then have to observe his environment to find the different items written on his list. We offer free treasure hunts to be printed. They will enable you to make your walks a real moment of pleasure and discovery of the natural environment.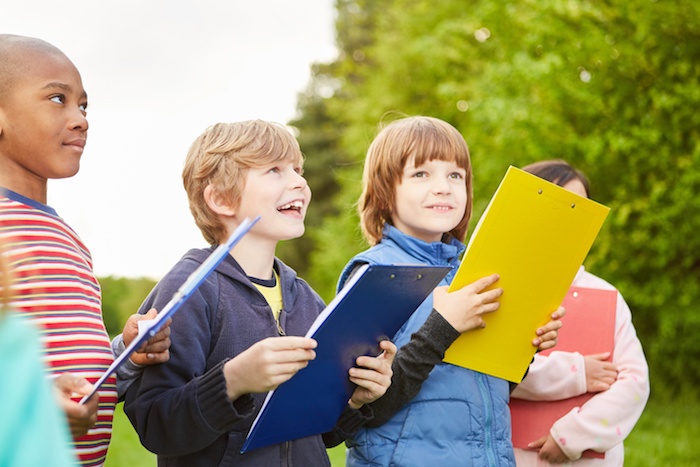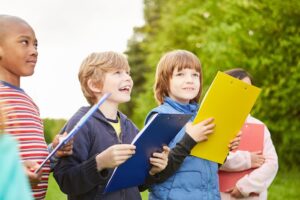 Building an insect hotel
These little animals are finding it increasingly difficult to find places to establish "their home". So it's very easy and fun to build an insect hotel that you can then place in your garden. Insects are essential to our ecosystem as they help to pollinate flowers. This allows the production of the fruits and vegetables we eat every day. Without them, the variety and richness of our diet would be reduced by more than half! The insect hotel will welcome all these small animals… There is no standard model. Let your imagination run wild: large, small, round, rectangular, square… The main thing is to provide different boxes to put leaves, pine cones, pieces of bamboo, wood shavings, natural elements that you will find in nature and which will allow to welcome these small animals. The children will then be able to observe them and see them evolve thanks to this house.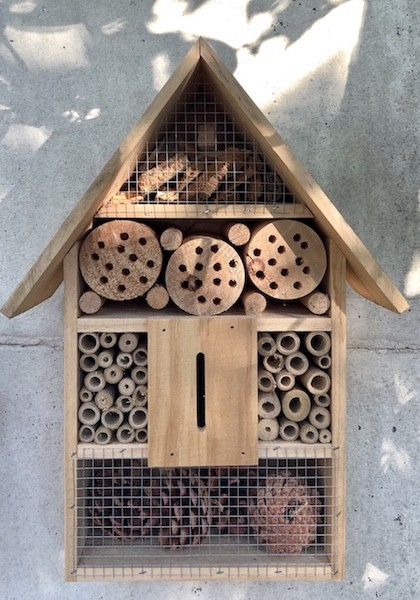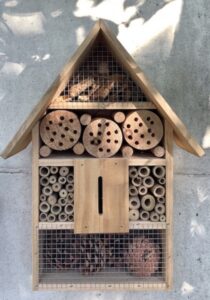 Make a vegetable garden with children
Children love this activity. It is both ecological and allows the child to understand the development of plants and more precisely here of fruits and vegetables. Choose seasonal fruits and vegetables. Watering and patience will be necessary to see the first shoots appear which will grow to produce fruits or vegetables. You can also use planters on your balcony. No need for large spaces. What could be better than to eat the food you have grown yourself. Growing it yourself also motivates the child to taste the new food.
Choose certain fruits or vegetables that are easier to grow and can be harvested more quickly, such as tomatoes, strawberries, radishes, green beans or salad.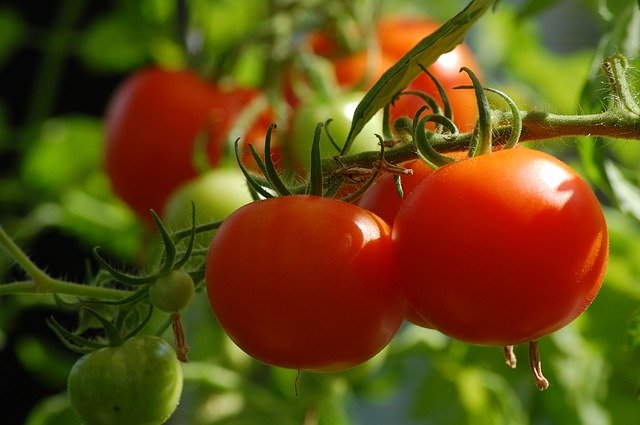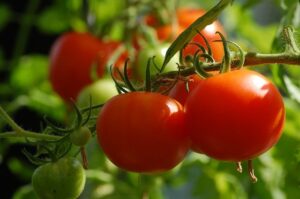 Making a compost bin
This activity is reserved for people with a garden. This bin is used to collect organic waste and recycle it. Leaves, grass clippings, tea bags, egg shells, peelings… All this waste is thrown into the compost. This means less waste in bins to recycle. And once fermented, this waste will make a rich soil for your future plantations.
Making a birdhouse
Making a birdhouse is not so complicated. You will find many simple models on Pinterest.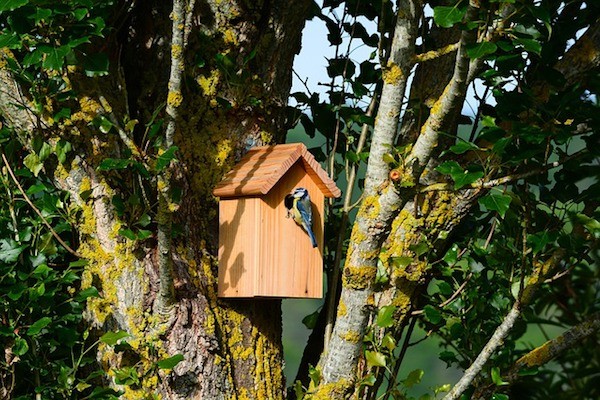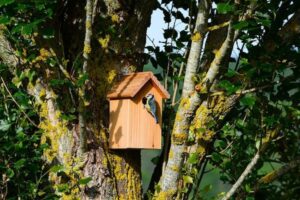 Making an herbarium
This fun activity will allow your child to discover the leaves and flowers of different trees. Children love to pick up tons of leaves during their walk.  So, mix business with pleasure and take advantage of the opportunity to discover a little more of nature.  With each new outdoor outing, children will take the opportunity to discover new plants, leaves and flowers that they can add to their collection. This activity allows them to discover flora in a playful way and to learn to respect it, to observe nature and the cycles of the seasons, to discover and enrich their vocabulary and knowledge in the plant field.
Playing with solar energy
It's a fun way to introduce your child to the different sources of renewable energy and explain how they work and their interests. There are many toys, such as cars or robots that run on solar energy. There is even a solar powered dinette that allows the child to cook an egg for example.
Do-it-yourself  nature activities with recycling objects for kids
There are tons of ideas for craft activities to do with recycled materials, for example plastic bottles, cardboard plates, egg cartons, yoghurt pots, bottle caps, toilet paper rolls. You'll find tons of ideas on the internet to vary the activities with breathtaking rendering.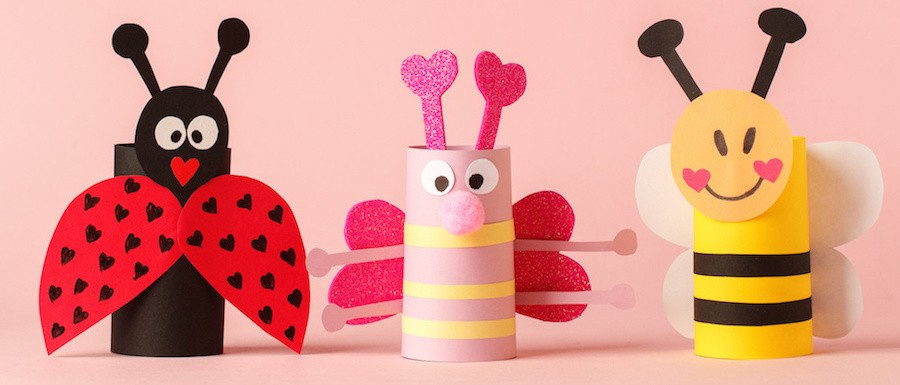 Gestures to do with our children on a daily basis
List of some actions to learn and do with children to protect the planet.
sorting our waste
favour clean transport such as bicycles or skates to get around: more environmentally friendly and more fun than the car.
don't let the water run
take a shower rather than a bath
cooking with seasonal fruit and vegetables
give preference to short circuits.
turn down the heating when leaving the house
give priority to public transport rather than the car
turning off the light when leaving a room
do not leave devices on standby
equip themselves with low-energy light bulbs
use the eco-programmes of the washing machines
Ecology play kit for kids: great activities to learn about nature
As a creator of games for children for many years, we have developed a game on the theme of ecology. We couldn't miss this theme, which is topical and dear to our hearts. So discover a game kit that will amuse your children while making them discover the eco-responsible gestures of everyday life, the importance of protecting the planet and biodiversity, including the discovery of different types of energy…
In the form of riddles, questions and games to solve, your child will go through 10 steps. Each successful level will allow him/her to win a card. 8 cards are required to obtain the eco-citizen diploma.
This is a fun game to discover with the family or in a group with friends in order to make children aware of the environment.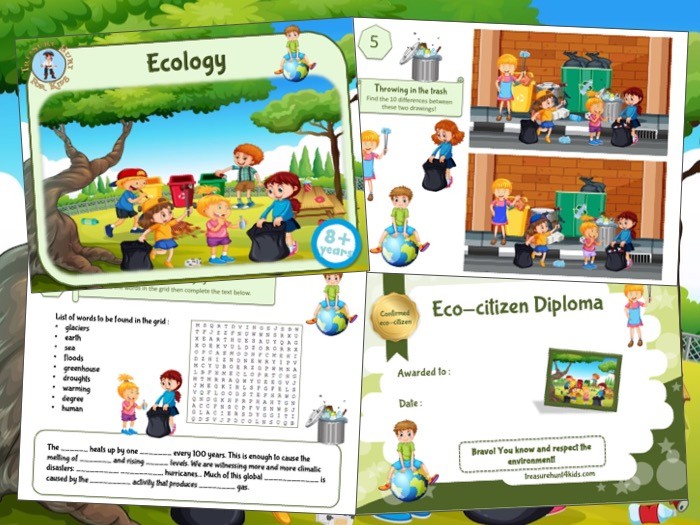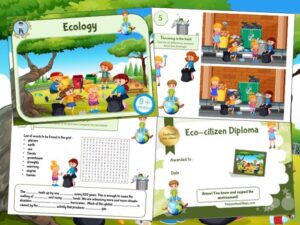 Free games to print to do nature activities with your kids
We have created a section of free games with the different themes of our games. You will find games to print on the theme of ecology.
First of all, discover our printable scavenger hunts to take along on your family walks to observe the environment. Find the different elements written on your sheet of paper. Tick the box when you have found it. The first person who ticks all the boxes wins the treasure. Download our free garden scavenger hunt, our forest scavenger hunt or our spring scavenger hunt. Spice up your outings with an animation that will allow children to observe nature while having fun.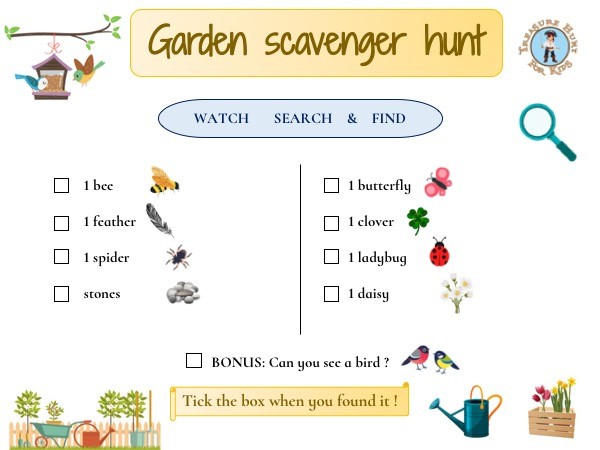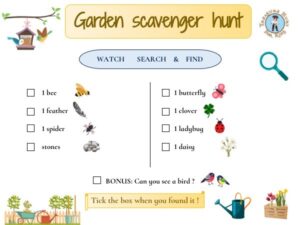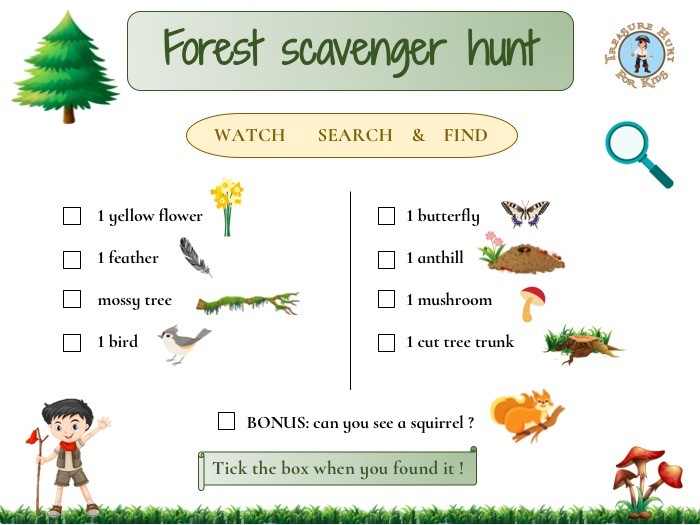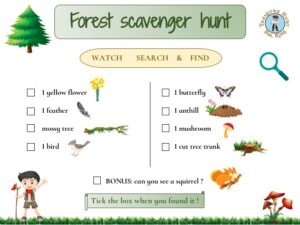 Discover also all our coloring pages to print. Children love this activity, so give them some fun coloring pages on the theme of the environment.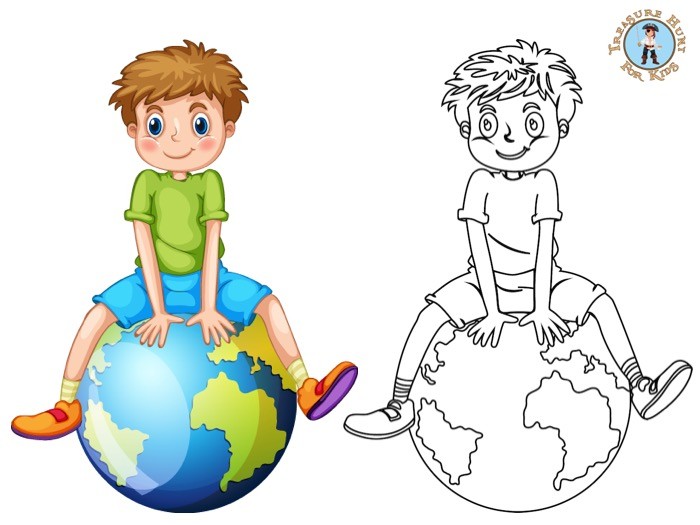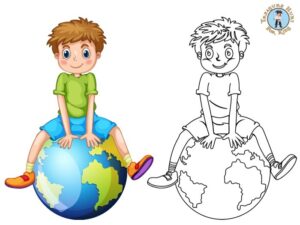 Finally, take advantage of the 7 differences printable game on the theme of ecology.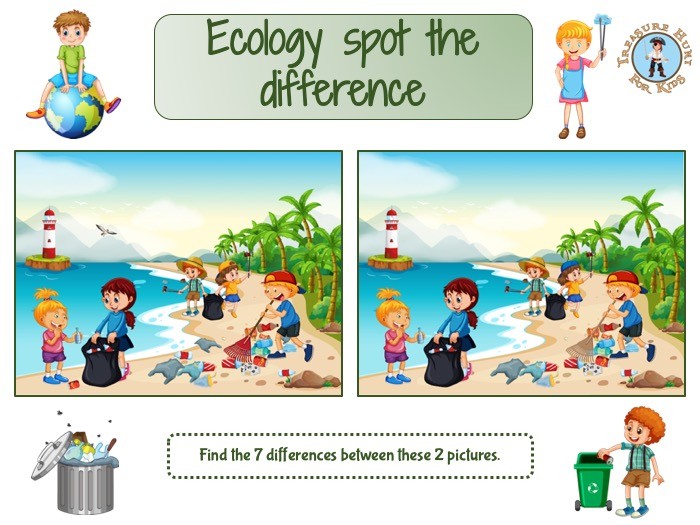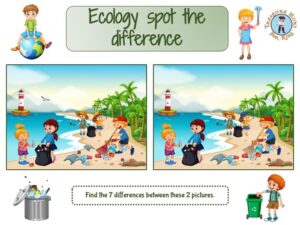 Ecology is a serious and topical subject. It will concern our children even more. We bequeath the earth to them and it will be up to them to take care of it. It is therefore essential to make children discover and raise their awareness of the theme of ecology from now on. Nevertheless, this theme can be approached in different ways, all very pleasant through activities, games to print, treasure hunts… It is important that this discovery be made in the form of a game: it is quite possible to combine the seriousness of the subject and the pleasure of the game with nature activities to offer to children.
Discover all our fun and educational treasure hunts, detective mysteries and escape room sets for birthday parties or family games.