Video game party ideas
Discover all our game ideas listed here to organize the most beautiful birthday party on the theme of video game.
Video games are part of children's lives. So if you too have a little "geek" at home, why not organize a birthday party on this theme?
Indeed, video games allow children to relax and have fun. Of course, it's obvious that you need to know how to manage game time and not be focused H24 on the console. But Mario Kart, Sonic, Pokemon, Angry Birds, Zelda or Fortnite are among the games that are very much in demand by children and are part of their everyday life with all the derived objects that come with them. No matter what anyone says, video games are among children's favorite games! So a birthday party on this theme can only please them and will make your party a real success.
We are going to present you many ideas to organize an anniversary on the theme of video games.

An escape game at home : the best game ideas for a birthday party
What if we made a great video game themed game without actually doing video games? Do you know what I mean?
Indeed, this theme is very popular with children. We have developed an escape game to set up at home on the theme of video games in order to meet the demand.
The idea here is to rack our brains, solve puzzles, search the rooms, decipher codes while remaining in a playful theme, much appreciated by children.
Discover our incredible story!
Children will be drawn into the video game they are playing with. Here they are prisoners of the game. To get out and return to the real world, they will have to recover a potion preciously kept by the master of the castle. For that, they will have to pass the 9 levels that will allow them to recover it. But beware, as in any escape game, the time is timed. Indeed, the time of the game continues to elapse. You will have to manage to escape from your video game before the end of it.
Combining an escape game with the theme of the video game can only be successful.
Children will be delighted to play this "life-size" game with their friends, solving all the puzzles on a theme they love. This escape room game kit is available for kids aged 6-7 years, 8-9 years and 10 years and older.
Discover quickly this escape game that will allow you to easily occupy a whole group of children for 1 hour and a half. Easy to set up, everything is included in your file. Organizing a VIDEO GAME birthday party has never been so easy!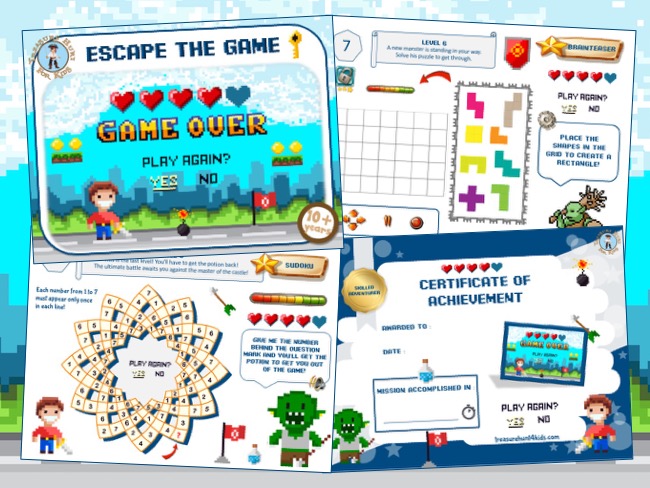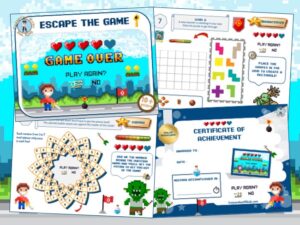 Preparation & decoration ideas for a VIDEO GAME birthday party
Video game-themed birthday party invitaitons
Remember to distribute invitations to guests at least a fortnight in advance. Of course, here we opt for a video game-themed invitation. We have put online, available for free on our website, invitations adapted to the theme of our escape game kit. But you will find many other ideas for your invitation designs on Pinterest. But above all, keep the theme!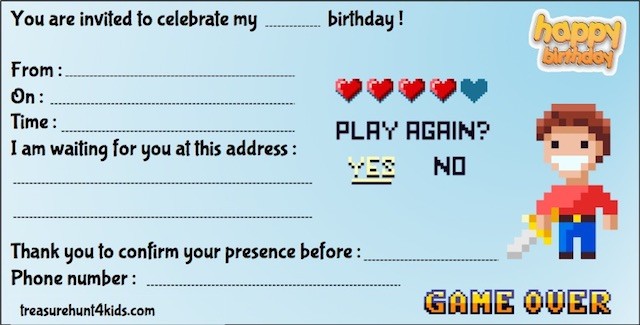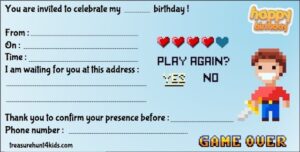 Photobooth
Organize a crazy photo shoot with photobooth.
You'll find some ready-made ones in stores, but you can easily make them yourself. Print on thick paper elements of your favorite video game characters such as Mario's moustache or cap, a mushroom, a coin or any other idea… Then glue a wooden stick on the side. Then do a souvenir photo shoot with the kids and the photobooth you've created.
Decoration to print
We have created a decoration kit to print on the theme of video games. Inside, you will find invitations, a souvenir bookmark, popcorn boxes, gift boxes, different labels, cake toppers, placemats, pennants to create garlands, photobooth and much more.
A VIDEO Game birthday table
The children are gathered together to celebrate a birthday. So yes, opt for the disposable tableware kit with a video game theme of your choice. Of course, we're also thinking about the cake. This allows you to stay in the party mood from beginning to end.
Game ideas to animate a VIDEO GAME birthday party
FORTNITE Dance competition
Who hasn't had fun imitating Fortnite's characters? Let's have a little flossing contest! Come on, let's go to the music… All the kids on the track. Let's go for a crazy FORTNITE animation! Who will be the best dancer?
The pinata on a video game hero
Mario Bros, Fortnite or Pokemon, think of the game of the pinata. The children will have to take turns, blindfolded, hitting the pinata with a stick to try to break it. The blinded child will be guided by the voices and cries of the other children in order to aim right. Once broken, the candies will fall from this pinata and the children will be happy to share them at the end of the game! Laughter is guaranteed and the children conquered.
A  MARIO BROS obstacle course
How about an obstacle course inspired by the adventures of Mario Bros. Children will have to collect coins along the way, perched all over the place. They'll have to go through tunnels, throw tennis balls at Bowser to mimic fireballs. You can also imagine crushing mushrooms, which can be represented by brown balloons. In short, you can imagine a lot of obstacles by taking inspiration from the different levels of Mario's game.
Minecraft Character competition
This is a fun manual activity to set up with the children so that they can alternate between more motorized and quieter games.
Give each child a sheet of paper with small squares. The child starts by inventing a model with pencils to think about and put in his head the character he wants to create. Then, place A4 sheets of different colors on the table. The children will have to cut out small squares of 1 cm on each side and reproduce the invented model on a large white sheet of paper by sticking the colored squares next to each other.
For the little ones, you can cut out the squares from the colored sheets in advance and place them by colors in different boxes. This will prevent too long cutting time for the youngest children.
Next, display the children's artwork. Take this opportunity to make a nice souvenir photo with the children and their artwork. Then, let's vote! Each child will have to vote for the most beautiful Minecraft character. But beware, you can vote for any artwork but not for your own.
Plan a small gift for the winner of the competition and small consolation prizes for the other children.
Mario Kart Contest
If you want to include a real video game where children will actually play the console then the TOP is without a doubt the organization of a Mario Kart competition. This game is very user-friendly… The races are fast so the children take turns without waiting too long and moreover they can play 4 by 4 … This makes it possible to make 8 children pass in only 2 games.
So, just bring a sheet of paper to note the scores and let's go !
Guess what character I am
Prepare a list of famous video game characters such as Mario, Luigi, Bowser, Toad, Sonic, Yoshi, Sacha, Son Goku, Link, Pac-Man, Kirby, Pikachu… Adapt the characters according to the age of the children.
Then, one child will draw a character and the other children will have to guess who it is. For this, you can choose between several types of games:
-question/answer game: the children ask questions to find the character and the one who drew the paper has to answer only yes or no.
– drawing is won: draw the character on a blank piece of paper and the other children have to guess who it is.
– the hangman game : you know this game where children have to propose some letters in order to guess the word.
If the letter is in the character's name then the child writes it in the right place. If the letter is not right then for each wrong letter a line is drawn forming a hangman. The children must have found the character before the hangman is completely drawn.
Mario's moustache
You all know the donkey tail game. If you don't, you will find the complete rules of the game here. The advantage of this game is that it can be easily adapted to any theme. We chose Mario because he is the most famous and favorite character of children but you can imagine this game with any other video game character.
The goal is simple. Print Mario's head on a large A3 sheet of paper for example. Before printing, remember to remove his famous moustache. Print or cut out several of Mario's moustaches from black paper. Each child will have to take turns, blindfolded, to place the moustache on Mario's head as best as possible. To do this, he will have to listen to the instructions provided by his classmates. The one who best places his moustache on Mario's head wins the game.
Can Konock Down with video game characters
Can knock Down is always a huge success with children of all ages. So keep a few cans of the same size. Print some images or coloring of the video game heroes in relation to your theme and decorate the cans. Then simply form a large pyramid with about ten cans. Provide a few foam balls. The children will have to destroy the tower and drop as many boxes as possible with a number of throws defined in advance, often around 3 or 4. Adapt according to the age of the children.
We really have listed all kinds of games and activities that are varied and very different from each other. So what they have in common is their theme: video games!
Indeed, it is important to vary the types of games to prevent children from getting bored, to alternate between more motorized and calmer games and to offer different activities so that all children have fun.
With all these ideas, you will be able to easily organize the most beautiful video game-themed birthday party.
Don't forget the background music, the decorative touch, the costumes or the make-up…
Discover our website which lists all the game ideas for your birthday parties. Get a lot of great ideas!