The best treasure hunt themes
Here is a selection of the best themes to organize a great treasure hunt game.
The advantage of setting up such a game is that the themes can be varied and unlimited. In a treasure hunt, everything becomes possible… So, adapt the theme of your game to your child's interest.
There are traditional themes as well as more original ones. Each has advantages and disadvantages.
In this article we will look at the most popular treasure hunt themes for children.
If you would like to organize a treasure hunt from A to Z, then feel free to read our guide to organizing a treasure hunt.

Choose your theme
In order to correctly choose the theme of your treasure hunt, it is necessary to ask yourself the right questions first.
Indeed, it is important to know the age of the children who will participate in the adventure in order to adapt the theme to their interests. Furthermore, it is important to know how the group of children will be composed.
Will it be a group of boys, girls or mixed? Finally, it is interesting to know the place where the activity will take place. The game on the Adventure Island will be more likely to take place outside, for example.
When all the questions are asked and the answers are clear and well defined, then you can start thinking about the theme of your game. Don't give yourself a limit. The advantage of this type of activity is that anything is possible. But of course, there are recurring themes that will always be a sure thing. We will describe them here. They will serve as a help and support to inspire you and help you in the choice of the theme of your treasure hunt.
If you don't have the time to set up and prepare everything by yourself, then feel free to have a look at our printable game kits. Turnkey and adapted to each age group, they will allow you to easily animate a successful and easy to set up group game, especially for a birthday party but also to play with the family or any other occasion of collective play.

Pirate Treasure Hunt
The pirate treasure hunt is surely the most popular treasure hunt theme among children. It is a traditional theme and a sure bet. You are sure to please the greatest number of people and girls as well as boys. We have declined the pirate treasure hunt with many stories including sometimes other characters in order to adapt to all groups of children. Of course, you will find our games including pirates only, but also a pirate and fairy treasure hunt or a treasure hunt game including pirates and mermaids. Impossible not to find what you are looking for in our selection of pirate-themed games.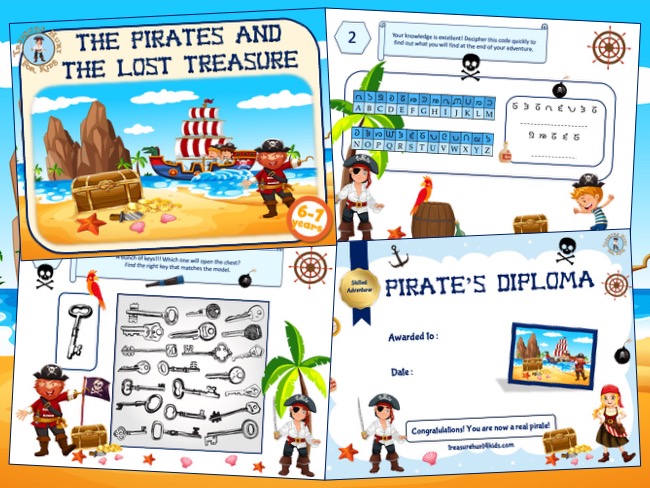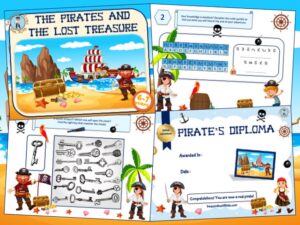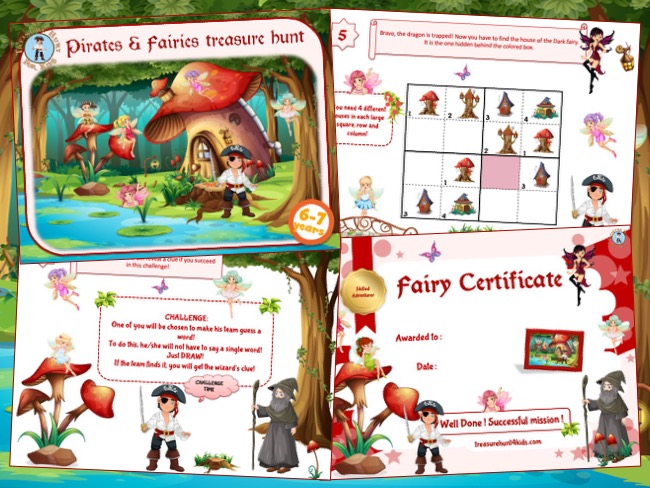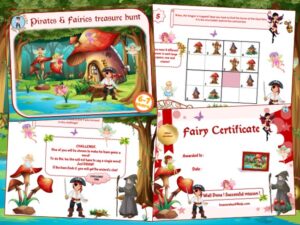 Princess Scavenger hunt
The Princess Treasure Hunt is the favorite treasure hunt for little girls. During the time of a game, become a real princess, travel in a beautiful castle and above all find the treasure! Ideal to set up for a birthday 100% GIRLS. Nevertheless, if a few boys are present, it will be quite simple to add a valiant knight to your story. The princess treasure hunt is one of the essential themes for a girls' birthday party. Discover quickly our game adapted in 3 age groups to live a great adventure in the wonderful world of princesses.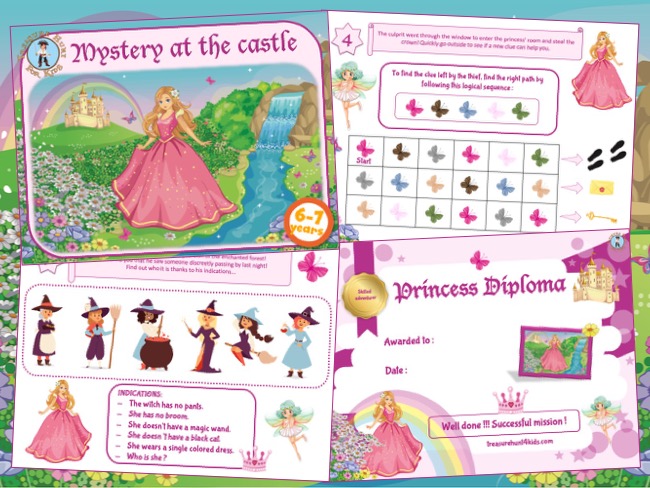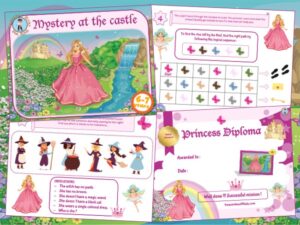 Knight Treasure Hunt
Knights are also very popular with children, even though they are second only to our pirate friends. Like the princesses, knight-themed has the advantage of pleasing at a birthday party with boys, and in case one or more young ladies join the party, then it will suffice to include a pretty princess to save in addition to the treasure to be searched for.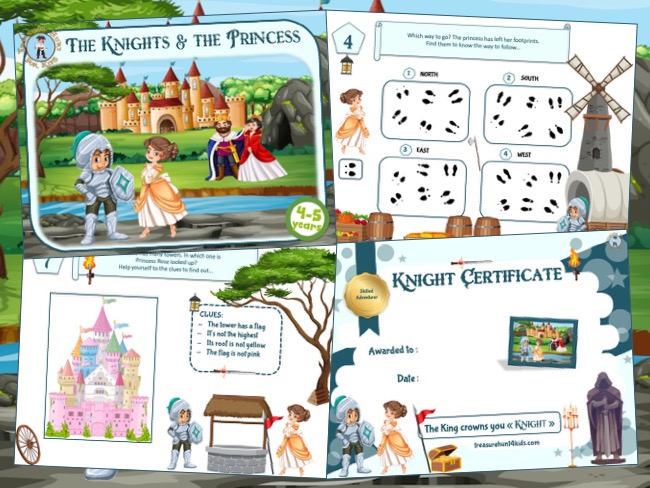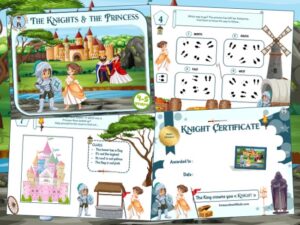 Unicorn Treasure Hunt
The unicorn treasure hunt is a sure value for little girls. Indeed, this theme full of magic, sweetness and mystery, will allow to set up a great adventure with all the ingredients necessary for its success!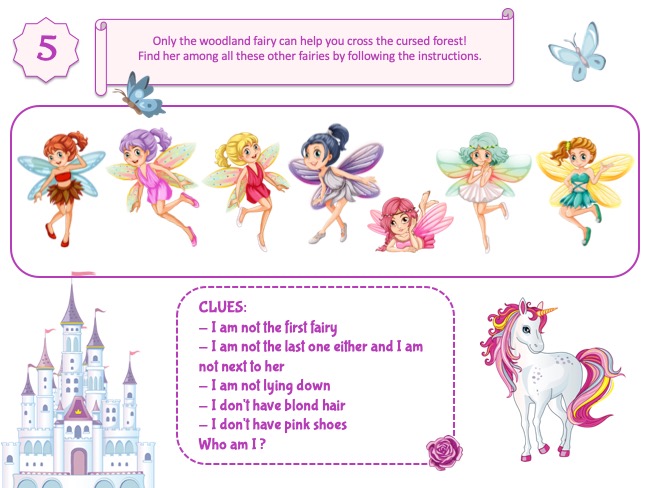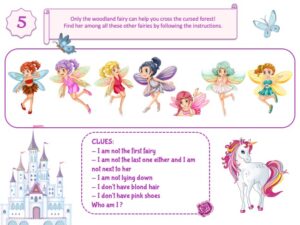 Indian Treasure Hunt
The Indian Treasure Hunt is a mixed theme that will appeal to all and children of all ages. This theme is quite classic, perhaps less requested by children because we do not think about it all the time. Nevertheless, we can set up beautiful and surprising stories on this theme while allowing children to know more about Indian tribes and thus discover and learn while having fun!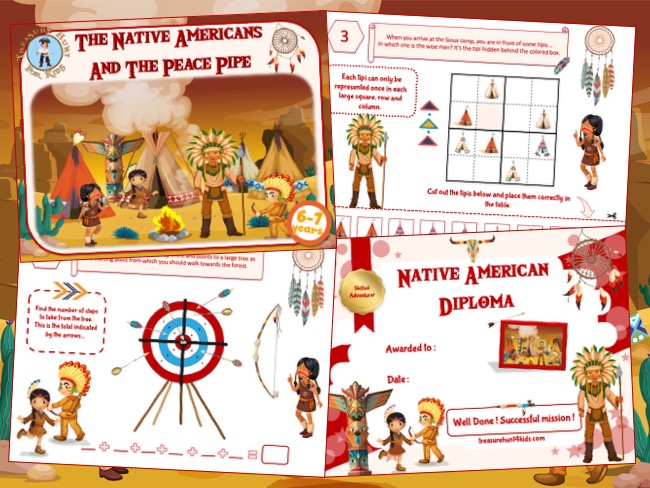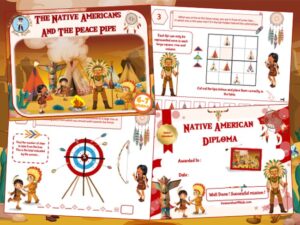 Cowboy treasure hunt
The cowboy treasure hunt is perfect for a birthday party. It can easily be mixed because there are not only cowboys but also cowgirls, let's not forget it!
So a great adventure in the Wild West, do you feel like it?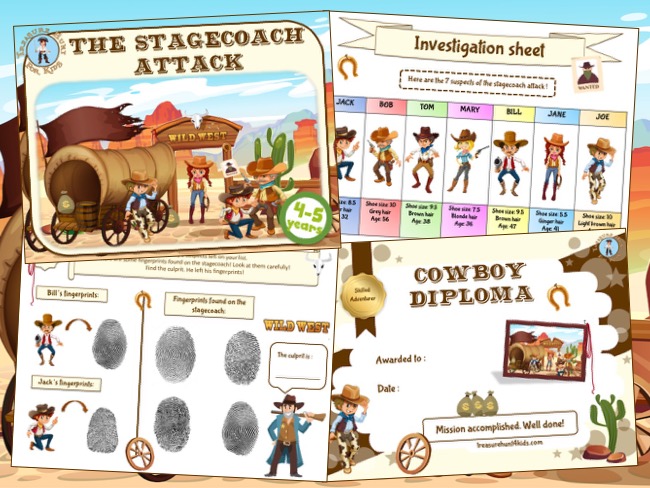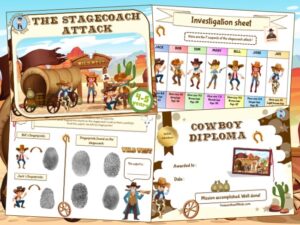 Explorer Treasure Hunt
What if you went in search of a treasure in the Amazon jungle or if as a true explorer you went in search of an Inca treasure?
Being a true adventurer and exploring the world in search of forgotten treasures is a theme idea that will always appeal to children! Children love to solve mysteries and take up challenges that will lead them to the discovery of a precious treasure at the end of their adventure.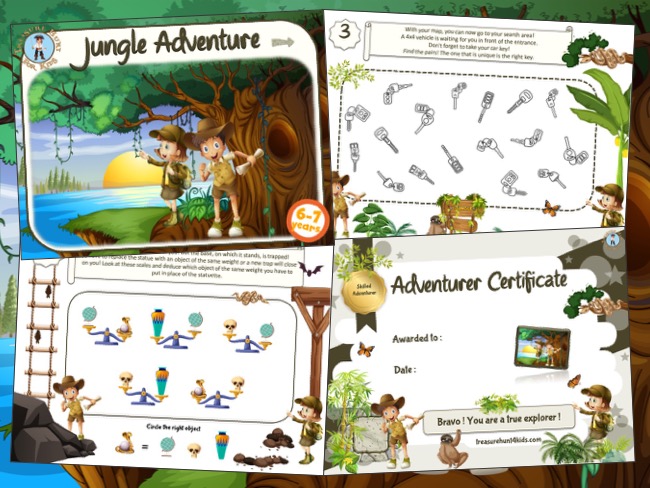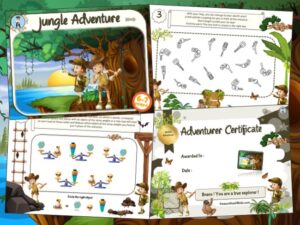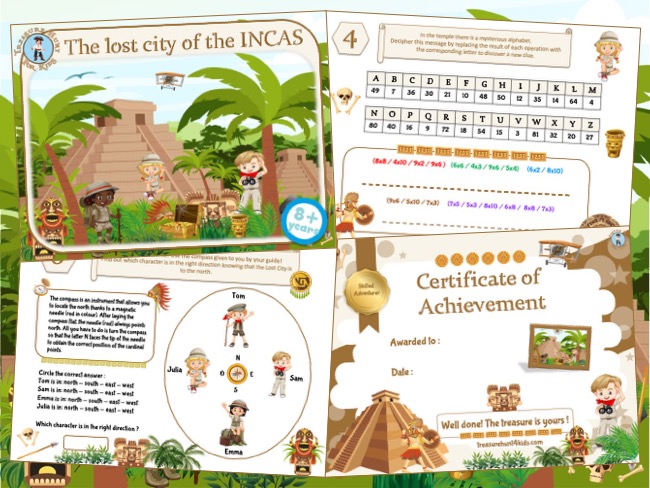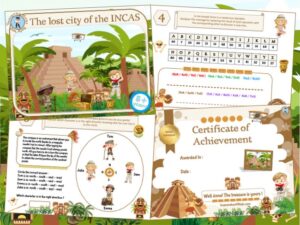 Treasure hunt in a foreign country: United States, Egypt
What if the treasure hunt took place abroad? Children love to discover new worlds, new territories. In addition to being fun, this type of theme will allow you to help children discover new territories. For example, children will be able to discover the North American continent in our treasure hunt in the United States or go on a discovery of the pyramids with our treasure hunt in Egypt.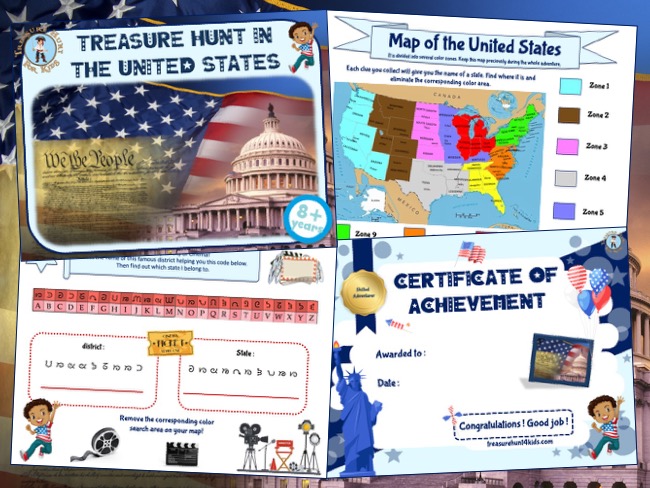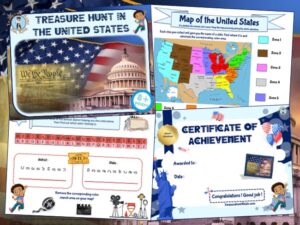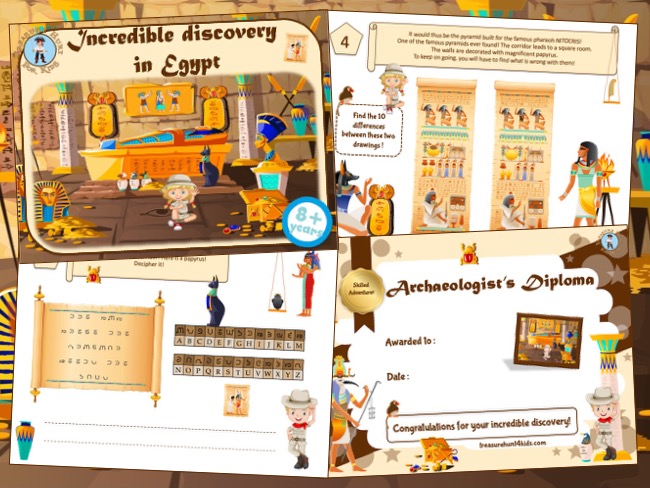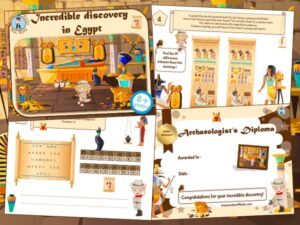 Dragon Treasure Hunt
What if we made it a little more original? Let's include dragons in our treasure hunt game. This would mainly appeal to boys for a lively and challenging game… Dragons mix easily with knights. This legendary animal is full of mystery. A game on this theme will make children travel to an imaginary and extraordinary world that will leave them with a memorable memory of this festive day.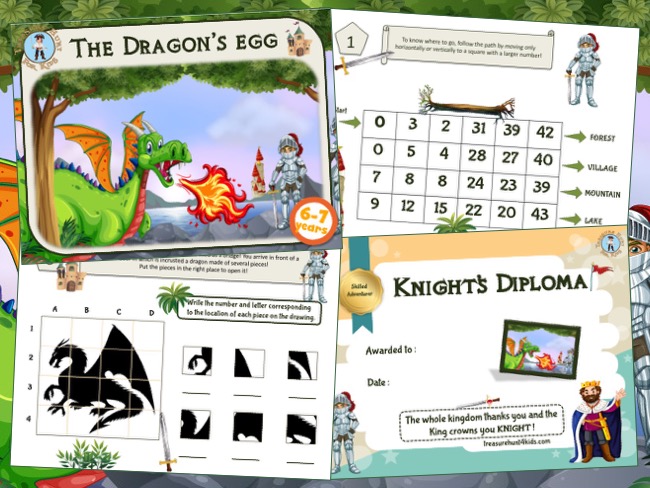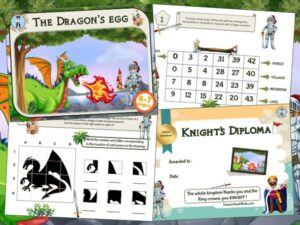 Based on TV shows
Why not draw inspiration from the hit TV shows of the moment to create your own treasure hunt game. Indeed, taking up challenges is an idea of game that will always please children. Of course, all of this requires adaptations and these programs only serve as a support for your inspiration.  Discover for example our treasure hunt in the Cursed Fort where children will take on a series of challenges to win the treasure or our treasure hunt on the Adventure Island where this time, children will once again have to face a series of challenges to win a treasure.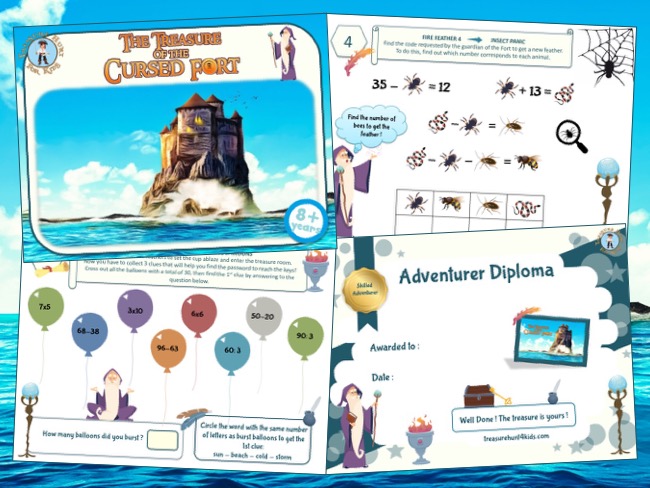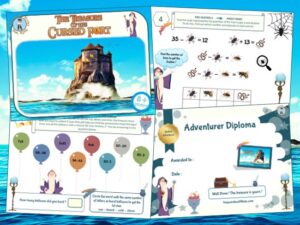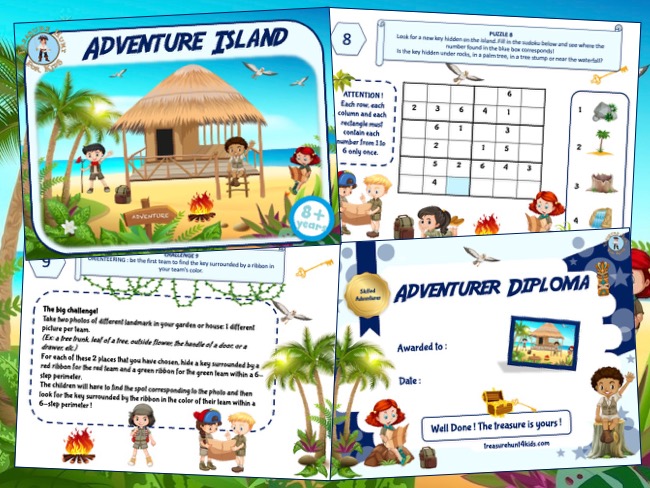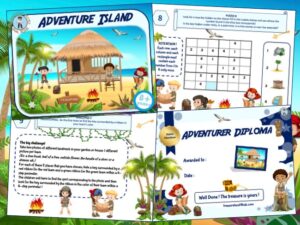 Cartoon treasure hunt
How about making your treasure hunt game based on the theme of your child's favorite cartoon. Take your child's favorite hero of the moment and make up a story around him.
Scavenger hunt on the major events of the year: Easter, Christmas, Halloween
Each major event that marks our year can be used as a theme to organize a great treasure hunt game. Indeed, why not collect Easter eggs while living a great adventure? What if you celebrated Halloween with a great treasure hunt game where you would have to go among ghosts, witches and monsters of all kinds in search of missing candy. Or another great idea! Why don't you help Santa Claus himself this year to find the strangely missing presents! Each theme of the year can be a great opportunity to organize a great game. Children love these activities which, in addition to being fun, allow them to put forward their spirit of logic and deduction and to discover the world through play, to discover what surrounds them in a different and original way!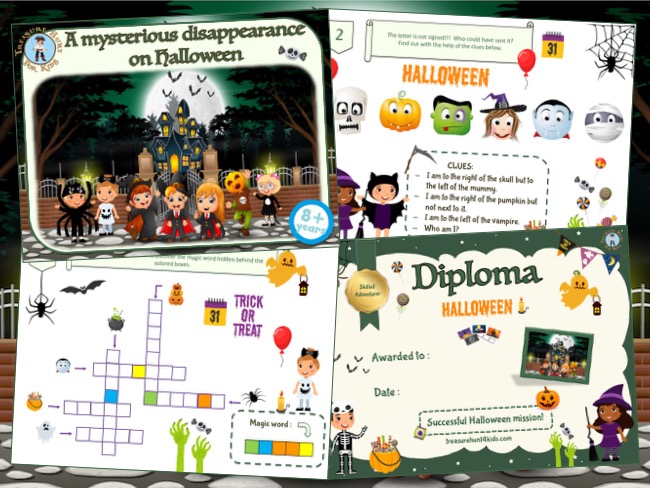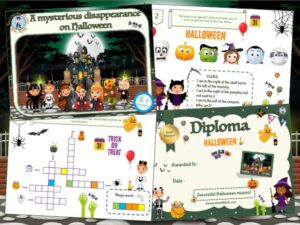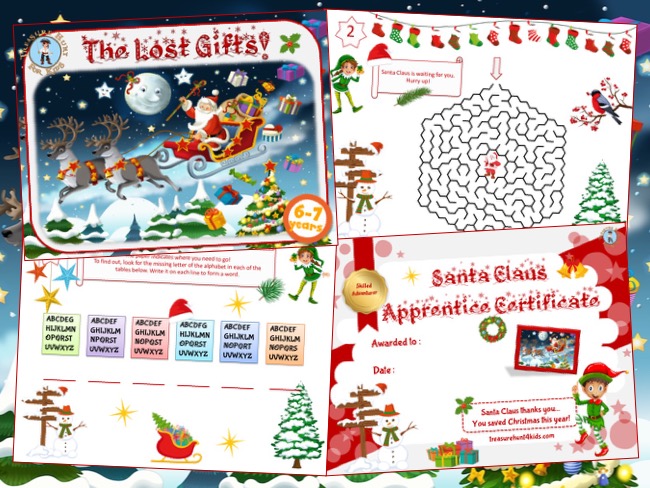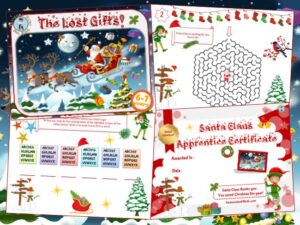 There are of course many other possible game themes to organize a treasure hunt. We have listed here the most common, the most original, those that generally speaking, children like the most.
The choice of the theme is very important because it immediately sets the tone for the party.
Once the theme is chosen, you will of course have to imagine the whole story that will take place around this theme and the staging that goes with it. The goal is to make the children travel, to make them dream, to make them escape the time of a game … The treasure hunt has this power, that of taking children to a different world where everything can become possible!
Discover all our games to liven up a children's party on Party Games 4 Kids.