Road trip games for kids: how to occupy your children for long trips in the car?
Here is a big list of road trip games for kids for the car so that your long journeys are not a nightmare but become a real pleasure!
The whole family is looking forward to the holidays. What a joy to be able to take advantage of these moments with the family and to set off together to discover new spaces… Holidays are a privileged moment, a moment of rest, of relaxation where one can get together with family without the constraints of everyday life.
But here is before enjoying these moments of peace and freedom, you have to reach your vacation spot. Travel by plane or train is often more pleasant and above all faster. But car trips are often longer depending on how far you travel and with kids bickering in the back of the vehicle, it can quickly become hell. So, discover our selection of road trip games to set up to occupy your children in the car, pass the time and make the trip more enjoyable. No longer be afraid of long car journeys! Even if you have several hours of driving, these little games will help you make the hours of driving on the way to vacation more fun.
Road trip games for kids that do not require any support
Counting cars
Give each child a color. Whoever finds the most cars in the color assigned to him wins. You can of course adapt this game and count trucks, motorcycles, blue colored signs or other ideas of your choice.
The longest sentence
A simple and fun game that will spark children's imaginations. Indeed, the first child begins with a word: "the". The second player will have to repeat the first word and add a second word: "the dragon" and so on … The child who makes a mistake or forgets a word loses the round. You must then restart a game from 0.
The "Baccalaureat » game or the alphabet game
You can do this game orally as well. Indeed, all you have to do is choose a theme: first names, animals, fruits and vegetables, rivers, famous people … Once the theme has been chosen, the child will recite the alphabet in his head and another child will tell him "stop". The first child will therefore say the letter on which he came across and all will have to look for a word starting with this letter on the requested theme. The first child who find a word scores 1 point. Then it's the other child's turn to recite the alphabet in their head and so on. Change the theme whenever you want. You can print our game available in our website if you want.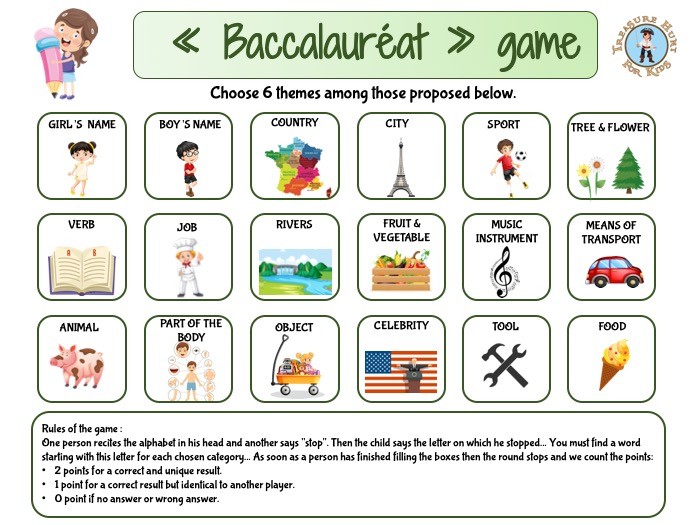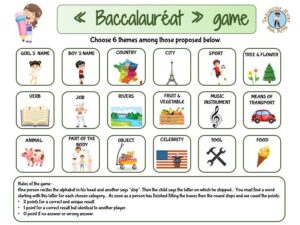 Musical game
Put on your child's favorite CD … It's already a pleasure for children to listen to their favorite songs, it can become even more fun when playing a real quiz. The Disney music CD works very well for this kind of game …
The children will have to recognize, in this case, the cartoon corresponding to the song.
Who is it ?
You can set up the "who-is-it" game … In each turn, the children will choose a character, an animal or an object in their head. The other child (ren) or parents will then have to ask him questions in turn in order to find out what or who it is. This game requires a certain strategy. Indeed, it is necessary to start with more general questions and then go on to more and more specific questions…
Note that the child, the leader of the game, should only answer the questions with "yes" or "no". Whoever finds the answer in turn becomes the playmaker and searches for a new character, object or animal in his head …
The neither yes or no game
This is a great classic of car games. A simple and fun game that always appeals to children. Children can play 2 or more and even parents can participate. The principle: one will have to ask lots of questions to the other …. Please note that the questions must be answered without saying the word "yes" or "no". "Yep" isn't allowed either.
The quiet game
A simple game that parents will appreciate: the goal is simple; we must remain silent as long as possible. A fun little game when parents want a little quiet time.
The forbidden word : the funniest road trip games for kids
Choose a common and frequently used word and define it as the forbidden word. During a limited time and why not all along the journey, the children and even the adults will have to speak but be careful not to pronounce the forbidden word because then the loser will have a small pledge, such as singing a song or reciting a multiplication table.
The last syllable
A fun road trip game that will also make children work on vocabulary. A first child starts with a random word. The next will have to take the last syllable of the word to pronounce a new one. The last syllable therefore becomes the first syllable of the next word. A small example: auto – tomato – toffee…
When no child can find any more word then we start from 0 with a new word.
What do you see in the clouds?
Have fun looking at the sky and especially the clouds! Observe them and give free rein to your imagination to find according to the shape of each one what they make you think of.
Discover all our games of treasure hunt to occupy children during holidays or all along the year.

Road trip games for kids with support
The treasure hunt: the best road trip games for kids
Our printable treasure hunt for road trips is a huge success. To print, the child will just have to observe the landscape and look for the elements written on his sheet. For each element found, the child checks the corresponding box. He wins the treasure hunt when all the boxes have been checked.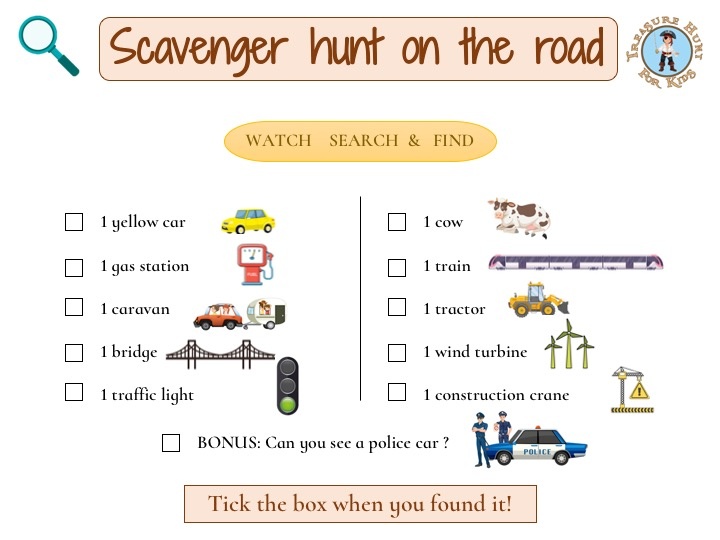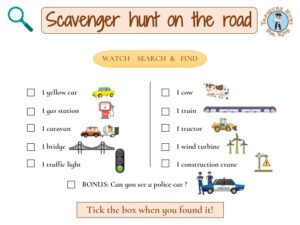 Paper Fortune tellers: educational road trip games
Children can prepare paper fortune tellers on different themes before leaving. They can then use and play with them in the car to answer the questions asked … Some fortune tellers are available on our website, already ready-to-print. Children will of course be able to invent them themselves, for example a paper fortune teller with small wages to make in the car: counting backwards, singing a song, reciting a poem…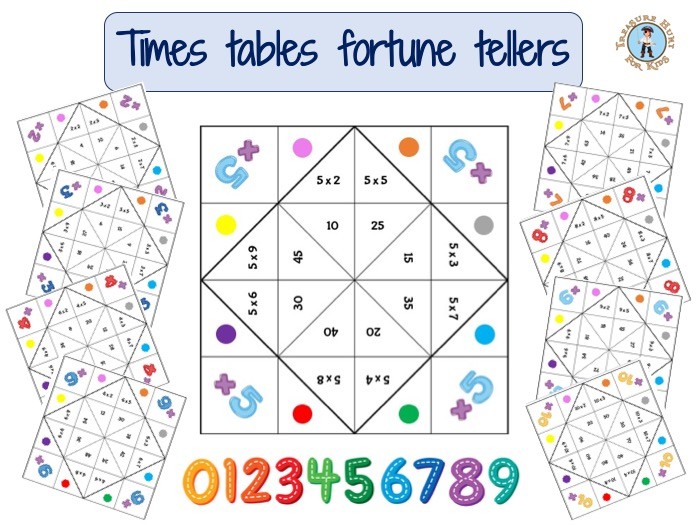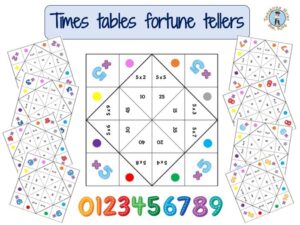 Noughts & crosses
Put on the little car tablet and print in advance the noughts & crosses grid available on our site.
Children can play several games! Provide pencils.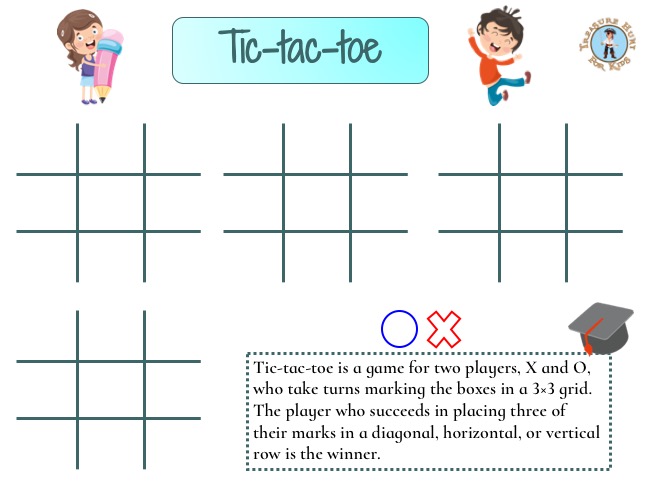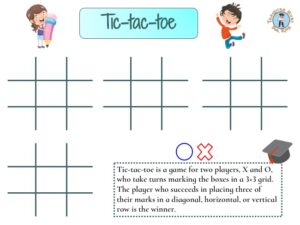 The words game
Each child has a piece of paper and a pencil. Pick letters from a license plate at random. With the letters written on the paper, each child should try to form a word. The first one to find a word scores 1 point. All letters must be used, but the child can add new ones. The only condition is to use all the letters you have identified. For example, the letters "BCH" can give the word "BEACH".
Continue the game with a new license plate.
The battleship game
Take advantage of long journeys to do a battleship game. Print the game on our website before departure and let's go for forty minutes of play and calm where children will have fun with a traditional game that has always appealed to children of all ages.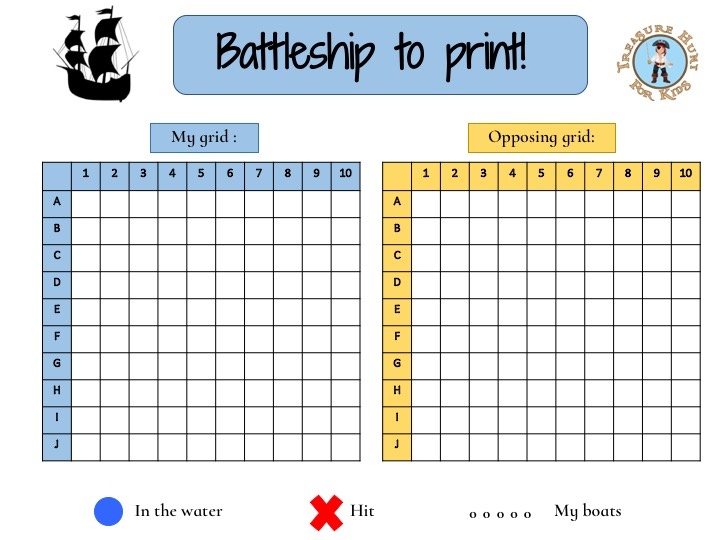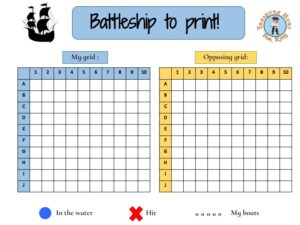 Printable games : full of road trip games
You will find on our website ready-to-print games which can be used to occupy children in the car. Thus, dots to connect, pixel art, sudoku, color by number, difference games and many other games await you. Ready to print, just download them. Take advantage, they are all free.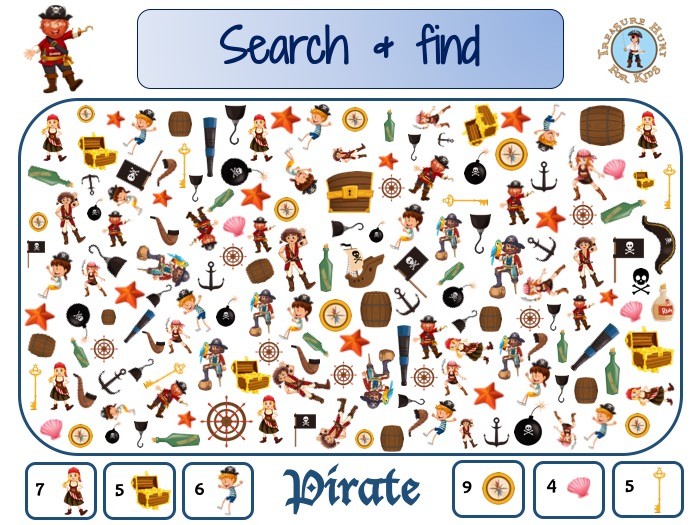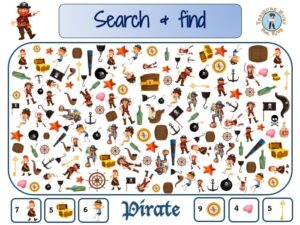 Coloring pages
Children love to color. So with a pencil case and a few designs printed in advance, you can easily keep your kids busy for a long time. Print your favorite coloring pages on our site, especially the one on the beach which will give children a brief taste of their vacation.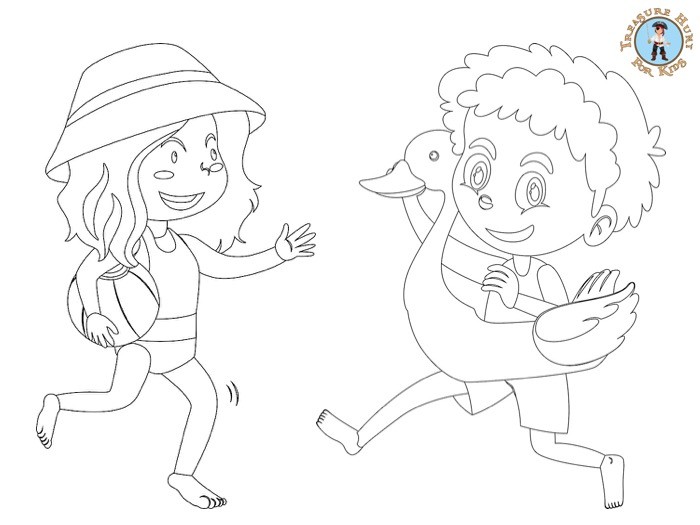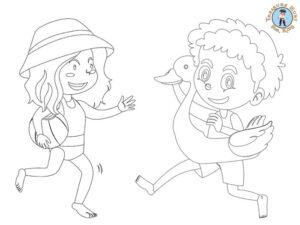 Other ideas of road trip games to keep children occupied
Of course, you can use tablets, video games and even the player to watch a movie… Everything is depending to the right dosage. Alternate screen times with play times if you want to use digital objects.
In particular, for the little ones, provide a bag of small games for the car with books and coloring pages, various early learning games or even musical games. Older children can prepare their small bag for the car with the items they prefer.
Also remember to plan your child's favorite music. He will be happy to listen to it and sing loudly. More ideas on Pinterest.
Don't forget the breaks. They are important during long car journeys. They also allow children to let off steam a little. On many motorway areas, you will have outdoor games available for children.
Have a good trip and have a great vacation.