Printable egypt-themed treasure hunt game for kids !
Discover our treasure hunt game to print which takes place in Egypt and specially designed for children aged  8 years and older.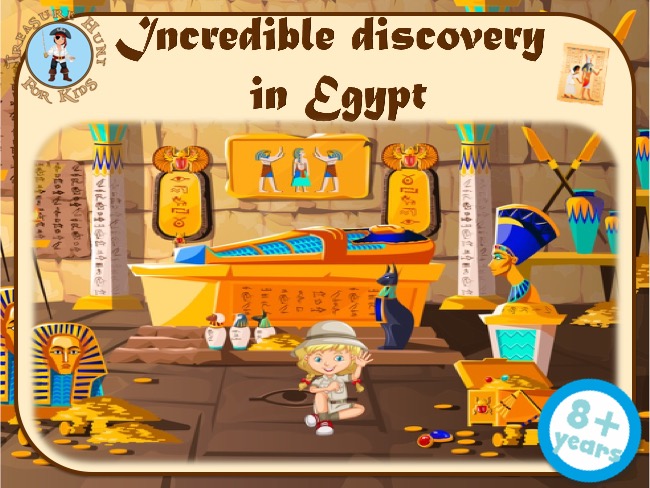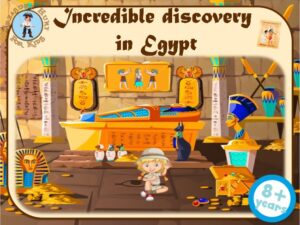 The theme of Egypt:
Ancient Egypt is a fascinating civilization of North-East Africa, which attracts children by the many mysteries it still carries today. This period takes shape around -3000 BC. It will develop over more than 3 millennia before declining slowly under the repeated assaults of foreign strengths. Roman Empire will then conquer Egypt! Egyptians are at the initiative of many achievements and develop especially mathematics, medicine and the principles of irrigation! They are famous for the construction of their pyramids and their writing with hieroglyphics they write on papyrus. Egypt fascinates and has not yet unveiled all its mysteries! A treasure hunt on the theme of Egypt will only fascinate your children!
Our print & play treasure hunt game in Egypt:
This new game will delight children who will leave for a great journey in Egypt to explore a new pyramid just discovered! This game is available for children aged 8 years and older. Organize a fun and educational activity with our Egypt-themed treasure hunt. Children love treasure hunting activities: indeed, it is both a fun activity because the children will work together, look for clues, solve various tests that are presented in the form of various games adapted to the abilities of children according to their age.
Playful & educational activity:
This treasure hunt activity in Egypt is also educational through its many enigmas. Children will discover what is a pyramid, its design and the mysterious world of the pharaohs. This allows them to meet their constant need for discovery and learning and to respond in a fun way to the many questions they ask themselves … It's also a different way of discovering the world around them. These educational games respond to their desire to learn and discover! You can play with our treasure hunt kit to print in Egypt on many occasions. This activity allows to occupy a whole group of children of homogeneous age group and is therefore ideal to set up at a birthday party but also to play simply with family.
An overview of the story:
Our archaeologist, Jonathan, is looking forward to seeing you in Egypt because he has an incredible discovery to share with you. Indeed, he has just discovered the entry of a new pyramid never explored … What will you discover? Children will go to discover a new pyramid. This game is suitable for children but the clues, the names of pharaohs or the organization of a pyramid are of course based on truthful research! Children will learn a lot about Egyptian civilization through this game while having fun!

Progress of the treasure hunt game:
Our treasure hunting kit in Egypt is "turnkey"; it is specially designed to facilitate the implementation of your activity. About twenty minutes are enough for the preparation of the game. Children will have approximately 1 h 30 of adventure through this game in Egypt, according to their speed of the riddles resolution and the difficulty of your hiding places! Print the 10 clues included in the game-file and hide them in your game space.
Clues and riddles for Egypt-themed treasure hunt:
Children will have to go in search of each of the clues and realize what is written on each of them: puzzles, challenges, riddles, rebus, crosswords, coded games … Children will alternate physical challenges when looking for clues and cerebral activities… This diversity and this variety of enigmas allow the child to always stay "hooked" To the game. It's also the way to work as a team, share ideas, give opinions and make a group decision! It is therefore an excellent way to develop team cohesion.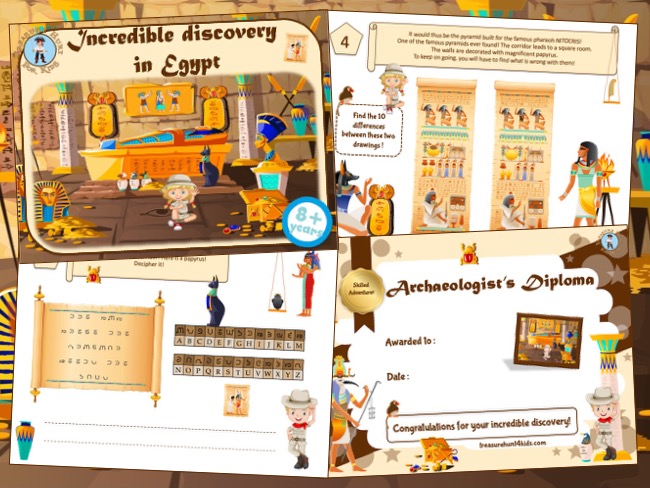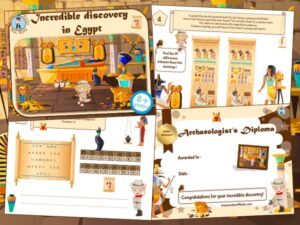 Our Egypt-themed treasure hunt game to print includes:
the beginning of the story
the outcome
the story-line
a dozen puzzles and riddles to hide in your game space
all the explanations for setting up the game
a sheet of follow-up where you have to enter your hiding places
diplomas to print for all the children
a list of indoor and outdoor hiding place ideas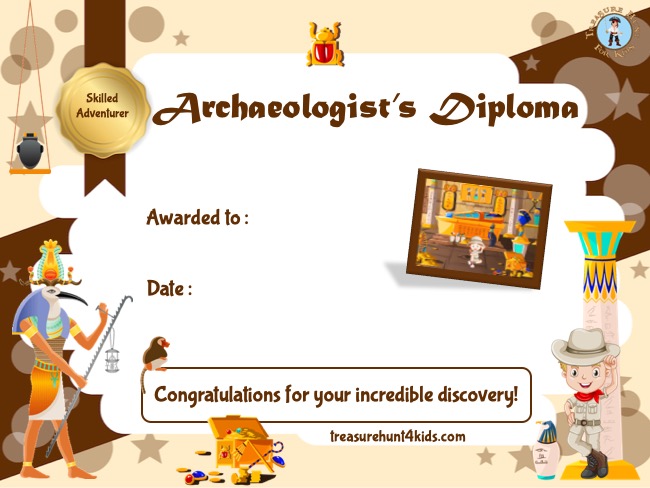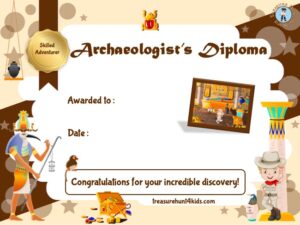 Egypt-theme free games:
To complete your treasure hunt adventure in Egypt, you can visit our section of free games to offer children complementary activities on the theme of Egypt. Coloring, crosswords and many other games are to discover to the delight of children! Invitations are free to print and download from our website. To discover more about this incredible adventure, do not hesitate to go to our website and discover all our other game themes that will allow you to keep your children occupied during the holidays, to easily set up a kids birthday party or for an entertaining family activity.