A christmas escape game activity for kids!
Christmas is coming soon.
Christmas is fast approaching and this year why not prepare Christmas by organizing an escape game set for your child: an original, fun and educational game where children will become the heroes of the story! And not least… You will help the elf-in-chief in person!
Indeed, waiting for Christmas day is not always easy for children… The time can sometimes seem so long! To prevent children from getting impatient, why not organize a Christmas escape game set during the month of December? This will allow them to wait while remaining in the magical universe of this Christmas period …
Our Christmas escape game set will make your children dream and allow you to dive into the magical atmosphere of Christmas.
This game exists for children aged 6-7 years and 8 years and older! All our games are adapted to the age range of your children …
Easily organize an escape game set for Christmas
Christmas is fast approaching… Our children are very impatient and are already counting the days while waiting for the famous Christmas day…This year, offer an original play kits, fun and educational to keep your children waiting until the big day. In any case, you will only need about 20 minutes to set up a great game, an activity full of magic that will make your children dream during this Christmas period… Find our Christmas-themed escape game for kids aged 6-7 years and 8 years and older!
The principle is simple:
1 mission
1 team
1 time allotted
Story
Discover a story that will please children …
We are December 24, 1:30 before the big tour of Father Christmas… All the elves rest after so much work… ALL but one!
Our elf in chief is, meanwhile, tormented !!!
He hit his head the day before, by hanging the last decorations and lost his memory. Result: he does not know where he has placed the list of gifts of Santa Claus!
Without list, you imagine the bazaar! Impossible to distribute the good gifts to the good children!!!
Our elf really needs your help to find the list and bring it to Father Christmas before the start of his big annual tour …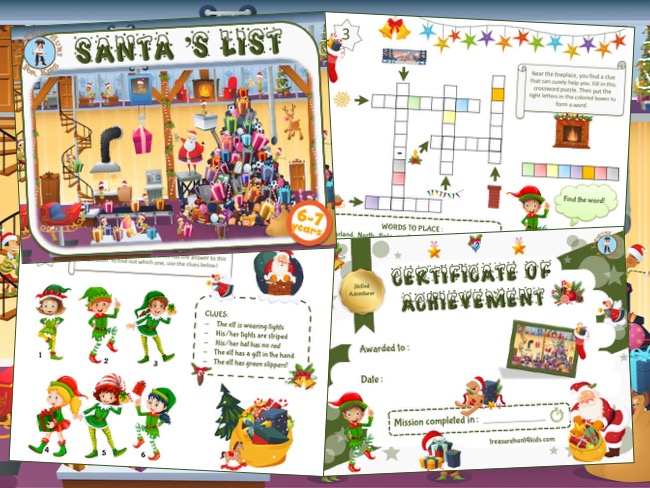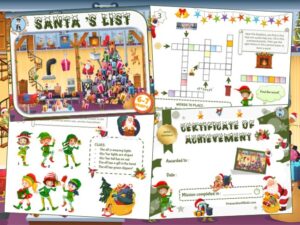 The rules of the escape game
Discover an ideal escape game to play, near the end of the year, with friends or family… Immerse yourself in the magical atmosphere of Christmas… Take up challenges and riddles that will allow you to overcome this great adventure! Discover a fun and cerebral game with a mix of objects to find, riddles to solve, codes to decipher… Create one or more teams of 3 to 4 people and live an original and fun experience on the theme of Christmas!Warning! The game is timed… You have 1:30 to complete your mission, find the list and report it to Father Christmas before the start of his tour! Check out this game in more detail on our shop! A game with an innovative concept, ready to print and play, where children become the heroes of history…
Simple and quick to set up, give your child an exceptional adventure by inviting the magic of Christmas and adventure in your home!