Throw a birthday party for your kids with our superheroes scavenger hunt game !
Are you looking for an original theme idea for the animation of your child's birthday party? Opt for our superheroes scavenger hunt game!
In fact, discover a theme that appeals to all kids and set up a great superheroes treasure hunt game to organize your activity with a kids' group.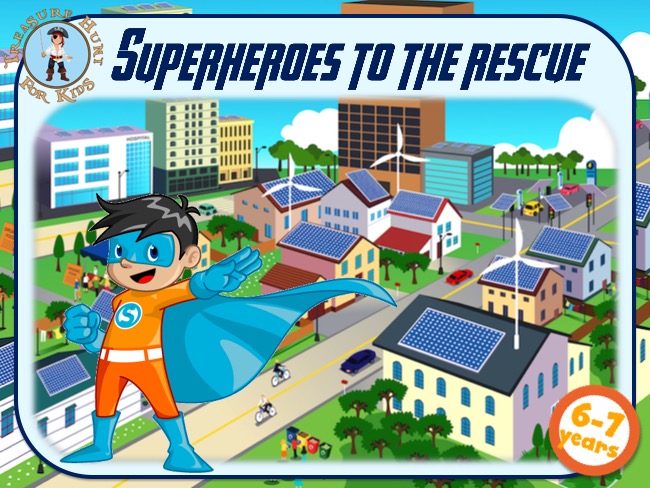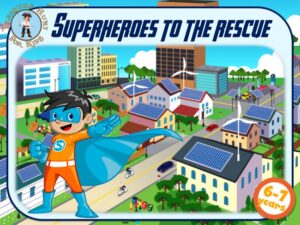 The craze for superheroes:
Does your child love movies or superheroes' books? He has many toys, figurines, board games in the effigy of his favorite heroes! No doubt, it is a superheroes-themed treasure hunt game that must be organized to animate his birthday party with his friends… An anniversary full of surprises that he will not forget soon! Superheroes are everywhere! In your child's room, on television, at the cinema, in board games or in video games… This theme is very popular with children because it allows them to live an imaginary adventure and put themselves in the shoes of their favorite character during a game. Superheroes are the representatives of good and bad and this notion is very important for children.
The symbolism of superheroes:
The interest of superheroes continues to grow among young and old. Superheroes fascinate. They defend values ??such as honor and justice and protect the weak. They are exemplary and a leader! Kids are passionate about the theme of superheroes that will allow you to organize for sure an incredible party for a birthday! Harry Potter, Spider Man, Captain America … All these heroes are role models for children and ultimately help them grow! From an early age, children are passionate about these strange characters with extravagant looks and extraordinary abilities. There is a certain craze for all these heroes. The figure of the hero embodies an ideal for the child and serves as an example that makes him want to grow! The symbolism is even greater at this age. Children feel weak compared to adults and they dream of becoming a superhero to be stronger! Heroes with their super powers reassure, give confidence to the child and finally help him to grow and gain autonomy!Superheroes !!! A must-have theme for a successful birthday.
Our superheroes treasure hunt game:
For our young adventurers, a SUPER game awaits them, to perform a SUPER mission on the theme of SUPER heroes where they will have SUPER powers! If the party is not SUPER with all that!!!
No, no kidding! Discover our turnkey treasure hunt game kit on the theme of superheroes. In this game, the children will have to go on a mission to find DOKNOIR who sows terror in the city with his army of robots!
Challenges and enigmas of all kinds await children who will have to join forces and their efforts to overcome this dangerous mission!
Our kit of game exists in several versions to be adapted to all age groups…
Indeed, the version for the youngest is suitable for children of 4 and 5 years. Discover our 6-7-year-old version too. Finally for older children, another version of superheroes-themed treasure hunt exists but with a different story and riddles more complicated for children from 8 years!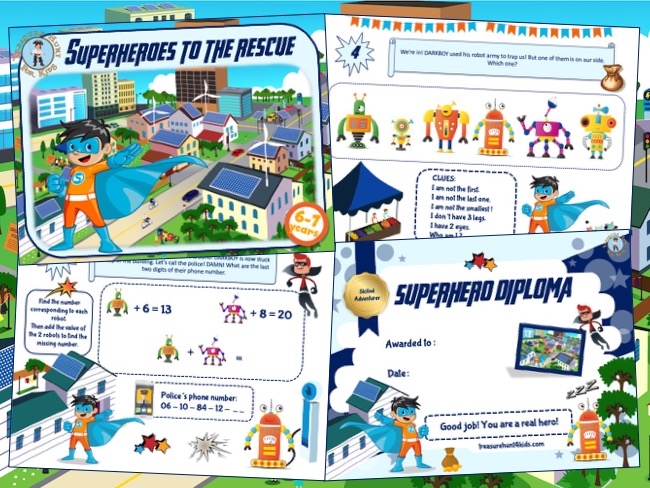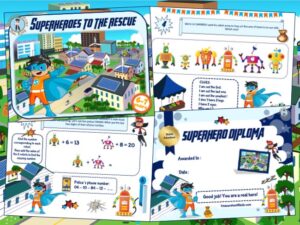 Ready-to-organize game kit:
Our superheroes scavenger hunt game is complete and will allow you to set up a great adventure on the theme of superheroes. It includes the beginning of the story, the outcome and the story-line of the adventure! A dozen puzzles and challenges are ready to be hidden in your game space. A diploma of superheroes to distribute to children is included in the game-file to congratulate them on the success of their mission. Finally, for you parents, game organizers, a pre-filled sheet of follow-up will allow you to follow the progress of the treasure hunt to guide the children throughout the activity. Everything is thought to simplify your organization! All you have to do is choose your hiding places and put them in your sheet of follow-up! In just a few clicks and 20 minutes of preparation, your birthday party is organized! The children will be able to begin the adventure which will last approximately 1h30 …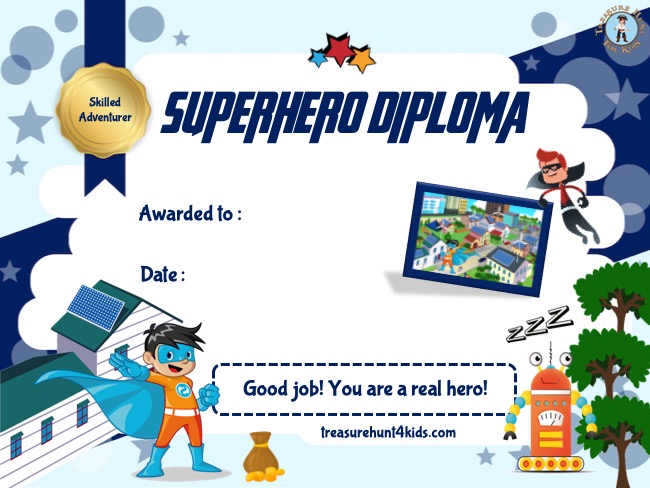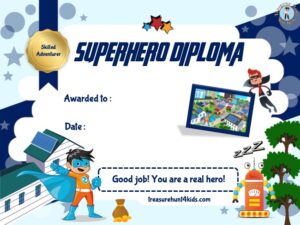 Staging ideas for superheroes scavenger hunt:
Atmosphere and decoration:
Think of the invitations! This is the starting point of your party… Give them a fortnight in advance… Your child will have great pleasure in distributing them to his friends! Children are warned; they know what to expect with an invitation on superheroes-themed! This theme is traditional and very popular with children… The advantage of this is that you will have no trouble finding the appropriate decoration in all the party shops, leisure or even in supermarkets! Think to decorate the room or garden with balloons, pennants with the effigy of superheroes. To taste it, think about setting up a pretty party table with plates, glasses, tablecloth and napkins with the effigy of your children's favorite heroes! The decor allows children to easily dive into the theme of the game and brings truth to the scenario.
Ask the children to come disguised if they wish! The theme is specified in advance with the invitations, it will be easy to slip a little word in the envelope to propose to those who wish to come in superheroes!
No obligation! but the children have almost all a superhero disguise at home and if not a cape will do the trick!
Cool ideas:
You can also prepare a magic potion in small bottles to give the participants great powers… Just put a tropical or exotic juice! The children will get hooked! Success guaranteed! Decorate your little bottles with a nice label reminiscent of the theme of the party and on which you will write the name of the child. Children will drink the magic potion before the beginning of the adventure! A great way to take them into the imagination of the game.
You can also prepare masks or buy them on the market. This allows them to get hooked … You can also opt for 2 types of masks that will differentiate for example the 2 teams.
And the key to success: the cake! The cakes in sugar paste are sublime and will make their full effect on the table at the time of blowing the candles! Choose the decoration of your child's favorite hero.
You will find many models and ideas to create this type of cake on Pinterest …
Example of a superhero game  for an animation with children.
Here is a simple game that can be played indoors and outdoors: children have to throw a ball while listening to music! When the music stops, whoever has the ball in the hands is eliminated or has a forfeit … So that this little game to get into the theme of superheroes, you just have to take a smooth and bright ball and tell them that it's Superman's kryptonite!
All games can be declined with some accessories or words modified to fit your game theme.
Also look at our free games: you can print labyrinth games, dots to connect, coloring and other printable games for free …
Choosing the superhero theme for your child's birthday party is a wise choice. It will guarantee the success of your animation to the delight of children.