April Fool's Day games & activities for kids
Here are some ideas of games and activites to set up with children to April Fool's Day. It is an annual festival that takes place on April 1st. The children love this day because it is a day to make jokes and jokes to our friends and family. We will discover here why we celebrate April 1st but also the activities that we can do with the children associated with this holiday.
Origin of the April Fool's Day
I propose to you to discover this funny holiday and its traditions. Indeed, the 1st of April is known to be the day when we can play pranks on each other.
According to a legend, April Fool's Day originated in 16th century France, when the year began on April 1. In 1564, King Charles IX decided that the year would no longer begin on that date, but on January 1st, as it does today. This change in date also changed the day on which gifts were exchanged to mark the new year.
Some people had difficulty adjusting to the change or simply did not know that the date of the new year had changed, so many people continued to exchange gifts on April 1. To mock them, others took the opportunity to give them fake gifts and play tricks on them.
Have fun with our printable game kits: treasure hunts, escape room sets and mysteries await you!

April Fool's Day around the world
Italy and France
In Italy, as in France, April 1st means only one thing: Poisson d'Avril. This day is celebrated by hanging paper fish on people's backs in a discreet way.
English-speaking countries
In the United States, but also in Australia, England, New Zealand and in all English-speaking countries, it is "The April Fool's Day". No fish in the back, but jokes called "April Fool's"! The pranks last for the morning and in the afternoon, everyone gets serious again… or almost!
The English like to joke around, but only until noon, so that everyone can get on with their day. Anyone who tells a joke in the afternoon is considered a fool.
Portugal
The Portuguese don't celebrate April 1 on this day; they do it on the Sunday and Monday before Lent by throwing flour at those they pass. Be careful if you visit Portugal during this period.
Brazil
Brazilians play harmless pranks but they call this day "dia das mentiras" or "the day of lies".
Belgium
In Belgium, too, the tradition of April Fool's Day is still alive and well: "Young people, in schools, tie a paper fish to the backs of their friends, their parents, their teachers… The press (TV, radio, newspapers) spreads false but credible information on this day. Sometimes even the politicians are accomplices. Among friends, etc., we also make jokes by phone or otherwise…"
Japan
In Japan, April 1st is also the day of pranks, called "bangusetsu" which means "the season of 10 000 absurdities". But for Japanese people, April 1st is especially the beginning of the cherry blossom dances (sakura).
Germany
In Germany, people say "April April" or "Aprilscherz" when making their joke or right after to make it clear that it's just an April Fools' Day joke. "April Fools' Day" jokes have been around in Germany since 1631, but their origin is believed to be further back. Looking at the birth certificate of April Fool's Day, experts count no less than 800 hypotheses. All countries have something to say about it.
April Fool's Day games ideas
The fish to stick
In France, the most famous joke of this famous day is the one to stick fishes in the back of his friends, his family, the teachers… Indeed, but it requires a certain number of fish that the child will have to draw, color and cut out in advance in order not to be short of fish for the big day. This activity mixing drawing, coloring and cutting will keep the children busy for a long time. They will then be delighted to use them to start their little pranks.
You can use our printable and cut-out April fish that you can find in our free games section.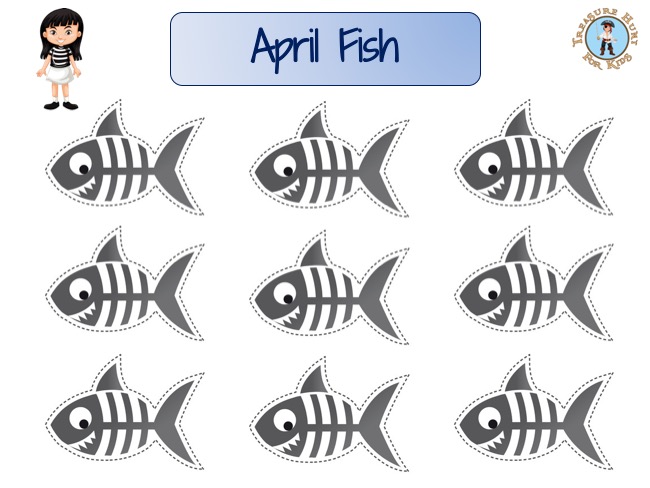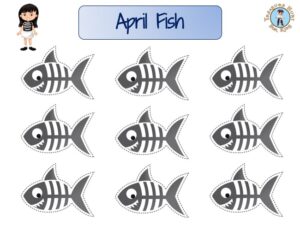 April Fools Joke teller
This April Fools joke teller (cootie catcher) will allow you to make some pranks to your friends! Grab the free printable for a fun April Fool's prank! Children love this type of activity and it will be a good time of fun at home or in the playground.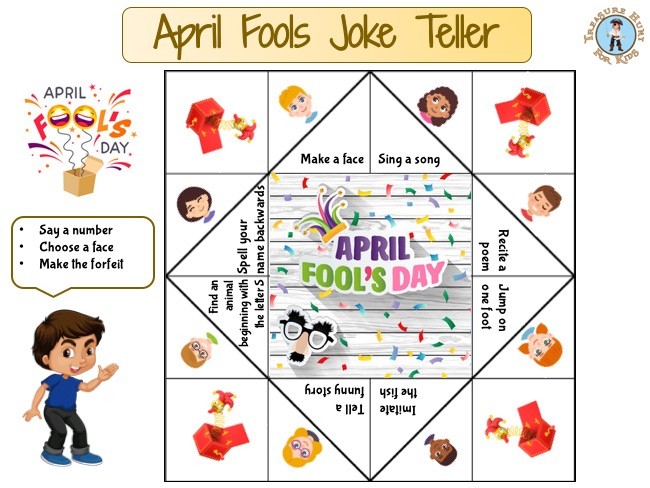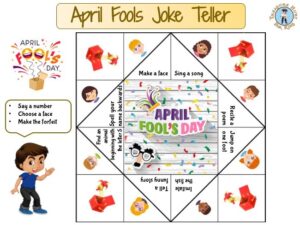 Who can you fool?
For this writing assignment, have students invent their own prank or joke. Make sure they write down the materials needed first, then the steps to prepare and finally the execution of the prank itself. Go around and give tips or ideas if necessary. Students share their pranks with the class, then vote for the best one!
April Fool's Word Search
Check out our word search puzzle. It is a super fun and educational way to engage children and get them thinking about April Fool's Day. It is an easy way to learn the vocabulary of April Fool's day. This word search puzzle contains 15 words related to this holiday.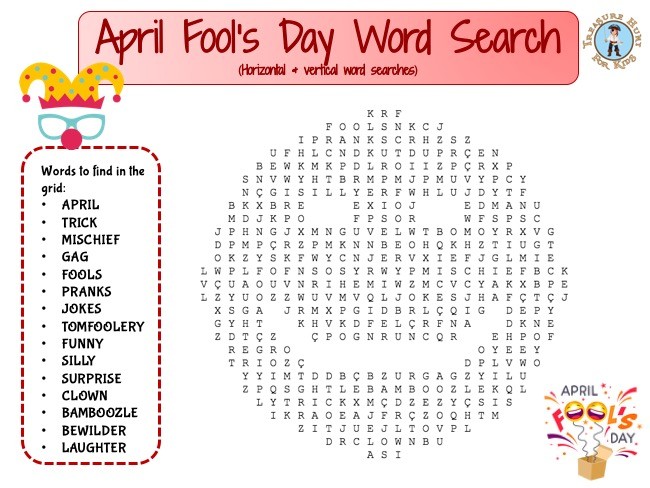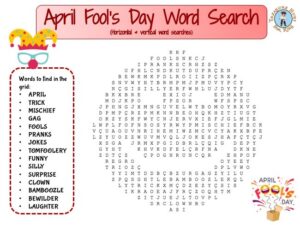 Fun conversation
Talk to your child all day (or as long as you can) in rhyme or with your best (or better yet, worst) foreign accent. If you want to take it a step further, dress accordingly.
April Fool's pranks
Pour sugar in water bottles.
Reverse the contents between salt and pepper.
Put a spider, snake or other plastic animal under the person's comforter so that when he opens his sheets, he shouts in fright.
Remove the batteries from the TV remote control.
Put salt on your siblings' toothbrushes.
Go home and tell your parents that you got a bad grade in school in your chosen subject.
Put food coloring in your milk. Surprise guaranteed: your child will have a colorful surprise!
Draw a spider with a black marker on the toilet paper roll or a funny message!
Frozen breakfast: Prepare your child's cereal bowl with milk. Put it in the freezer overnight. You'll be surprised when you wake up!
Replace a kinder egg with a hard-boiled egg.
Googly eyes to everything: surprise your kid and make him laugh by attaching googly eyes to everything.
Put your kids in a different bed once they're asleep. Imagine their faces on the morning of April 1st. It's perfect to start April Fools in the right foot.
Change the settings on the computer mouse.
Put things upside down: frames, knick-knacks…
Draw moustaches on daddy during his nap.
Looking for more fun activities? We have plenty of fun printable games your child is sure to love. Your kids will love these fun activities which will teach them the best practical jokes to play on their unsuspecting friends and family. These April Fool's games are fun to play and bring some silly to an unsilly time. See more ideas on Pinterest.
Go on an incredible adventure with our treasure hunts!