Discover an innovative concept of printable game kits for kids.
Who we are?
« Treasure hunt 4 Kids », proposes innovative concept of printable game kits for kids, such as treasure hunts, scavenger hunts, Detective mysteries & escape games to easily organize the birthday of your child from 4 to 12 years or for any other occasion. This website, developed by an early childhood professional, allows parents to set up in a fast and inexpensive way a playful, original and educational game that makes the success of children's birthdays since a long time ago…
It only takes a few minutes to print off a treasure hunt or a detective mysteries from our website. This is the ideal way to make organizing a great home birthday party for your child simple and easy.
These birthday games are "turnkey"; A wide range of themes is offered; They can be run both indoors and outdoors depends on the space available to play.
Like any parent, you want your child's birthday to be a success! So « Treasure hunt 4 kids » is THE website that makes each event an unforgettable moment for your child, while simplifying the life of parents!
Discover a wide choice of games adapted to all ages and offering various themes. To live an amazing moment, come quickly and discover the different treasure hunts, police investigations and escape games on our website.
Our concept is created to ease the organization of your child's party as simply as possible ; through a wide choice of themes and games adapted to each age group, parents can quickly and easely organized a funny event in a playful but also educational spirit.
Test our innovative concept of printable game kits for kids!!! Organize a treasure hunt becomes very easy:
Choose your game
Download it in one clic
Print the puzzles and challenges and let's PLAY !!!!
Our concept of printable games also exists in French. Find all our treasure hunts in French & discover our website for even more games.


The right way for a successful party with our printable game kits for kids!

For every occasion, whether it is a birthday, a family celebration, a gathering with friends or to celebrate any special annual events (Halloween, Christmas, carnival …) , You will find on this website a game for your child "ready to play", playful, original, friendly and educational oriented.
Fast and easy to use thanks to our printable game kits

As you already understood, these games are very easy to use! A real creative work has been done at different stage of the story, games and layouts have been designed to save your time and ease the organization of your event. You will receive a file ready-to-print with the course of the game, all advice and assistance with settings in an attached specification. Choose your treasure hunt, receive your PDF file by email, print it and play !
Wide selection of themes adapted to each age:
"Treasure hunt" is a simple story which the goal is to find a treasure, while the detective mysteries lead to the resolution of a mystery or a police puzzle … The children will have to accomplish a specific mission: discover a culprit or elucidate a mystery…
For escape games, you must complete your mission in an allotted time! Escapes games are also puzzle solving games except that the time is timed… It's up to you to start the stopwatch at the beginning of the game … The children will then have 1:30 to reach the objectives of their mission, solve a mystery or escape from a place. Anyway, these games will please children. They love to put themselves in the shoes of real detectives and solve mysteries as surprising and intriguing as each other!
Playful, original, educational:
These games demonstrate originality through the different stories they proposed but their simple design also … Moreover they are very convivial. They allow children to play together for a common purpose: finding the treasure or solving an investigation. It helps develop team spirit, mutual support within the group … in a spirit of play and festivity. Children dive into a new universe and the final goal is for them to involve into the story and to be part of the game!
These tests are adapted to the age of the children, according to what they learn at school.

Who are our printable game kits for kids for?
All our print & play game kits are specially designed for kids from 4 to 12 years old.
4-5 years: the games are more focused on the most common letters of the alphabet, the colors, the numbers from 1 to 10, the knowledge of everyday life adapted to their age …
6-7 years old: at this age, both the games and the level required an acute knowledge but it remains adapted to the age of the children … rebus, figures up to 100 and first operations to decrypt coded messages, more complex labyrinths, a very good mastering of the alphabet…
8 years and more: the games become more complex; Labyrinths and paths are more difficult, the knowledge should be wider in connexion with the school programme … The games require reflexion but it always remains reachable so the children do not get bored on a test that " They would not be able to solve. Themes are thought out according to the interests of the children of this age. For example, the planets and the prehistory are topics studied in this age. Games of logic are more complicated, investigations become more subtle, knowledge of the world more complex while keeping this playful and educational spirit. Our games adapt and evolve alongside the skills of children…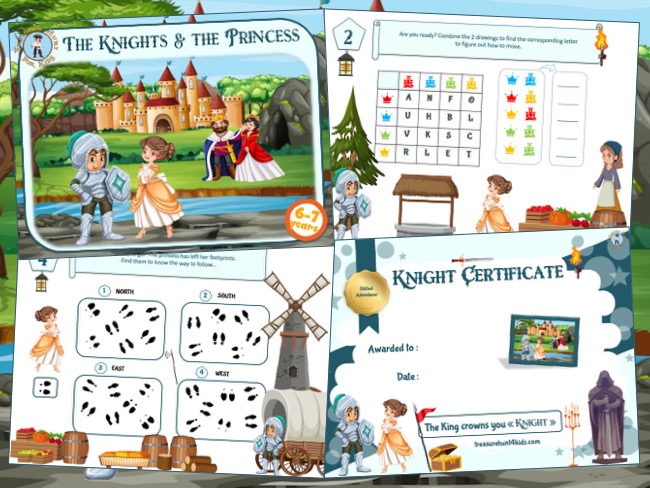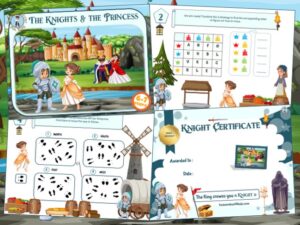 Therefore, all these games are designed for children and their level is adapted both to the age of kids but also to their centers of interests through the story and the riddles.
These games allow kids to be successful all together because they will always find the treasure or the solution of the survey at the end, they will all be rewarded for their collaboration and they will all get their diploma.
Not expensive: You save money and time!
This website allows parents to organise – at a low price – a wonderful birthday which your child and his/her friends will remember for a long time…
It allows you to easily set up a group activity, playful and enjoyable, and it avoids fastidious research to do, collecting different games … it means saving a precious time for you! Everything is ready! You just have to Print it and Play … your treasure hunt is available as soon as you buy it!
Games that fit everywhere!
Indeed, these games are "ready to play" … An adult is required to hide the riddles in specific places (help is provided in the file you bought).
So, it allows each game to fit to your space: indoors or outdoors, in a house, in a flat, in a garden, without worrying about the weather! You are the only one who defines the space you want to dedicate to your game.
Guaranteed Success with our printable game kits for kids 
Treasure hunts or police investigations have always proved to be the traditional games. Still today, they remain a huge success towards children, but for parents as well. This is not impossible of course! But with "Treasure hunt 4 Kids", you have the guarantee to offer the right game suitable for your child, both on the theme and the tests. In addition, you will save a considerable amount of time for a small fee and you will be assured that the children will have an unforgettable moment!
Content of our printable game kits for kids

Upon receipt of the payment, you receive a "PDF" file with an average of twenty pages including:
A first part for the attention of the parents, including the general explanations, the rules, the course of the game as well as the advice for a better organization.
This part will help you to correctly set up and use the riddles and tests; It will give you ideas and advice for a good set up of treasure hunting before starting the event but also during the activity and even after it…

Then you have 2 sheets:
The first table named "Ideas of hiding places" give some examples and ideas to find hideouts both inside and outside. It is only for information and you can naturally find new ideas of hiding places according to the area of game …
Then you have the follow-up sheet: it is to be filled in by an adult before the event in order to remind where each clue is hidden. This paper is to be kept with you during the event to follow the course of the game. It helps to approve the right answer towards the kids.
The beginning of the story starts then, the course of the story with all the trials, and the ending text.
There are about 10 tests mixed with challenges to solve; the children can go to the next step as soon as the previous riddle is approved. The games are various with rebus, labyrinths, arrow games, points to link, crypt messages … but also with some challenges motor skills oriented. The games are adapted to the age of the kids and they become more complicated as soon as the child grow …
An award is ready to be printed for each kid; don't forget to personalise it by writing the name of each child who attends the event. Of course, you give it at the very end of the game or it can be put in the treasure box when there is one…
Live an adventure wherever you are!